An Honest Review of The Honest Kitchen Dog Food
The way we produce food is greatly affected by scientific research. The same goes for the food we give to our beloved pets.
In recent years, an increasing number of pet food producers have switched to healthier ingredients and ways to manufacture biologically appropriate chow for our furry friends.
One of the most recent trends in the pet food industry is bucking the tradition of endlessly processing the foodstuffs that make up the grub we give to our pooches. Instead, more and more brands are now offering dehydrated diets that are healthier and more suitable for canines.
To bring you closer to this type of chow, we decided to offer more detail about dehydrated grub in an in-depth review of the brand that stands behind one of the best-dried products in the entire dog food industry—The Honest Kitchen.
As you may already be aware, Alpha Paw is in no way affiliated with The Honest Kitchen or any other producer. We base our dog food reviews solely on our research in a bid to offer our readers as much information as possible about the best food for their furry companions.
What Is Dehydrated Dog Food?
Dehydrated dog food refers to dry dog food brands that are produced using the process of drying. Unlike kibble and canned food, dehydrated food is not cooked. Producers resort to drying and avoid traditional high-temperature cooking altogether in an attempt to preserve as many nutrients as possible.
The drying process removes the moisture from fresh ingredients, and, as it dries, the food is lightly cooked. Low-temperature cooking is enough to change the structure of food, making it more digestible than, say, raw meat. At the same time, such a production technique allows the ingredients to retain much of their original nutritional value.
The benefits of dehydrated dog food include:
Longer shelf life

. Removing all excess water from raw ingredients through dehydration extends the shelf life of such products compared with traditional kibble and wet food. Dehydration also serves to preserve the food, which means that dried products require zero artificial preservatives, making this type of grub a much healthier option.

Better digestibility.

Dogs with sensitive tummies may feel even more benefits from a dehydrated diet. Dried helps to start the digestion process by slightly cooking the food but still retaining the original shape and form to a great extent.
Easier storage.

Because it's in dry form, this type of chow requires less storage space. Being compact makes it more convenient, too—you can easily pack a box in your suitcase when you travel with your dog.
Pathogen-free.

Although not cooked in the traditional sense of the word, dehydrated food is indeed exposed to moderate temperatures (about 140º F to 180º F) that are enough to kill disease-provoking germs.
What's on Honest Company Dog Food Menu?
Although this review focuses on the dehydrated food from The Honest Kitchen's catalog, here's an overview of what they have in their store for furballs for all shapes and sizes:
| | | |
| --- | --- | --- |
| | Dehydrated | Wet |
| Wholegrain | | |
| Grain-free | | |
| Limited ingredient | | |
| Base mixes | | |
| Toppers | | |
| Treats | | |
How Did We Evaluate Honest Kitchen Dehydrated Dog Food?
Before we share our top picks, we want to tell you more about our evaluation criteria and the process of selection. No biggie, just a few simple ground rules that guarantee the food we review is biologically appropriate and healthy for your loving pooch:
Compliance with the guidelines for "complete and balanced" nutrition

prescribed by the

Association of American Feed Control Officials

(AAFCO).

High nutrient-to-calorie ratio

. This is the minimum threshold for the number of calories sourced from protein and fat. High-quality protein should account for at least 25 percent of calorie intake, while fat should make up between 8 and 14 percent of energy.

Ingredients sourced from authentic, whole foods.

That means that the food featured in our reviews doesn't contain shady by-meat products (e.g., animal fat). Each ingredient that appears in the food has to be named for what it is.

No corn, wheat, or soy

. These three have got nothing to do on the dog food list of ingredients. These grains are considered cheap fillers that add little to nothing to the nutrition value of the food.
The Honest Kitchen passed this test with flying colors, which made it even harder for us to pick the very best of what they have to offer, and we pretty much had to rely on our furry pals' taste buds!
The Honest Kitchen's Top-Rated Products
Without further ado, we'd like to present the crème de la crème of chows made by The Honest Kitchen in four categories:
Once we got everything sorted out, we left it to our loyal canines to decide what taste they enjoyed most.
The quality of The Honest Kitchen's products is in no way affected by a particular flavor, meaning that these are indeed our dogs' favorites.
Best Dehydrated Food: Dehydrated Grain-Free Beef Recipe (Love)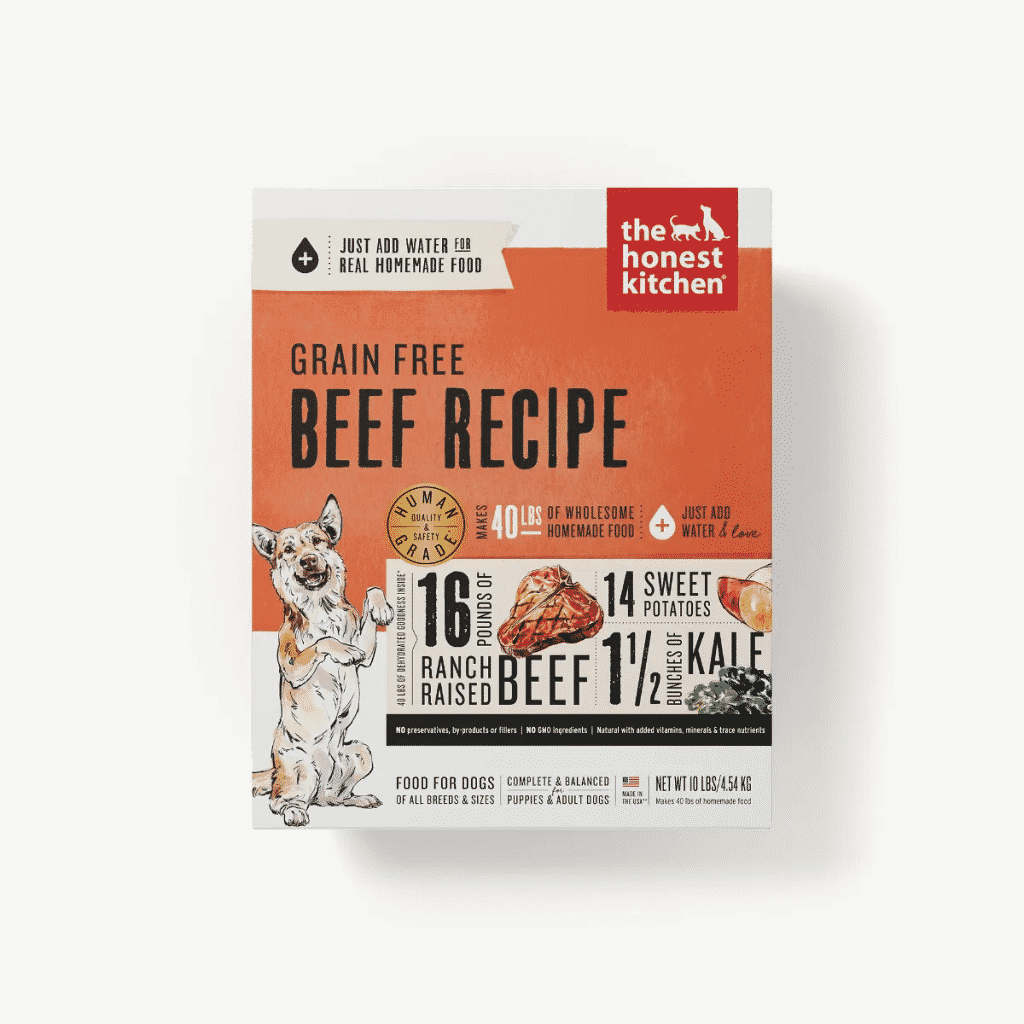 Image source: The Honest Kitchen
Dehydrated Grain-Free Beef Recipe (Love) is every pooch's nutritional dream come true, which is one of the reasons it reigns supreme on our list of The Honest Kitchen's best chows. The other reason is the exquisite taste of this food our dogs can't seem to get enough of!
Each box of this recipe is made from pure, human-grade food that, in time, can do wonders for the health of your pooch.
We noticed our doggos passed gas and burped less frequently while on this food. Some of our test subjects even stopped shedding as much as they did on other grubs, while their coats became silkier.
Ranch-raised beef—80% of it, to be precise—serves as a premium-quality source of protein, while papaya and sweet potatoes offer a steady source of energy and plenty of micronutrients.
Because it is practically unprocessed compared to dry kibbles, this food is perfect for pooches with food sensitivities.
What we also loved about it, is that it is suitable for various stages in life, including puppy and adulthood, so if your canine likes it, you don't have to switch ever again!
Guaranteed Analysis
Protein

31.0% min

Fat

14.0% min

Fiber

7.0% max

Moisture

7.8% max

Taurine

0.15% min
Ingredients
Dehydrated beef, dehydrated sweet potatoes, dehydrated potatoes, organic flaxseed, dried organic coconut, dried parsley, dried papayas, dried cranberries, dehydrated pumpkin, dehydrated honey, dehydrated kale, minerals [tricalcium phosphate, sodium chloride, potassium chloride, choline chloride, zinc amino acid chelate, iron amino acid chelate, potassium iodide, copper amino acid chelate, sodium selenite], taurine, vitamins [vitamin E supplement, vitamin B12 supplement, thiamine mononitrate (vitamin B1), D- calcium pantothenate (vitamin B5), riboflavin (vitamin B2), vitamin D3 supplement], EPA, DHA.
Best Wet Food: One-Pot Stews—Simmered Salmon & Chicken Stew With Brown Rice & Broccoli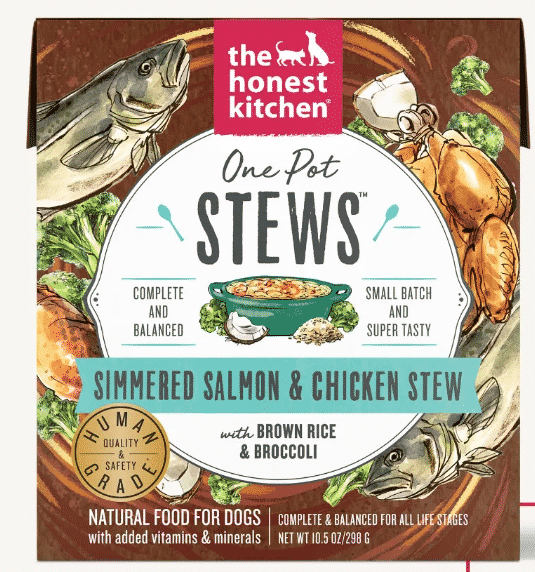 Image source: The Honest Kitchen
Is it just us or does One-Pot Stews—Simmered Salmon & Chicken Stew With Brown Rice & Broccoli sound like something from a restaurant's menu?
No wonder, because this is another recipe from The Honest Kitchen made entirely from human-grade ingredients, packed in a delicious, healthy meal.
Bursting with protein sourced from wild-caught salmon and cage-free chicken, coupled with brown rice for an extra dose of energy and a boosted protein effect, this wet recipe is the very definition of healthy wet dog food.
Aware of the dog's needs, the producer rounds this recipe with broccoli, tapioca, and peas, each an excellent source of vitamins and minerals.
This stew is cooked in fish bone broth in small batches to obtain the chunky texture and can be used both as a complete meal or a topper.
Guaranteed Analysis
Protein

10.0% min

Fat

3.0% min

Fiber

1.0% max

Moisture

82% max
Ingredients
Salmon, chicken, fishbone broth, water, brown rice, broccoli, tapioca, peas, sunflower oil, minerals [copper proteinate, iron proteinate, manganese proteinate, selenium yeast, zinc proteinate, calcium carbonate, potassium chloride], dicalcium phosphate, vitamins [vitamin E supplement, vitamin A supplement, niacin supplement, calcium pantothenate, thiamine mononitrate (vitamin B1), riboflavin (vitamin B2), pyridoxine hydrochloride (vitamin B6), folic acid, vitamin B12 supplement, choline chloride], coconut oil, dried kelp.
Best Treat: Beams® Ocean Chews—Wolffish Skins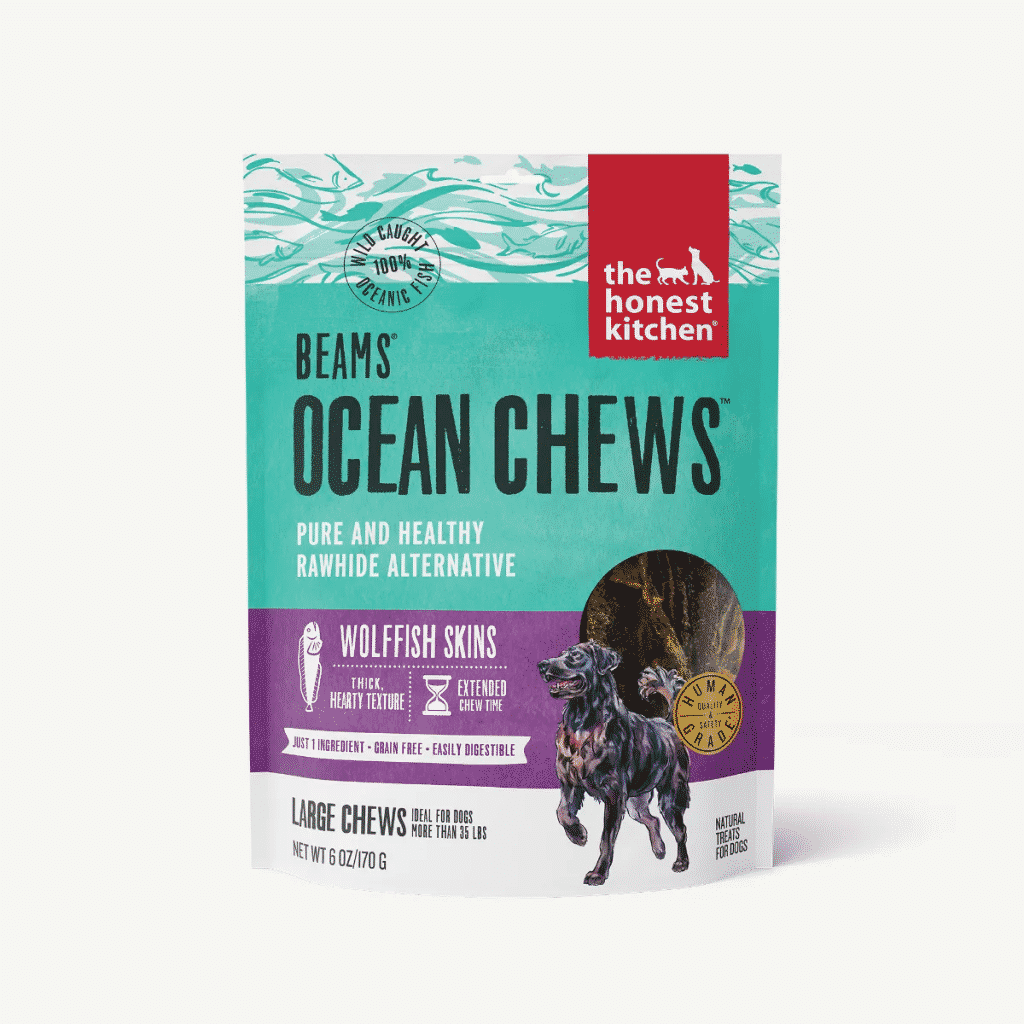 Image source: The Honest Kitchen
Apart from its nutritional value, we opted for Beams® Ocean Chews—Wolffish Skins because of the simplicity with which it is made.
Unlike these worst dog treat brands, this premium treat for doggos features a single ingredient that is packed with protein, making it a perfect solution for those in-between meals' food cravings. Once our pooches tried it, they kept coming back for more every single time!
True, they don't smell nice, but they are a perfect snack after exhausting training or a walk.
They're chewy and don't break up into smaller pieces like regular rawhide treats, which means that even the tiniest of puppers can feast on them. They're convenient, too—you can cut them in half when serving them to small furballs.
Unlike heavily processed treats, these are low in calories and can be given daily without worrying about weight gain.
And did we forget to mention they are an awesome addition to your pooch's dental hygiene routine? By making them long-lasting and chewy, the producer has found a way for your dog to clean their teeth regularly while enjoying a tasty and well-deserved treat.
Guaranteed Analysis
Protein

10.0% min

Fat

3.0% min

Fiber

1.0% max

Moisture

82% max
Ingredients
Dehydrated Wolffish Skins
Best Topper: Meal Booster—99% Turkey & Duck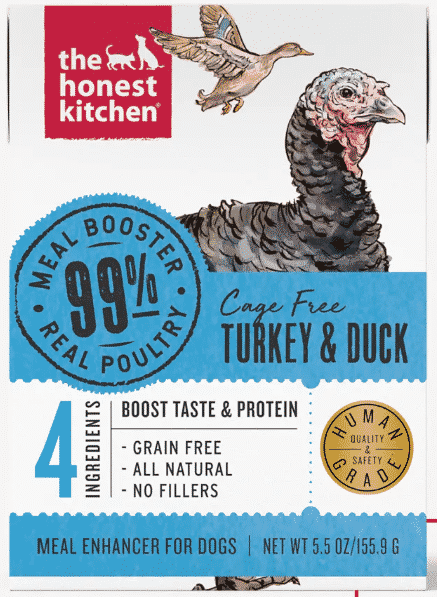 Image source: The Honest Kitchen
If you have a picky eater at home, Meal Booster—99% Turkey & Duck might just be the solution you need.
Made from turkey and duck, this topper promises to satisfy even the most delicate palates and enhance any meal you serve to your pooch with an additional protein kick. Adding this topper to your pooch's meal will also help you with the dishes—the bowl will be licked clean every time you spice up the food with this delicious booster.
Just don't overdo it: make sure you follow the instructions, as toppers like this one can substantially increase the prescribed calorie intake.
Guaranteed Analysis
Protein

14.0% min

Fat

6.0% min

Fiber

1.0% max

Moisture

78% max
Ingredients
Turkey, Water Sufficient for Processing, Duck, Agar-Agar
What We Learned From Our Honest Kitchen Dog Food Review
Our thorough investigation found that The Honest Kitchen indeed lives up to the promise of offering healthy, i.e., complete and balanced nutrition for dogs all ages and sizes.
Although a bit on the pricier side, their food is worth every penny as it brings numerous health benefits for your good boy or girl.
Unlike any of the best dry dog food or best-canned dog food brands, The Honest Kitchen dried grub boasts is more convenient for dog owners because it takes less storage space and has a much longer shelf life than the average kibble.
With chow like the one made by The Honest Kitchen, it's hard to miss. Each of their products is a carefully selected blend of limited and healthy ingredients, and choosing the right one comes down to your dog's preference for a specific taste.
While you are here in search of healthy and delicious food for your fuzzball, check out our other in-depth reviews of Wellness CORE dog food and Orijen puppy food for more advice on the proper canine nutrition.
References
"Estimated Metabolizable Energy Requirements of Adult Dogs."

Canine and Feline Nutrition

, 2011, pp. 521–521., doi:10.1016/b978-0-323-06619-8.10043-x.