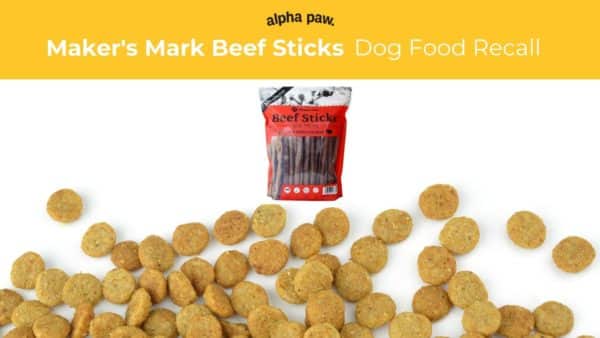 Sam's West, Inc. Issues A Dog Food Recall Alert
November 16, 2021: Sam's Club has issued a dog food recall alert for packages of Maker's Mark Beef Sticks, produced by Sam's West, Inc. This brand of dog treats may contain pieces of metal.
​​
According to their press release,
"BENTONVILLE, Ar., November 16, 2021 / PRNewswire/ — As a precautionary measure, Sam's West, Inc. (NYSE: WMT) is voluntarily recalling Member's Mark Beef Stick Dog Treats due to the potential presence of metal material. The recall was initiated across all Sam's Clubs following a limited number of customer contacts. See below for the product description, UPC, and product type."
Which Maker's Mark Beef Stick Are Under Recall?
The product UPC product type involves 2.2 lb Member's Mark Beef Stick Dog Treats, 19396-804731. This is for all products sold since March 1, 2021.
How Did the Metal Get Into The Food?
According to the U.S. Food and Drug Administration, some manufacturing activities "may unintentionally introduce hazards into the animal food (e.g., chopping with a metal blade may introduce metal fragments; conveying with a broken plastic leg cup may introduce plastic fragments; or, an improper bin clean-out may result in nutrient toxicities or deficiencies in animal food)."
What Do I Do With The Food? Should I Be Worried About Myself or My Dog?
If you have the affected product in your possession do not feed this product to your pets. The affected product should be discarded or may be returned to Sam's Club for a full refund.
How To Contact Sam's West, Inc.
Contact Member's Mark customer service at 1-888-301-0332 for additional information, as well as any additional questions you may have about the product. Sam's Club Members also may contact the Sam's Member Care center via the live chat on https://help.samsclub.com/.
If you are a U.S. citizen, you may report complaints about FDA-regulated pet food products by calling the consumer complaint coordinator in your local area. You may also go to the FDA's "Report a Pet Food Complaint" page.
For a list of dog food recall alerts, click here.