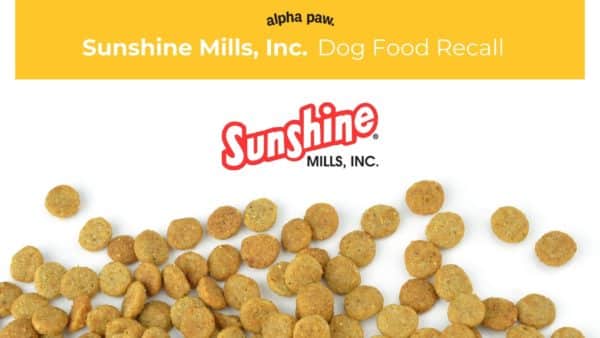 Sunshine Mills Dog Food Recall Alert
Sunshine Mills Inc. has issued a voluntary recall of Nature's Menu Super Premium Dog Food as of August 24, 2020. This is not the UK brand, Nature's Menu, which is a completely different company and has no association with Sunshine Mills. The affected products are potentially contaminated with Salmonella. In 2020, several other dog food recalls with possible Salmonella contamination include Albright's, Sunshine Mills, Aunt Jeni's Home Made, Billy+Margot, and Paws Up! 
Which Nature's Menu Products Are Under Recall?
The recalled food is Nature's Menu Super Premium Dog Food with a Blend of Real Chicken & Quail. The product was sold in both 3-lb and 13.5-lb bags.
The affected 3-lb bag lot codes are as follows:
TE1 20/April /2020
TE1 21/April/2020
TE1 22/April/2020
TE2 20/April /2020
TE2 21/April/2020
TE2 22/April/2020
TE3 20/April/2020
TE3 21/April/2020
TE3 22/April/2020
The affected 13.5-lb bag lot codes are as follows:
TB1 20/April /2020
TB1 21/April/2020
TB1 22/April/2020
TB2 20/April /2020
TB2 21/April/2020
TB2 22/April/2020
TB3 20/April/2020
TB3 21/April/2020
TB3 22/April/2020
Why Was The Food Recalled?
Nature's Menu proceeded with the recall due to potential salmonella contamination. After the Georgia Department of Agriculture tested the product, Salmonella bacteria were found in a single 3-lb bag. After multiple other bags were tested, they found that no other products were affected. However, the company chose to move forward with the recall out of an abundance of caution.
Salmonella poisoning can be spread to other animals and humans and can cause acute illness in both.
Where Was The Affected Food Sold?
The food was distributed to and sold in retail stores across the United States. Recalled products can be identified by UPC 7015514363 and UPC 7015514365.
What Do I Do With The Food? Should I Be Worried About Myself or My Dog?
If your pet has been eating the recalled Nature's Menu products, discontinue use immediately. Due to potential adverse reactions in dogs of any size, if you have been feeding your pet the potentially contaminated product, contact your veterinarian to ensure they know the situation. Then return the food to the original purchase location for a full refund. Proceed with sanitizing any food scoops, bowls, feeding toys, or storage containers that may have contained the food at one time.
What Do I Need To Know About Salmonella Poisoning?
Salmonella poisoning in dogs may come with various symptoms such as lethargy with fever, diarrhea occasionally accompanied by blood, and vomiting. Other less noticeable side effects can include appetite loss, abdominal pain, and fever.
If your animal has become infected but appears to be otherwise healthy, they can still be carriers of Salmonella. That means they can potentially infect other animals and humans they are around. So, you should always wash your hands after handling edible pet products such as food and treats to be safe.
If you know your pet has consumed the recalled product or is currently experiencing any of these symptoms, contact your veterinarian immediately.
How To Contact Nature's Menu
If consumers wish to contact the company directly with any questions or concerns, they can be reached at 1-800-705-2111 from 7 AM to 4 PM CT, Monday through Friday. Or by email at [email protected].
If you are a U.S. citizen, you may report complaints about FDA-regulated pet food products by calling the consumer complaint coordinator in your local area. You may also go to the FDA's "Report a Pet Food Complaint" page.
For a list of dog food recall alerts, click here.