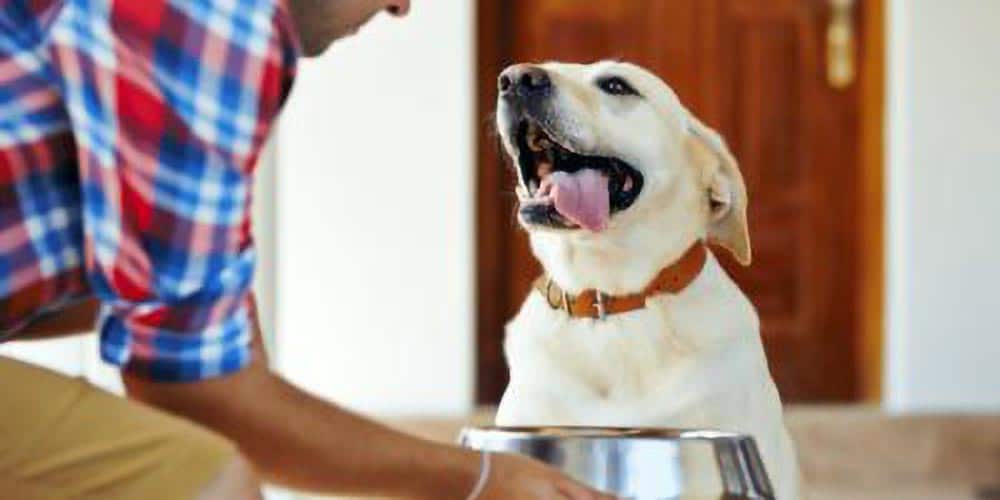 Table of Contents
1

 Nutra Thrive for Dogs Review: Is It a Yay or a Nay?

1.1

 What Is Nutra Thrive?

1.2

 What Kind of Dog Is Nutra Thrive for?

1.3

 How to Use Nutra Thrive

1.4

 A Closer Look at Nutra Thrive Ingredients

1.4.1

 Are These Ingredients Safe for Your Fluff?

1.5

 Is Nutra Thrive Legit? What Dog Parents Have to Say About It

1.5.1

 Nutra Thrive Reviews—Positive Experiences

1.5.2

 Nutra Thrive Reviews—Negative Experiences

1.6

 Does Your Dog Need a Supplement in the First Place?

1.7

 What Types of Dog Supplements Are There?

1.8

 Can Dog Supplements Be Dangerous?

1.9

 Are Supplements Effective?

1.10

 Our Final Verdict on Nutra Thrive

1.11

 References
Nutra Thrive for Dogs Review: Is It a Yay or a Nay?
Canine supplements have been around for a long time, and new ones are emerging daily. Nutra Thrive is one of the most popular products of its kind, and many dog parents are wondering if it's worth the price (and it's expensive!).
What Is Nutra Thrive?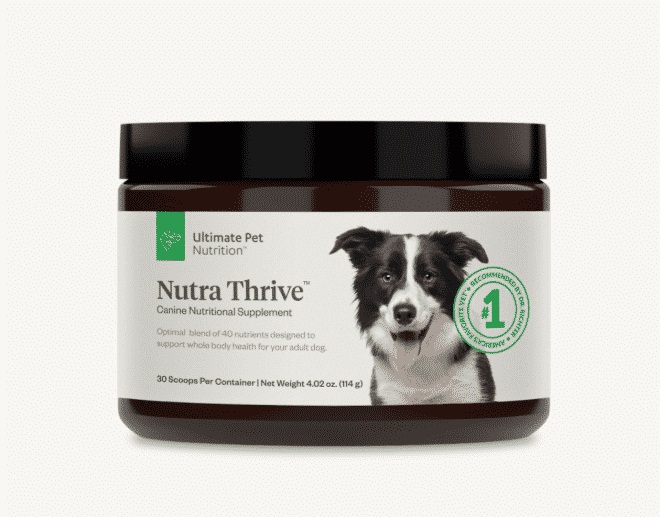 Image source: Ultimate Pet Nutrition
Ultimate Pet Nutrition's formula is based on an "advanced 3-in-1 blend," which combines:
A mix of superfoods (mostly various mushrooms)
A dog-specific blend of proteins, vitamins, minerals, and other nutrients
A mix of digestive enzymes and probiotics
The company claims their product can improve your pet's life by supporting their whole body, from the teeth and coat to the immune system. The supplement is sold as a bacon-flavored powder in a jar, which you add to your pooch's food to enrich it. The company also sells Nutra Thrive for Cats, as well as several other pet treats and supplements.
The face of Ultimate Pet Nutrition is Dr. Gary Richter, who's presented as "America's favorite veterinarian" and the author of a book about pet health and nutrition called "The Ultimate Pet Health Guide." At the time of writing this review, Amazon users gave the book 4.4 stars.
What Kind of Dog Is Nutra Thrive for?
According to the website, Nutra Thrive is great for dogs of all breeds, ages, and sizes who need a more balanced diet. The company recommends it in case you notice the signs of insufficient nutrition in your pooch. These include, but are not limited to:
Bad odors
Fatigue
Achy joints
Anxiousness
Lackluster coat
Loose or watery stool
Flatulence
The company asserts that you'll notice significant changes in your pup, both physical and mental—their coat will get shinier, their mood will improve, any bad odor will disappear, etc—but they don't specify when.
There's no information about whether you can give the supplement to puppies, so we advise against it. Your puppy needs a lot of nutritious food as their body and brain are developing, but we wouldn't recommend you feed them anything that's not puppy-specific and approved by the Association of American Feed Control Officials (AAFCO).
Regarding the safety of Nutra Thrive, there's no mention of any viable certificate of quality. The company claims its products pass "rigorous testing" by a "third-party facility." We're not fans of such vague language when the safety of our pooches is in question.
How to Use Nutra Thrive
As we mentioned, Nutra is a powdered supplement, and you introduce it in your pup's diet by mixing it in their regular food. Your pooch will probably enjoy the bacon flavor, and it may even make their everyday meals (especially if it's kibble) more enticing. The powder is supposed to be mixed into every meal. According to the Nutra site, for the best results, you should use it consistently.
Here's a table of recommended daily dosages:
Recommended daily dosages of Nutra Thrive
Your dog's weight
Scoops of Nutra Thrive
0–30 lbs
1
30–50 lbs
1 ½
50+ lbs
2
Remember, this is the recommended daily intake—if your pup eats twice a day, introduce half the dosage for each feeding.
Here's how to mix the supplement with your fluff's regular food:
Place the correct amount of Nutra Thrive over your dog's normal food portion
In case of dry food, pour some water over it (about ¼ cup, don't drench the kibble)
Mix until the supplement powder coats the food evenly
You shouldn't worry about your dog gaining excess weight from the supplement as it's not calorie-dense—a scoop contains a total of six calories.
Guaranteed Analysis
Crude Protein (Min.)
20%
Crude Fat (Min.)
1%
Crude Fiber (Max.)
29%
Moisture (Max.)
10%
A Closer Look at Nutra Thrive Ingredients
Ultimate offers a list of Nutra Thrive ingredients on their websites, and they are the following:
Superfoods Blend—Carrot, Mushroom Blend (reishi, shiitake, maitake), MSM (methylsulfonylmethane), Spirulina, Chlorella
Super Canine (Vitamin & Mineral) Blend—Engevita® GSH glutathione inactive yeast, Beef liver, Microcrystalline calcium hydroxyapatite, Magnesium lysinate glycinate chelate, Ascorbic acid, Zinc amino acid chelate, Biotin, Inositol hexanicotinate, Sodium molybdate, Cholecalciferol, D-calcium pantothenate, Pyridoxal-5-phosphate, Riboflavin & riboflavin 5-phosphate, Selenium-L-methionine, Thiamine HCI, Methylcobalamin, Folic acid, Chromium complex with Phyllanthus emblica fruit and purified shilajit (Crominex® 3+)
Probiotic & Enzyme Blend—(Enterococcus faecium, Lactobacillus acidophilus, Lactobacillus casei & Lactobacillus plantarum) (2 billion CFU per scoop), Papain, Protease, Amylase, Lipase
Calcium fructoborate (FruiteX-B®)
L-Methionine & L-Arginine
What bothers us is that the website states that these are the main ingredients, and not all of them. We read the fine print as well, and it says that, although their supplement contains quality ingredients, you should consult with your vet before feeding it to your pup. Alpha Paw agrees.
Are These Ingredients Safe for Your Fluff?
We asked a local vet to check these ingredients for us, and he reassured us that most of these substances are indeed beneficial to dogs. Those that are not helpful aren't harmful either—they just pass through your pooch's digestive tract without any effect.
We won't go into detail about what each ingredient can do, but we'll provide a couple of examples:
Ingesting MSM (methylsulfonylmethane) is great for your pup's skin and coat as it's a key component of some connective tissue types
Calcium is good for the bones and teeth
Biotin is an important vitamin great for your dog's skin and coat
The probiotics in the supplement can be great for a sensitive tummy
Crominex® 3+ is good for a senior dog's joints
Another one of the ingredients is glutathione. This is an essential antioxidant that protects your pup on a cellular level. The problem is, when your dog ingests this substance orally, it has no effect—it just passes through their system.
An important thing to note here is that, although these ingredients aren't harmful by default, some of them could provoke allergies or intolerance in your pup. If you are familiar with your dog's allergies, read the label carefully and look for the substances they should avoid. If you're unsure, follow the Ultimate's advice and consult with your vet before you give your pup the supplement.
Is Nutra Thrive Legit? What Dog Parents Have to Say About It
Even if a product seems legitimate on paper, your pooch is the ultimate tester. No matter what vets say about it, dog parents are the ones who approve or veto a dog product in the end. We combed through tons of user reviews on various sites and forums to bring you the sum of everyone's experiences with Nutra Thrive.
Nutra Thrive Reviews—Positive Experiences
People usually report their dogs getting livelier and spunkier. Their coat seems shinier and their skin improves too. It's interesting to note that most positive reviews come from senior dog owners, who notice serious improvements in their fluffs' mood and energy.
Some other benefits users have noticed include better digestion and increased appetite—who could resist the delicious smell of bacon after all!
To sum it up, the positive reviews boil down to the following:
Increase in energy levels (especially among senior dogs)
Coat and skin improvements
Better digestion
Increased appetite
Interestingly, the comments are very polarized. The reviews are either overwhelmingly positive or overwhelmingly negative. In the next section, we'll focus on the negative reviews and what they reveal about the pet product.
Nutra Thrive Reviews—Negative Experiences
The most common adverse reaction to this supplement include:
Coughing and hacking
Vomiting
Diarrhea
Skin rashes and itchiness
Agitation
Loss of appetite
Lethargy
Some of the common adverse reactions dogs experience include rashes, itchiness, and diarrhea. They are similar to symptoms of allergies so it is possible that these are all allergic reactions to some ingredients in the powder. It's worth noting that beef, which is the main protein source in Nutra Thrive, is one of the most common allergens in dogs.
If you're interested in trying this supplement, we strongly advise you to consult with your vet first.
Does Your Dog Need a Supplement in the First Place?
Most dog foods today are nutritiously well-balanced. If you feed your pup properly and avoid feeding them human food, your four-legged buddies are unlikely to require a supplement. If you're feeding your pup kibble, you'll know that the best dry dog food will be labeled as "Complete and Balanced" by AAFCO, which means it contains all the nutrients necessary in the canine diet. The same goes for the best canned dog food.
The problem may arise if your dog eats home-cooked food. We get it—our dogs are often picky eaters or have specific needs, and many of us go above and beyond to feed them what they'll like. One thing you should be aware of is that if you cook your pooch's meals, they are likely to need something supplemental. Unlike commercial foods, home-cooked meals don't have to pass rigorous tests.
Other dogs that might require supplements include pooches who are under a lot of stress. As is the case with their human companions, dogs' immune systems can suffer in stressful circumstances. Some vitamins could be just what they need to perk up in difficult times. Some examples of a stressful situation are:
When your pooch is left alone for a long time
When they change a place of residence
If your family gets a new member (especially a new pet)
The most obvious candidates for supplements are dogs with some medical issues which cause them to suffer from a deficit in a vital substance in their bodies. These dogs usually get prescribed a specific supplement by their vet.
Whatever the reason you're considering introducing a supplement in your furry friend's diet, we recommend you ask your vet's opinion about it instead of making decisions on your own. Even if you have an old pooch, you should know that the best senior dry dog food is enriched with substances that will support their aging body.
What Types of Dog Supplements Are There?
There are a bunch of different supplements available on the market, and many providers claim their products can work miracles. It's important not to let yourself be sweet-talked into buying anything. If something sounds too good to be true—it always is!
Nutra Thrive is a complex formula that includes a variety of substances, but most supplements you'll find on the market are very general. Here are some of the most popular ones:
Omega-3 fatty acids—These are found in fish oil and are thought to improve the coat shine and alleviate skin problems.
Antioxidants—Vitamins C and E contain these, for example. They are helpful with inflammation, heart diseases, and many aging-related problems.
Probiotics—These are some of the most popular supplements out there. They are used to treat diarrhea and other gastrointestinal problems.
Glucosamine—This is a popular joint supplement, which alleviates senior dogs' arthritic pain.
Can Dog Supplements Be Dangerous?
The short answer is—yes. One thing to have in mind when looking into buying supplements is that the manufacturing process is not regulated, so you never know what to expect from a product. Most of these products are harmless, but it's always best to consult with your veterinarian.
If your dog suffers from a deficit, it's best to opt for a specific supplement, such as a probiotic or an antioxidant, instead of going for a supermix, such as Nutra Thrive. As you could see from our overview of user experiences, many pooches showed adverse reactions to the product. One substance in a blend could be enough to take your dog to the ER.
Another danger of feeding your pooch supplements is that of exceeding the limit of a certain nutrient. Most substances dogs need to be happy and healthy are toxic when overused. Examples of such substances are selenium or Vitamin D.
As you can see, there's no magic nutrient that can miraculously make your dog healthier and stronger the more you give it to them. If you want to be a responsible dog parent, you need to be aware of what a balanced diet should consist of and not fall for a fad.
Are Supplements Effective?
Supplements are not medication, and you should beware of the manufacturers who advertise their product as a cure. These products can only bring added benefits to your pooch's overall diet and shouldn't be used as a drug substitute.
As mentioned previously,  a balanced diet should be enough for your pup to be healthy and strong. It's always best to look for AAFCO-approved commercial food brands as they contain all the necessary nutrients in the correct ratio. If you believe your dog needs a supplement, do a blood test and see what your vet thinks about it.
Our Final Verdict on Nutra Thrive
Nutra Thrive doesn't contain any dubious substances per se. Theoretically speaking, they are all either beneficial or harmless for your pup.  One thing to have in mind is that feeding your dog supplements willy-nilly can lead to a disbalance of substances in their body and cause them more harm than good.
We can only conclude that, if you're still interested in giving Nutra Thrive a try, you should consult with your veterinarian and see if some other supplement may be better suited for your pup's condition.
References
Ray, Edward C, et al. "Effects of Dietary l-Arginine on the Reactivity of Canine Coronary Arteries." Vascular Medicine, vol. 4, no. 4, 1999, pp. 211–217., doi:10.1177/1358836×9900400402.
Filardi, Christine M., et al. Home Cooking for Your Dog: 75 Holistic Recipes for a Healthier Dog. Stewart, Tabori & Chang, 2013.