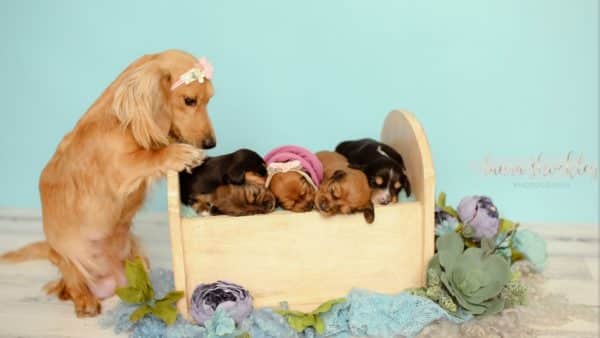 Why do women do maternity photography?
Pregnancy can be an exciting yet uncertain time. By having maternity photos taken, expecting mothers will have professional images that will last a lifetime, providing them with beautiful memories of their pregnancy. The photographs can act as a keepsake, reminding them of how far they have come and how much they have grown in just nine short months.
Additionally, maternity photos are often used by families to create stunning artwork for their home or even put together into a photo album that can be shared with friends and family.
Women also use maternity photography to celebrate their growing body. Throughout pregnancy, bodies change dramatically both physically and emotionally – something that deserves to be celebrated!
Special gowns and props are often used during these photoshoots, allowing these moms-to-be to feel beautiful in their skin regardless of size or shape. Not only does this provide an opportunity for self-expression and empowerment but it also allows them to showcase their unique style at such an important time in their lives.
Dachshund Health Tip: Three Warning Signs of IVDD
A Most Unique Gift
Laura Shockley, a photographer from Lakewood, Washington dedicates her life to taking beautiful pictures of newborn babies and expecting mothers. When Shockley discovered a member of her own family was pregnant she knew she had to do something spectacular.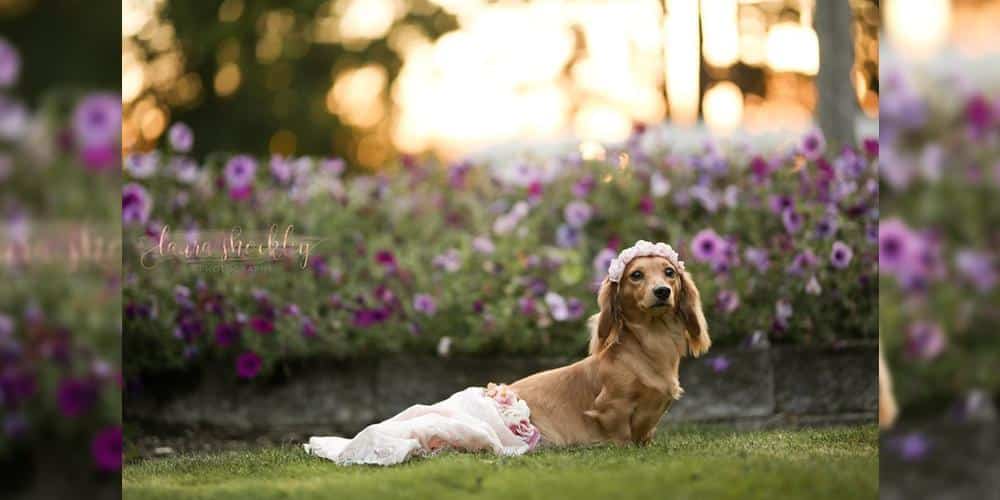 A Gift for the Mom-To-Be
Sugar, Shockley's two-year-old Dachshund, was near the end of her term when Shockley captured her breathtaking maternity shoot.
Don't miss the sale happening NOW for Alpha Paw's #1 Vet-Recommended, patented dog ramp – CLICK HERE!
"Maternity and newborn photography is just a part of me, and Sugar is a part of me so I wanted to have a sweet memento to look back on.  She's getting close to the end of her pregnancy and we took her for a day filled with pup cups and peanut butter treats, it ended with her maternity session. If people can feel special on their photoshoot days, so can Sugar," said Shockley.
Sweet As Sugar!
After a few hours of shooting the end result was better than anyone could have ever expected. Sugar looked graceful with flowers in her hair as she balanced effortlessly on top of a stool in a field of flowers. The golden hues made her fur shine while she posed perfectly for each picture.
Fast forward, and when her puppies were born, Shockley followed up with an even more beautiful photoshoot with mom and her new babies.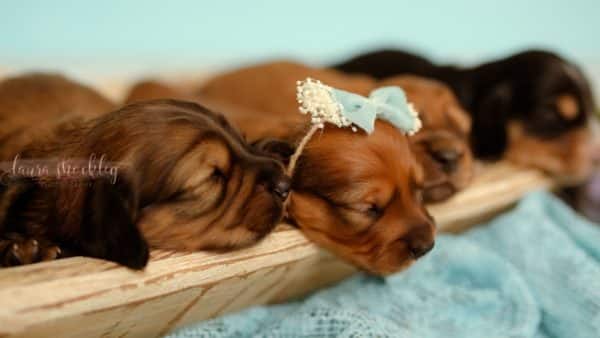 Shockley showed the world that humans aren't the only ones who enjoy doing a maternity shoot. For more information on Shockley's work, visit her website at www.laurashockleyphotography.com.
Would you have a photo shoot for your Dachshund mom-to-be? Share your thoughts in the comments and let us know!
The rise maternity photography for dogs
Whatever the reason, there is no doubt that dog maternity photo shoots are on the rise. A quick search on Google or Facebook will reveal a plethora of businesses offering this service, as well as countless photos of beautiful pregnant dogs and their proud owners.
So why have dog maternity photo shoots become so popular? There are likely a number of reasons. As mentioned above, dogs are increasingly seen as members of the family, and as such, their pregnancies are often celebrated in the same way as human pregnancies. In addition, with the advent of social media, it has never been easier to share photos and experiences with friends and family members all over the world.
Finally, it is worth noting that dog maternity photo shoots can be quite affordable, especially when compared to traditional human maternity photography. This means that they are accessible to a wide range of pet parents, regardless of budget.