What Can You Do To Celebrate Easter When Your Four-Legged Best Friend Can't Have Chocolate? 
Chocolate is toxic for cats and dogs, so being careful is of the essence. But it doesn't mean you can't have fun and spoil your furry friend with treats and toys they will love, enjoy and probably end up asking more of!
Your dog loves the feeling of having a brand new shiny toy that they can claim as theirs. But what's better than gifts that also help include your furriend in the Easter celebration.
Treasure Hunting
Easter wouldn't be quite the same without an egg hunt. Egg hunting brings everyone together in the quest to find the best eggs that include the best treats, toys, and more. 
Here's what our team at AlphaPaw came up with to celebrate Easter with our pets, which could get you inspired!!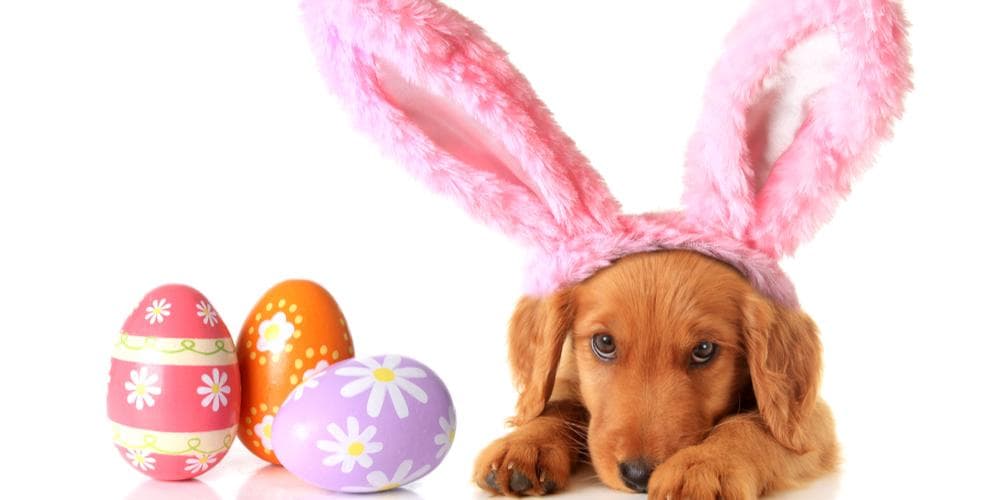 6AM: Get awoken by your STAAAARVING pet. He's not really starving, but he'll let you know he is. So much for sleeping in on Easter Sunday! 
10AM: You got ready, your pooch is fed and looking beautiful, as he always does. He's awaiting a celebration, and honestly, so are we! Thankfully, there will be minor preparation to make this Easter party mess free, panic free, and filled with fun and games!
Easter wouldn't be Easter without a hunt. We got you covered! Everyone has bananas, peanut butter (make sure it's the natural kind without added additives and without Xylitol, which is toxic for dogs!) and plain yoghurt, which is amazing because that's all you need for frozen treats.
Mix every ingredient together and put the mixture in an ice cube tray. In the freezer it goes, you don't even have to think about it!* It will be dessert after an active hunt that will have your dog panting and begging for more (or just begging for more after lazily walking around, you do you, dog!)
*If you want to know more about this recipe and more, check out our Dog Easter activity blog right here!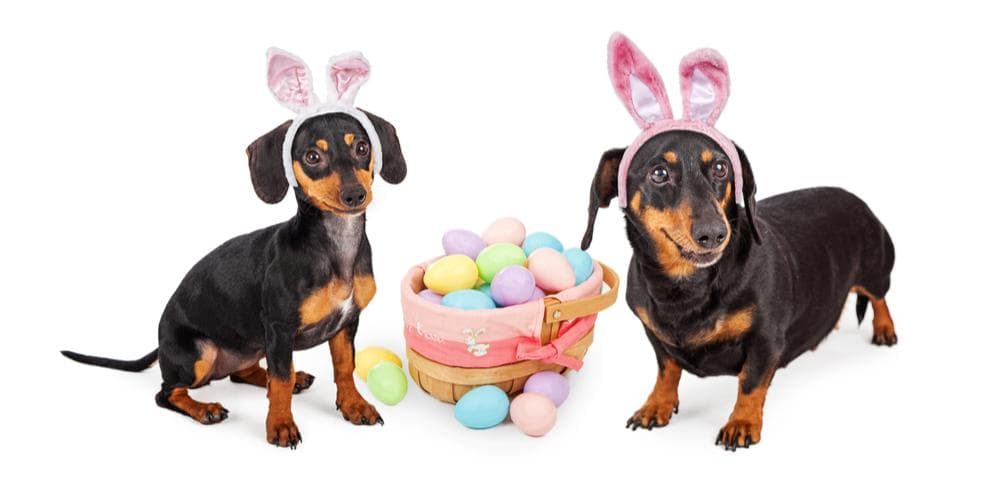 11AM: Dog is getting impatient. When is this hunt starting? Soon! Keep it short to keep your dog focused and entertained, but not too short that it'll be over before it even starts. Use treats to keep the hunt mess free, avoid wrapping it in plastic and ribbons as your dog might excitedly eat it, chew it, swallow it, or even worse, judge you for taking so long to unwrap his newfound treat.
The last item of the hunt can be those treats sitting in the freezer, so don't start that hunt too soon or you'll risk having a very impatient doggo!
12:30PM: You barely had time to get a snack, it's time to do that Pupster Hunt! 
– Guide your pup towards the living room. He can smell it, it's near! A quick look up, the treat is on the couch! Thanks to his PawRamp, he can safely go up the couch and snag that treat right off. But no time to chill, there's another treat to be found!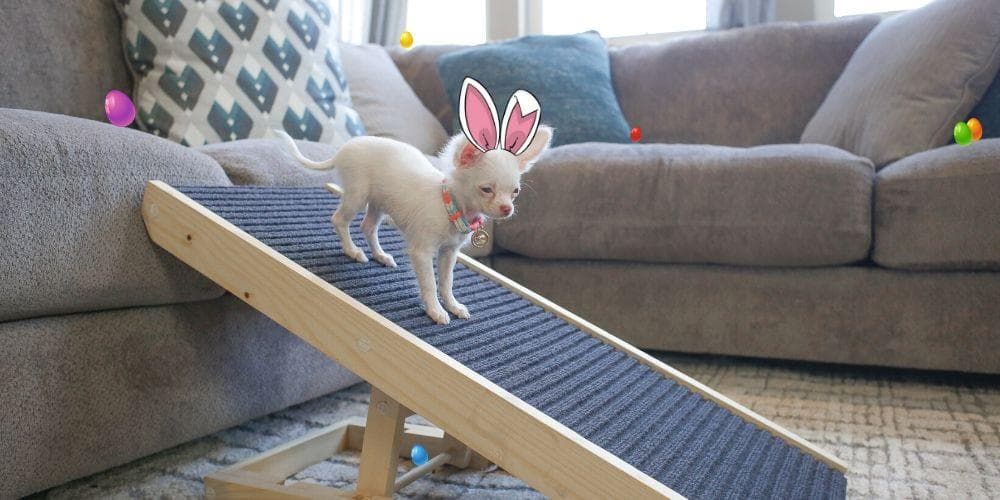 – There isn't just food on this hunt, there are toys too! Your pooch already knows all the toys he owns (and your bank account does too! Thankfully for this one, your banker will be grateful!).
Turn on your Floppy Fish and hide it behind the curtains. Give it a shake and your floppy fish will start bouncing , making noise and moving the curtain. Your dog's curiosity will get the best of him and WOW A NEW TOY THAT'S A NEW TOY MY HUMAN GOT ME A TOY AND IT MOVES THAT'S SUCH A GREAT TOY -Kay I'm hungry now where's the next treat?
– Guide your pup to the bedroom. It's almost the end of the hunt, which means it's time for bed! Bed? Your pup looks at you with a look of disdain. "But we're in the middle of the hunt! Get your head in the game, Hooman!"
You smile sneakily. You open the bedroom door, and what do you see, next to mom's bed? A brand new dog bed!! It looks so cozy and fluffy and WOW YOU HID A BRAND NEW TREAT IN IT TOO!!!!

At this point, you're probably wondering how healthy it is to give your dog so many treats in a day, even though it's a celebration. But we're here to give you the best of both worlds! What if your treat could also be a supplement with all that your pup needs to be at his healthiest?
Use the all-natural 15-in-1 Multi Chews as Easter treats! They taste like peanut butter and your dog will be able to get enough of it!
It has probiotics to replenish your pup's good bacteria in their digestive system, Krill oil that has the same Omega-3s benefits as fish oil but do not carry toxins and contaminants that bigger fishes could feed off of in the ocean that would make it into fish oil, Glucosamine, which is a natural nutrient commonly found in shellfish that helps build cartilage and is great for joint health, and multivitamin blend! Talk about a healthy treat, don't you wish humans could have it too (But don't eat that one. That one's for your dog.)

1:15PM: The hunt is coming to an end. Time to go back to the freezer for those delicious and healthy frozen treats! Congratulate your pup on a hunt well done before he runs off to his new bed with his new toy. 
And here you have it! A successful Pupster hunt and a very happy and satisfied doggy! Now if only another human could organize a hunt like this for you! Time for a nap for both dog and parent. You guys deserve it! Happy Easter!