After using more than 10 dog bunk beds, we think the Room With a View is the best bunk bed for most small dogs. It features a beautiful design, high build quality, and at a reasonable price. The Room With a View isn't perfect, but if you have a small dog and you want to spoil it with a dog bunk bed, it's hard to beat.
How We Picked
We chose our picks based on four criteria:
Materials. The ideal dog bed is going to stand up to a chewing, nails and possibly the weather. For this reason, material is extremely important for longevity. Well rate the type of material along with the overall construction of the bunk bed for dogs.
Design. Designs range from plain to almost modern art. We understand not every design will appeal to everybody's sensibilities and current home, but we also graded the dog bunk beds by the quality of their design.
Comfort. We graded each bunk bed for dogs on its observable comfort. One of the big indicators of a comfortable dog bunk bed is whether your pups prefer their bunk over anywhere else. Another indicator is how quickly the material wears down over time and needs to be replaced or repurchased.
Setup. The easier setup, the better.
Price. Dog bunk beds don't grow on trees, and you're not made of money. We evaluated each dog bunk bed on the price to value for its materials, design comfortability and longevity.
How did we choose which models to review and compare? Well, there are only a dozen or so dog bunk beds available, and we reviewed most of them.
Best Bunk Bed For Small Dogs
The Room with a View Pet House is a fantastic bunk bed for many dogs.
Why we like it:
It's designed with kiln-dried wood and stained with natural colors to enhance durability. It has a classic 'American Dream Backyard' design aesthetic. You need to provide your own doggy cushions, so you can splurge if you'd like on your dog's comfort. The Room with a View Pet House is the most value for the price you're paying.
This dog bunk bed is for smaller breeds. If you have a German Shepherd, this is not the bunk bed for your dog. If you have a couple of small dogs, that's ok. Up to four small dogs can fit in the top area while sitting, and 2-3 while laying.
The dimensions: 21" x 29" x 26"
Features:
Indoor / Outdoor ready
Stable and safe to carry your dog's weight
Removable rooftop and bottom panel for easy cleaning
The wood can be re-stained as desired
Intricately designed lattice fencing on the roof
Raised bottom keeps pets dry and protects the wood from water
Natural wood scent creates a please and calming atmosphere
Here are some actual customer quotes:
"This little perch is adorable!!! Initially bought it for our 10 lb toy fox terrier but she shares it with our 40 pound French/Boston!" – Alexandra B.

"Our little pup loves her house….and so does everyone who sees it! It was very easy to assemble and sits in our living room." – Lesley S.

"After reading many reviews and seeing customer images I purchased this and the pet gear ramp! My dog already loves it and I just put it together!!!" – Ashley B.
Flaws, but not deal breakers
Unfortunately, this dog bed is not water proof out of the box, but then again, none of the dog bunk beds we tested were waterproof either. This bunk bed will stand the test of time and weather outside, but if you want to keep the inside dry while it's raining you will need to waterproof it yourself.
Best Bunk Bed For Large Dogs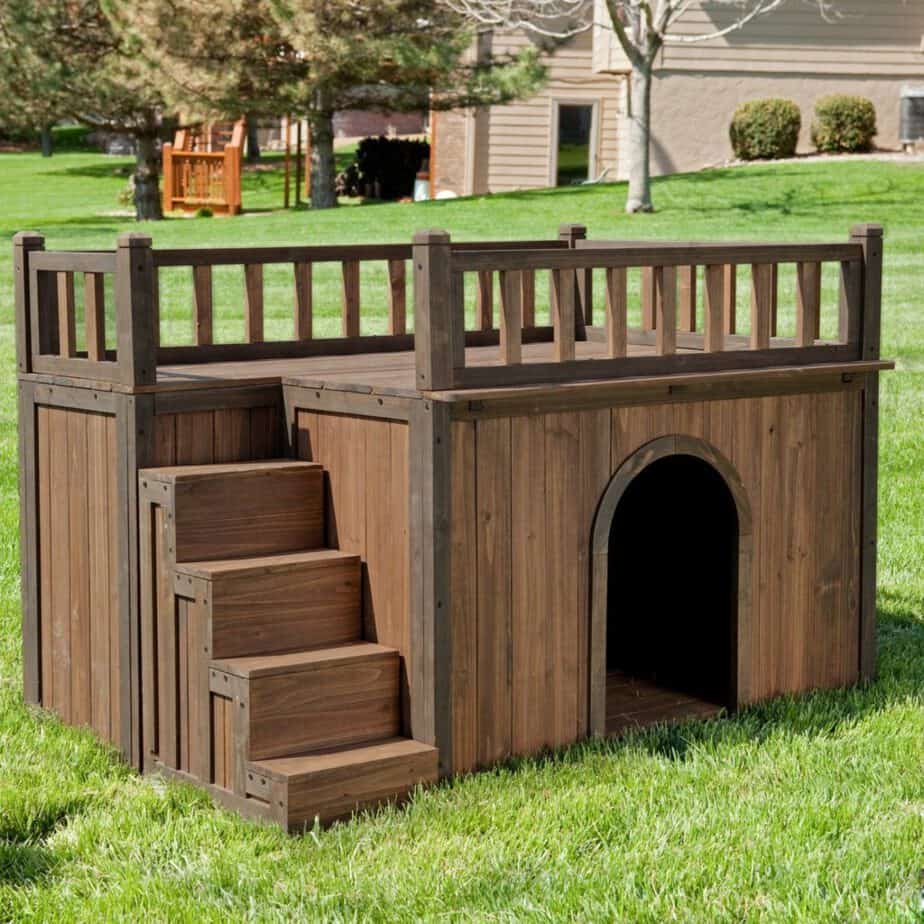 The Wooden Outdoor Dog House with Balcony and Staircase (L) by Boomer & George is the best bunk bed for big dogs on the market.
Why we like it
This bunk bed for dogs is solid, coming in at 40 lbs with 100% fir wood construction. This bunk bed for dogs features raised legs to keep the floor of the bunk beds off the ground, keeping your pup dry in rain or shine.
It's overall dimensions of 48W x 32D x 35H make it the largest dog house we reviewed and will accommodate all but the largest dogs.
These things come in multiple sizes, so make sure you get large.
Hear from real customers:
"My 17lbs Jack Russell (Raylie) absolutely loves the deck that is where she hangs out. My 2nd Jack (Stitch) loves the main floor has plenty of room for his cozy bed. This thing is a hit with these two! Sturdy, bigger than I thought, my husband put it together said that the directions where a bit cryptic but otherwise this is a great buy!" – Jake D.

"I have 2 small jack russells and they both sleep in there. We love this sturdy house it's the best thing we could have bought for our dogs!!" – Shannon C.

"Awesome product I was afraid my dog would still be getting wet in the rain and not at all the house has flooing to keep him dry and off the concrete it was more than I expected wonderfull house great to look at aswell" – Aramis U.
Features:
Solid fir wood construction
Drizzle proof interior
Weatherproof leg protectors
Raised floor design resists moisture
Provides comfort in hot, cold or wet conditions
Flaws, but not deal breakers
The instructions included aren't the most detailed, and you will be confused for a few minutes. But don't panic, you'll figure it out – everyone always figures it out.
Upgrade Bunk Bed For Dogs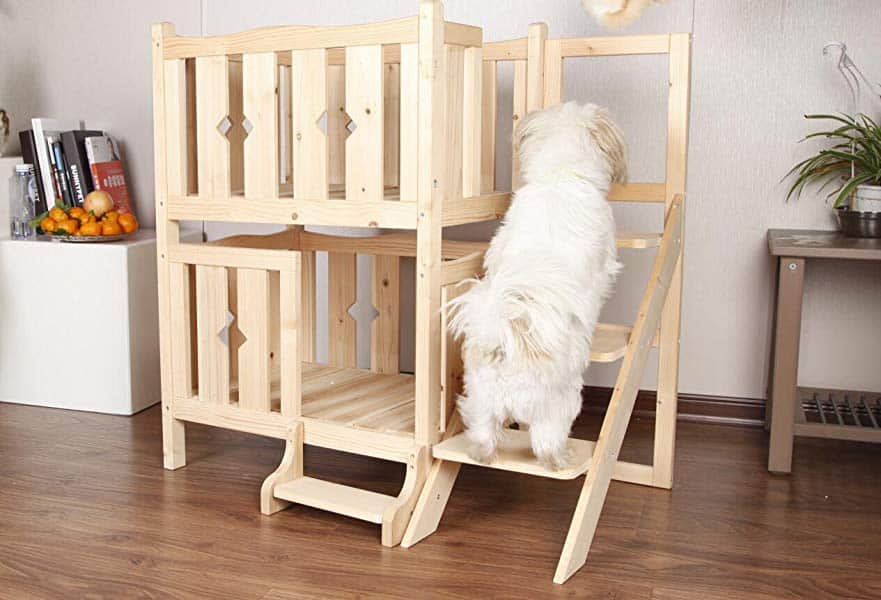 The Petsfit Wooden Pet Bed is the highest quality dog indoor dog bunk bed for small dogs we have reviewed. If you have a small dog, and you keep them inside, this is the dog bunk bed for you. When we say small, we mean small, 15 lbs or less, the Petsfit's dimensions are 24 x 18 x 34. 
The Petsfit bunk bed for small dogs weighs in at 31 pounds, and is made of 100% solid cedar with 12mm slats, thicker than many outdoor dog bunk beds.
The manufacturers clearly spent a lot of time thinking about their customer, because the instructions are well thought out and construction is a breeze, we we're done in 10 minutes.
Check out what customer have to say:
"This doggie bed is adorable. Don't regret buying it. Exactly as advertised. Super easy to put together. I'm a 70 year young woman and I did it without reading the instructions." – Sharin R.

"Love it!! Excellent quality. I cant wait to purchase another one. I painted it all up and I use it in the cat room. They love it! I had a lot of fun with this project.What a great find and an even better price to go with it." – Jasmine R.

"This is the best cat bunk beds for my 2 cats. One 11.9 lb and one 15.5 lb. Plenty of room between the top & bottom bunk. Floor boards come in two sections and they are close together, without cracks. Natural wood and extremely sturdy and well made. Easy to put together." – Viki P.

"I absolutely love this product!! Put together in 30 minutes. My 12 lbs Chihuahua was weary on the steps so I put a towel over them and put a "goody" for her on top level." – Jacob B.
Features:
Extremely easy setup with pre-drilled holes
Beautiful and sturdy cedar wood planks
Wood can be re-stained any color
Flaws but not deal breakers :
The Petsfit is nearly perfect, and we had to really reach to find valid critique. While we didn't personally experience this problem, there are a couple of cases reported of items broken in shipping or missing instructions. In most cases this was resolved by Petsfit publicly. Another minor complaint is the Petsfit only fits the small dogs, and there isn't a comparable quality bunk bed for larger dogs. It truly is a shame they don't have a version for larger pups
The Competition
Giantex Pet Dog House Indoor / outdoor made of wood fir, although it looks and smells as if it's made of cedar. The dog bunk bed is easy to assemble and the manufacturer ever provides the required Phillips head screwdriver. Unfortunately, one of the most common issues is some of the holes do not come pre-drilled which can create complications during assembly. Most people are able to jerry rig it in an acceptable way, but it is more work than bargained for. 
Confidence Pet Wooden Dog House: Nice looking, decent quality material made out of soft cedar and priced on the lower end. The #1 complaint about this dog bunk bed is how small the bottom bunk is. When I say small, I mean small breeds like the Shih Tzu is too big. Think teacup type dogs. If your dog is bigger than a toy / teacup we would steer clear and choose a different dog bunk bed. If that's not enough, dogs that can fit this bunk bed have problems walking up the stairs due to the steepness. I suggest paying a bit more and getting a better bunk for your pup.
LazyBonezz Metropolitan Bunk Bed: The LazyBonezz Metropolitan is the only dog bunk bed, that actually looks like a human's bunk bed. The construction is extremely high quality weighing in at 35 pounds with dimensions of 24 x 17.8 x 22.6. This bed comes with two interchangeable cushion covers with the options for many different colors including ebony, zebra, giraffe, and panther. We love the design and style of this dog bunk bed, it's truly unique. The deal breaker is it costs over $300. Maybe if we all buy one they'll bring down the price?!