Two Unlikely Best Friends
This Dachshund has a very unique best friend: a rescued baby porcupine! Diablo the porcupine was rejected by his mom at Cotswold Wildlife Park in Oxfordshire, England, and a zookeeper by the name of Estelle Morgan has raised Diablo ever since.
When Diablo was just a few days old, Morgan introduced him to her Dachshund puppy, Fig. She wanted to work on developing some of Diablo's social skills,
"When Diablo gets excited, he will do a buckaroo-style run, where he thrashes his head around and jumps up in the air," she said. "Under close supervision, they will run around the garden together and Fig has been very gentle and patient with Diablo."
The Tale of Diablo
Diablo was born at Cotswold Wildlife Park in Burford, but the decision was made to hand-rear the baby porcupine when his mother rejected him. "Diablo's mother, Hannah, previously had twins in February that she is still caring for, so it is likely she wasn't really ready for another baby so soon," says Morgan.
"His unexpected arrival was a big surprise for all of us." Little Diablo was "very feisty" from birth, but is now showing his softer side and building his social skills with his new best buddy, Fig the Dachshund.
Diablo's Bottle Feeding Routine
During the first month, he was fed one bottle every two hours to get him into a regular routine. At first, he weighed only half a pound, but at six weeks old, he had grown to weigh four pounds! He had even developed a liking for apples and sweet potatoes! Go Diablo!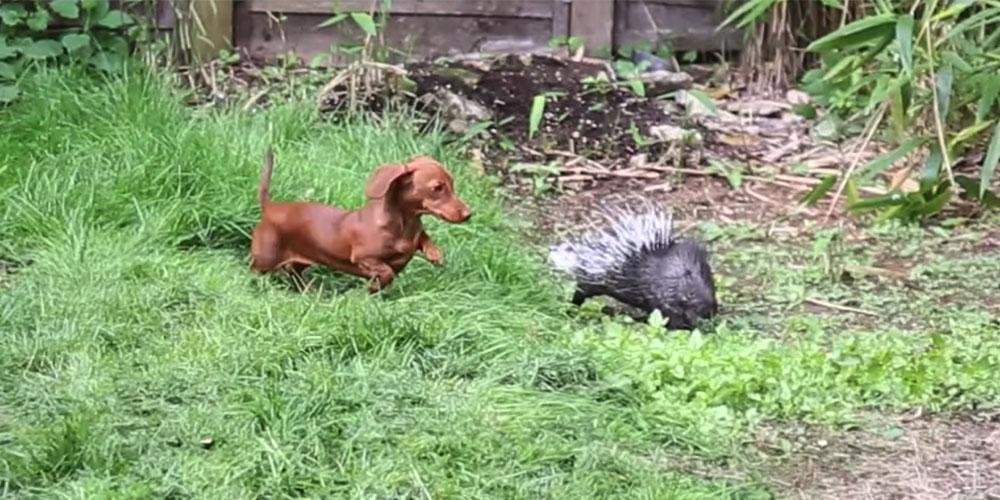 The Cutest Duo on the Internet
The story of Fig and Diablo gained a lot of attention and even went viral on the internet, and we definitely can see why! The unconditional love between the two animals teaches us that no matter how different we may be, it's important to accept and love everyone around us. Thank you for the valuable lesson, Fig, and Diablo!
You can watch a short video of the best friends below. What do you think of this adorable duo? Let us know in the comments below.