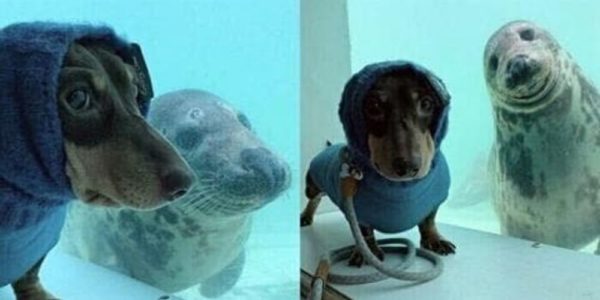 Buddies From the Land and the Sea
A Dachshund and a seal's incredible friendship is making headlines and putting a spotlight on an important sanctuary in the UK. One day, Stanley and his owner, Melanie Talbot, took a trip to visit the Sea Life Trust Cornish Seal Sanctuary. When the sausage dog met the seal, the friendship was instant.
By the charming photos posted on her social media, Stanley and his friend Aayla were excited to meet each other and didn't let the plexiglass keep them apart.
According to Melanie's social media, Aayla's journey to the sanctuary was downright sad.   "..Friendships can blossom anywhere…. Aayla was rescued from Bacton, Norfolk in January 2017 and taken to a local rehabilitation center. She was malnourished and had a small injury on her right flipper."

A Dachshund and Seal's backstories
"After an investigation by a vet, it was discovered that the wound was more serious than initially suspected. There was an infection in the bones so she had to have several removed to stop the infection from spreading, so had to receive continuous care. Unable to stay in her previous home in Hunstanton, she was relocated to @thecornishsealsanctuary in July 2018 where she has found her permanent home."
Stanley visits the sanctuary often and usually heads straight to Aayla's tank. While the dog and the seal can't physically horseplay with each other, Stanley can watch Aayla dive around the pool in excitement and she can watch him wag his tail in delight!

A Lesson In Friendship
Their friendship is a wonderful reminder that interpersonal relationships aren't reserved for humans. Animals are capable of complex emotions and comprehension. Visit the Sea Life Trust Cornish Seal Sanctuary for more information about Aayla and the rest of the seals who live there.