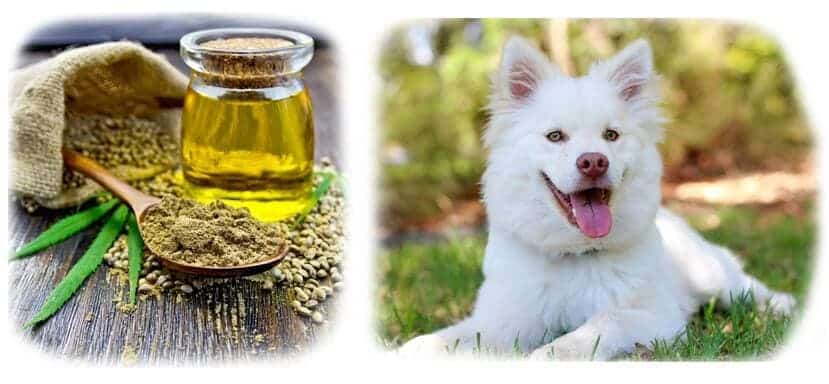 Hemp oil is a superfood that contains a variety of nutrients, which is essential to both humans and pets. While the popularity of hemp supplement for humans is increasing, it turns out that even pets need it.
To guide you on the importance of hemp oil, we will explore the benefits of hemp oil for humans. Furthermore, we will take a look at what our pets benefit from taking hemp oil. You will be informed on why it is essential to add hemp oil to your dog's meal and improve their overall health condition.
What is Hemp Oil?
Hemp oil is derived from the seeds of the hemp plant with its seed having rich nutrients that has numerous health benefits. CBD oil can be manufactured from the hemp plant, but hemp oil has more important benefits for dogs than CBD oil. Hemp oil comes in different forms, which is consumable orally, applied sublingually or topically. Additionally, it can be smoked via vaporization. The edible products and pills take effect between 30 to 90 minutes whereas the sublingual and vaporization process can take effect immediately.
Hemp oil is one of the nutritious oil that is certainly consumable even in its raw state. It contains about 70-80% polyunsaturated fatty acids with less than 10% saturated fats. Why it is recommended for dogs is because of it's remarkable 3:1 balance of omega fatty acids. It is a good source of GLA (Gamma Linolenic Acid), Omega 3 (Linolenic Acid), Omega 9 (Linoleic Acid), stearidonic acid, and Omega 9 (oleic acid)
General Benefits of Hemp Oil
Hemp oil contains important nutrients that are useful for different purpose. In spite of its global popularity, prejudice linked to its association with marijuana has kept its usage in the Western world. In as much as hemp oil doesn't have THC (the psychoactive element contained in cannabis), it is regarding as unsafe for many. However, because of the numerous educations of the benefits of hemp oil, many are appreciating its relevance. In this section, we will look at the general benefits of hemp oil for human beings.
Helps with anxiety, pain, and Sleep
All Hemp products from Alpha Paw contain no THC and help in dealing with anxiety, pain, sleep, and stress. In dealing with these issues, you can take the recommended dosage once a day.
Aid healthy hair, skin, and nails
Studies have shown that hemp oil, when used as a moisturizer, helps decrease skin dryness dramatically. This helps in reducing irritation and itching. Additionally, the anti-inflammatory and antioxidant properties in hemp oil help in soothing your skin while protecting you against skin aging.
Exceptional Nutrition for the Brain
Hemp oil has essential fatty acids, which include Docosahexaenoic acid (DHA) and is necessary for the development of the brain. DHA is significant to the brain's health, including the retina of the eye, especially in the first growing year of an individual. Mothers who add hemp oil when they are pregnant helps in improving the eye and brain of their developing babies.
Good for Heart Health
The ratio of Omega-3 to Omega-6 fatty acids of hemp oil is 1:3 and it has been proven to promote cardiovascular function and support heart health. Omega-3 and Omega-6 nutrients play an important role in different biological processes while preventing some degenerative diseases that may affect the immune system.
Hemp Oil Promotes Balanced Hormones
If you are looking for a rich source of gamma-linolenic acid, then you found one in hemp oil. Gamma-linoleic acid (GLA) is an omega-6 fatty acid that helps in balancing the body's hormones. Supplementing substance that contains GLA, helps ease premenstrual syndrome for women. Furthermore, it can minimize cramping and pain during menstruation.
Supports the Immune System
Various studies have shown that the essential fatty acids (Omega-3 and Omega-6) contained in hemp oil helps in promoting a healthy flora while improving the response and function of the immune system.
Hemp Oil – Benefits for Dogs
We have looked at the general benefits of Hemp oil for human beings but hemp oil also has its benefits when supplemented in the meals of dogs. Hemp oil isn't just a nutritional oil to their diets, it is a highly nutritious boost to their coat, skin, and immune system. Alpha Paw understands the investment you have made on your pets and with our Advanced Hemp Oil 500mg or our Calming Chews you can help to keep them free from every disease.
The following are some of the benefits of hemp oil for dogs.
Supports healthy function of organs
Supports good heart health
Positive effect on reproduction and fertility
Healthy growth and development
Strengthens and improve the immune system
Reduces dandruff and shedding
Improve their skin and fur condition
Acts as anti-inflammatory
Great effect on brain function
You will find hemp oil in our Advanced Hemp Oil 500mg and hemp extract in our Calming Chews and 15 in 1 Multi Chews.