Here are Dachshund-Themed Events that you should go to.  You've likely seen over the last several years that certain animal cafes are starting to pop up around the world. Cat cafes get the most love (supposedly cats and coffees go well together), but there have been other animal cafes as well, such as a raccoon cafe in Asia.
Dachshund Cafe
Now, sausage dog lovers are getting a cafe of their very own in London, for one day only, Aug. 19. The Happenstance cocktail bar (near St. Paul's Cathedral) is transforming into The Dachshund Cafe, a lovely idea from the same folks that created the Pug Cafe in London earlier this year.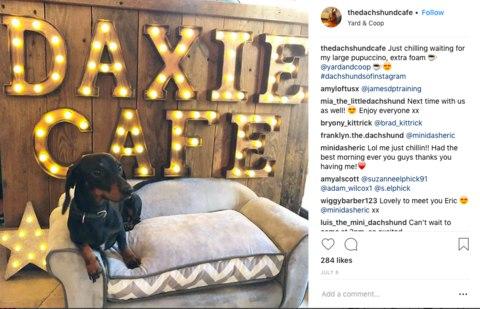 The very classy little affair will include lots of treats for dachshunds (and other dogs, of course), such as puppy-friendly cakes, donuts and other bakery items from the Rudi the Doggy Bakery. Your favorite doggy can also enjoy a "pupuccino" or a nice helping of "pupcorn" (and if you can't make it to London in time for the event, at least now you have some nice, chuckle-worthy puns to add to the menu at your sausage dog's next birthday party).
Of course, the cafe doesn't leave all the puppy parents out of the mix. The humans can enjoy various summer appetizers and some cocktails. There'll be lots of photos and picture-perfect puppy attire is expected.
The reservation-only event is pretty in-demand, with thousands expected to attend, which just leaves us wondering — what other fun events are out there for your fabulous pup?
Nashville Oktoberfest
If you're in the American South, you can head to Nashville Oktoberfest, Oct. 11–14, to catch the Dachshund Derby. The crowd favorite race promotes a local nonprofit benefiting at-risk teens and animals. There are separate race categories, including races for dachshund puppies, seniors, minis and mixes.
Washington Metro Dachtoberfest
Also in October (Oct. 6), you can catch Washington Metro Dachtoberfest, called the best dachshund festival on the East Coast. The event has its own derby, plus puppy costume contests, a dog show, raffles and more, all to promote alternatives to pet surrender and euthanasia.
Dachshund-Themed Events Extending its reach
But, if you just can't get the idea of enjoying a posh time at a cafe with your little sausage dog in tow out of your head, don't worry. The same London dachshund cafe is extending its reach across the United Kingdom, with similar upcoming events in Liverpool and possibly returning to Glasgow, Manchester, and Nottingham.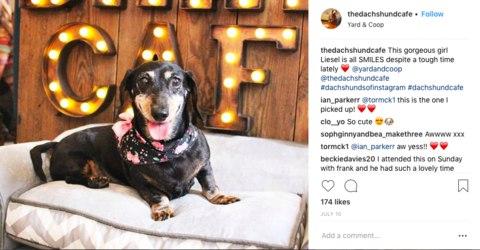 (The English obviously have Americans cornered when it comes to sausage dog enthusiasm, because the U.K. was also the setting for this year's earlier sausage dog world record event, in which more than 600 dachshunds converged on one beach to break the record of the previous 500 dachshunds in one place. The event was arranged by the Cornwall Dachshund Walkers group, which hosts other similar events throughout the year, frequently attracting big crowds of dachshund parents.)
If you can't make it across the pond, stop by The Dog Cafe in Los Angeles, which, while not exclusively filled with adorable dachshunds, at least can give you a good dose of puppy love while promoting dog adoption.