small
batch
Dog Food Reviews — An In-Depth Look Into a Family-Run Raw Pet Food Business
If you are looking for a way to cure the dry dog food boredom but are reluctant to feed your dog wet meals, you may give raw dog food a go. It is all the hype right now — the dog owner community is absolutely fascinated by how well their furballs are responding to their raw diets. 
Alpha Paw has taken notice of this dog nutrition trend and has set out to — you've guessed it! — test stuff out! This time around, we are looking into smallbatch and their raw dog food line. They tout their products for their remarkable quality and their impeccable ingredient origin, as well as their healthy food production principles.
Are smallbatch all they claim to be, and can their dog food live up to its reputation? Alpha Paw is not sponsored by affiliate links and would never push one food brand over another for profit. What you read below is our honest opinion based on research, testing, and consultation with professionals in the field of canine nutrition.
What Is small
batch
All About?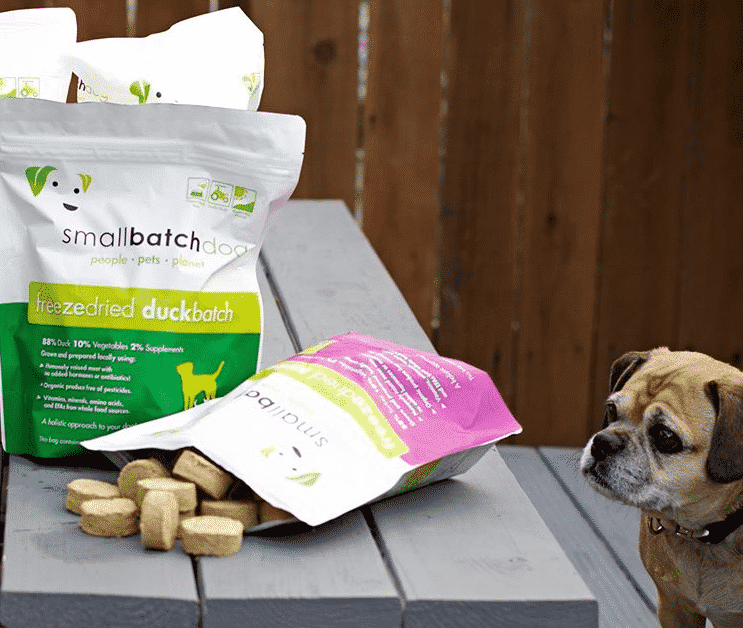 Credit: smallbatchpets
smallbatch started out back in 2003 in the California Bay area. Initially, the couple who own the company personally delivered their homemade pet food door-to-door to their customers by bicycle — now that's commitment! Their products were so well received that smallbatch have since grown into an interstate business that works with over 400 retailers and grosses over $3 million a year.
What makes smallbatch stand out is their devotion to procuring only the best quality ingredients for their recipes and preparing them without compromising their nutritional value. All the meat from their food is free-range and antibiotic- and hormone-free. They only use 100% organic fruits and veggies, and their formulas don't contain any artificial supplements.
The sourcing of smallbatch pet food ingredients already separates this company from the bunch, but they hardly stop there. They give those all-natural goodies all the love they can by:
Not separating meat mechanically 

Not using high-pressure pasteurization (HPP) techniques

Only using natural supplements, such as organic bee pollen and organic kelp

Not using any food fillers, additives, artificial colors, and preservatives

Freezing and freeze-drying their raw food (although there is also a lightly cooked line)
What's more, you won't find smallbatch products in any of the major retail stores or online shops like Amazon or Chewy. smallbatch is dedicated to supporting local businesses — check out their website's store locator if you want to find out where you can get this food brand for your pooch.
smallbatch dog food is available in the form of frozen, freeze-dried, or lightly cooked sliders or patties, and they also offer meat-only and meat+veg chubs. They have several treat options, too — jerky, frozen bites, frozen hearts, and marrow bones.
As for flavors, meats are always the main ingredients, followed by veggies, herbs, and fruit. They base their formulas on these meats:
Chicken

Beef

Turkey

Lamb

Duck

Rabbit

Pork 
Many recipes include veggies like yams, carrots, broccoli, kale, and squash. Some of their formulas may contain fruits, such as cranberries and apples, and almost all of them have salmon oil and aromatic herbs, such as basil and rosemary. 
smallbatch Dog Food
Dog Frozen Raw

Chickenbatch

Turkeybatch

Beefbatch

Duckbatch

Lambbatch

Rabbitbatch

Porkbatch 

Dog Freeze-Dried

Chicken freeze-dried

Beef freeze-dried

Turkey freeze-dried

Duck freeze-dried

Lamb freeze-dried

Pork freeze-dried

Dog Lightly Cooked

Chickenbatch

Beefbatch

Turkeybatch

smallbatch Blends 
Treats

Freeze-dried bites

Freeze-dried hearts

Jerky

Bones 
Our Evaluation Process
To be perfectly honest, we liked what smallbatch says about their pet-food-making practices, but we were reluctant to take their word for it. So we had to check whether their claims were too good to be true.
To make sure we didn't take for granted what smallbatch say about their pet food, we consulted experts on dog nutrition to help us sift through their products:
Veterinarians

from four local pet clinics told us about the nutritional requirements of our pooches and gave us their opinion on raw dog food.

Pet store workers

from three independent pet food shops told us about the demand for raw canine nutrition and offered their take on this rising trend.

Online user reviews

were instrumental in determining whether small

batch

's claims were backed up in practice.

Our readers

were an essential part of the testing process as they shared their experiences with this brand.

Our own furry companions

had to have their say — we transitioned them to raw diet slowly and wine and dined them on small

batch

formulas for five months straight.
How We Selected Our Top Picks
Credit: smallbatchpets
We made sure to gather all the info we needed before we could finish our smallbatch dog food reviews.
First, we combed through their ingredient lists and studied the nutritive value of their dog food blends. Vets informed us that "complete and balanced" dog nutrition needs to abide by the Association of American Feed Control Officials' (AAFCO) standards.
While most smallbatch dog foods were formulated to meet the AAFCO nutritional requirements, we learned that some of their products didn't, so we excluded them from our review. By that, we are referring to their meat only and meat+veggie blends, as their label says "intermittent or supplemental feeding only," which means they don't meet the "complete and balanced" nutrition profile set by this organization. They are still fine for mixing with other foods or home cooking,  but they are not intended to be used as whole meals.
Proper dog nutrition has to be made from named ingredients, not slaughterhouse by-products, and it has to contain vitamin- and mineral-packed fruits and veggies, instead of fillers like corn and iceberg lettuce cores. Since all of smallbatch dog food meets those terms, we relied on the refined palates of our and our readers' doggos to help us determine which recipes would make the final cut. 
We used the tips from the smallbatch website to transition our pups to raw food after our vets agreed with it. Then, we fed our pooches according to the serving recommendations printed on the packaging. After the five-month period, it was clear which recipes took the win in each category presented below. After you read through our smallbatch dog food reviews, dig into all the details of our research. 
Best small
batch
Raw Dog Food: Frozen Turkeybatch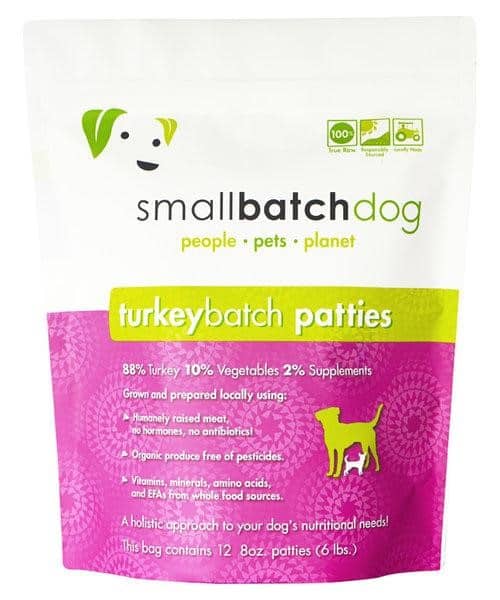 Credit: smallbatchpets
Although we received only positive reviews about all flavors from the smallbatch Frozen Raw Dog Food product line, turkey seemed to take the win. Most dog parents opted for this recipe because turkey is an ideal choice for allergy-prone doggos (if you need more info on that subject, read our guide to the best dog food for dogs with allergies). 
Frozen raw dog food is available in three portion sizes:
Sliders (3lb)

Smallbites (4lb)

Patties (6lb), which also come in 18lb bulk boxes
The turkeybatch formula is made from 88% humanely grown turkey. It makes use of turkey meat, necks, backs, and various organs, all of which ensure the blend has an ideal protein-fat ratio. The bony bits, such as the bird's necks and backs, are rich in calcium, which is the nutrient that is usually scarce in raw dog diets.
The recipe also has sufficient vitamins and minerals, all of which come from organic veggies — cauliflower, celery, squash, and green beans — and natural supplements, namely salmon oil, organic kelp, and organic bee pollen. This formula doesn't use any root vegetables, such as potatoes, which are often considered to be too rich in carbs for dogs to consume and are frequently dubbed as filler ingredients.
Guaranteed Analysis
Moisture (max)

73.4%

Crude Protein (min)

16.2%

Crude Fat (min)

5.9%

Crude Fiber (max)

0.5%

Ash (max)

2.4%

Calcium (min)

0.7%

Phosphorus (min)

0.5%

Calories 

Approx. 36 kcal per slider

Approx. 291 kcal per patty
Ingredients
88% humanely raised and harvested turkey, 10% organic produce, 2% natural supplements: turkey, turkey necks, turkey backs, turkey livers, turkey hearts, turkey gizzards, organic squash, organic celery, organic cauliflower, organic green beans, salmon oil, organic bok choy, organic apple cider vinegar, organic kelp, organic dandelion, organic cilantro, organic bee pollen, organic wheat grass, organic bilberry, organic garlic, organic thyme, organic oregano.
Runner-Up: Freeze-Dried Duckbatch
Credit: smallbatchpets
smallbatch freeze-dried goodies have identical formulas as their frozen dog foods, except that these are more convenient to use while traveling or as snacks and treats. All you need to do is pour half a cup of water over the sliders, et voila! — a scrumptious meal for your doggo is ready.
The main ingredient in the recipe we liked the most from this line is duck, which is considered a novel meat source in dog nutrition. Novel meats are praised for being tasty, hypoallergenic, easy to digest, and protein-packed.
The duckbatch formula is made from a selection of organic veggies, aromatic thyme and oregano, and various parts of the bird, including bones, gizzards, hearts, and livers. Just like chicken and turkey, duck is classified as poultry, but you needn't fear the bones as they are perfectly safe for your pooch to consume when raw.
What impressed us the most is that freeze-drying is a perfect way to preserve and serve raw food to our woofers. It is a three-step process that trumps simple dehydration because it retains more proteins, vitamins, and minerals that get lost to a great extent when moisture is merely sucked out of food. 
Reconstituted Analysis / As Fed
Moisture (max)

8.1%

Crude Protein (min)

59.5%

Crude Fat (min)

27.6%

Crude Fiber (max)

1.7%

Calcium (min)

3.3%

Phosphorus (min)

2.1%

Calories 

56 kcal per slider
Ingredients
88% humanely raised and harvested duck, 10% organic produce, 2% natural supplements: duck including bones, duck gizzards, duck hearts, duck livers, organic squash, organic celery, organic cauliflower, organic green beans, organic bok choy, salmon oil, organic dandelion, organic apple cider vinegar, organic kelp, organic cilantro, organic bee pollen, organic wheat grass, organic bilberry, organic garlic, organic thyme, organic oregano.
Best for Sensitive Tummies: Lightly Cooked Chickenbatch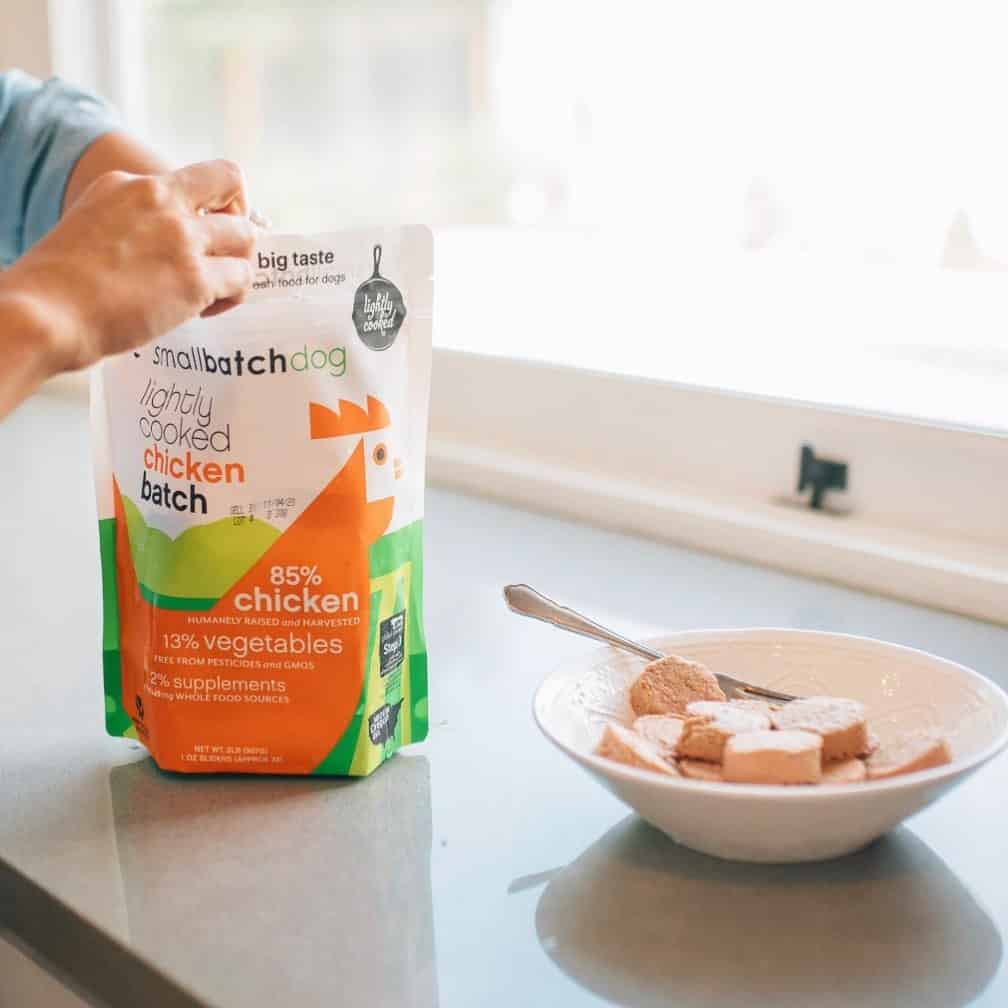 Credit: smallbatchpets
Although smallbatch are strong advocates of a raw cat and dog diet, they do offer their most popular formulas in a lightly cooked version, too. The quality and source of the ingredients are the same, except that this time around, they are cooked sous vide for roughly five minutes. This achieves pasteurization and makes the food gentler on sensitive tummies.
In our experience, the lightly cooked formula is also an excellent option for a dog that is just transitioning to raw nutrition. Doggos digest raw food differently and much quicker than kibble, so offering them something that is half-cooked is a good way to go if you're thinking about making the switch to raw, too.
Another essential thing to mention here is something dog parents universally agree on — lightly cooked chicken batch smells absolutely wonderful! The aroma is out of this world and is, in our opinion, reminiscent of the chicken broth we humans love slurping! It was enough to make our mouths water, so we get why our pooches found it irresistible, too!
Guaranteed Analysis
Moisture (max)

74.1%

Crude Protein (min)

14.6%

Crude Fat (min)

4.7%

Crude Fiber (max)

0.5%

Calories 

Approx. 43 kcal per slider

Bone Grind Size

⅛ inch
Ingredients 
85% humanely raised and harvested chicken, 13% organic produce, 2% natural supplements: chicken neck, chicken gizzard, chicken back, organic carrots, chicken liver, chicken heart, organic yams, organic broccoli, organic zucchini, salmon oil, organic kale, organic collards, organic parsley, organic bee pollen, organic garlic, organic bilberry, organic wheat grass, organic basil, organic rosemary, vitamin e, zinc glycinate, copper glycinate, manganese glycinate.
Best Treat: Beef Jerky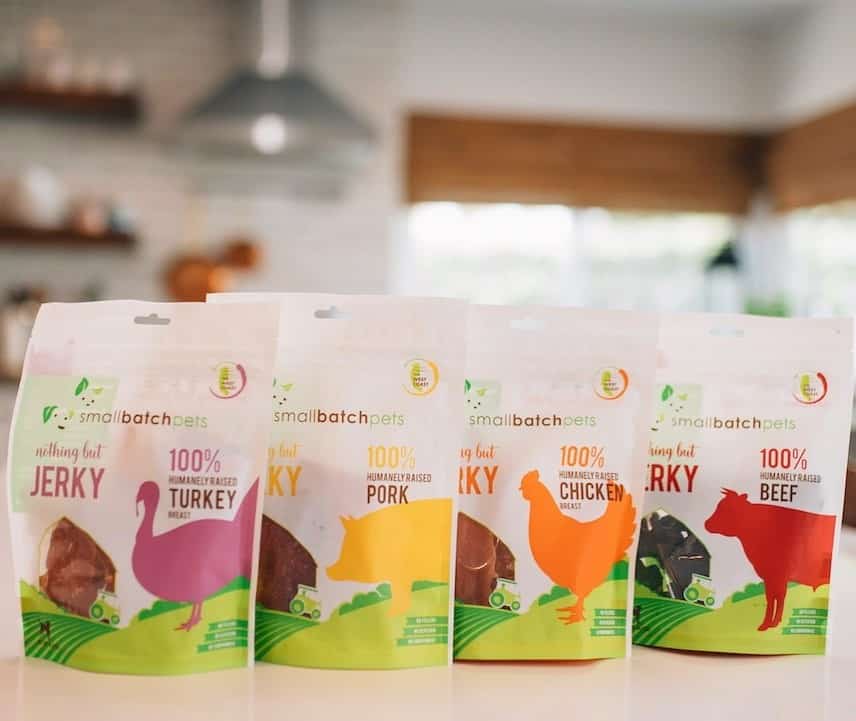 Credit: smallbatchpets
smallbatch Beef Jerky is a delectable treat or snack for any doggo, regardless of their stage of life. All their jerkies are made of a single ingredient — in this case, beef heart coming from humanely raised and grass-fed cattle. The recipe doesn't include glycerin, salt, grains, or any other fillers.
This formula is fantastic because beef is a rich source of high-quality protein that supports your pup's muscles and gives them energy. Beef hearts are a delicacy in their own right — they are loaded with essential amino acids, iron, selenium, phosphorus, and zink. In case your pooch is allergic to beef, smallbatch jerky is also available in other flavors:
Chicken

Turkey

Pork 
Guaranteed Analysis
Moisture (max)

15%

Crude Protein (min)

70%

Crude Fat (min)

10%

Crude Fiber (max)

1%
Ingredients 
100% beef heart.
Go Raw or No?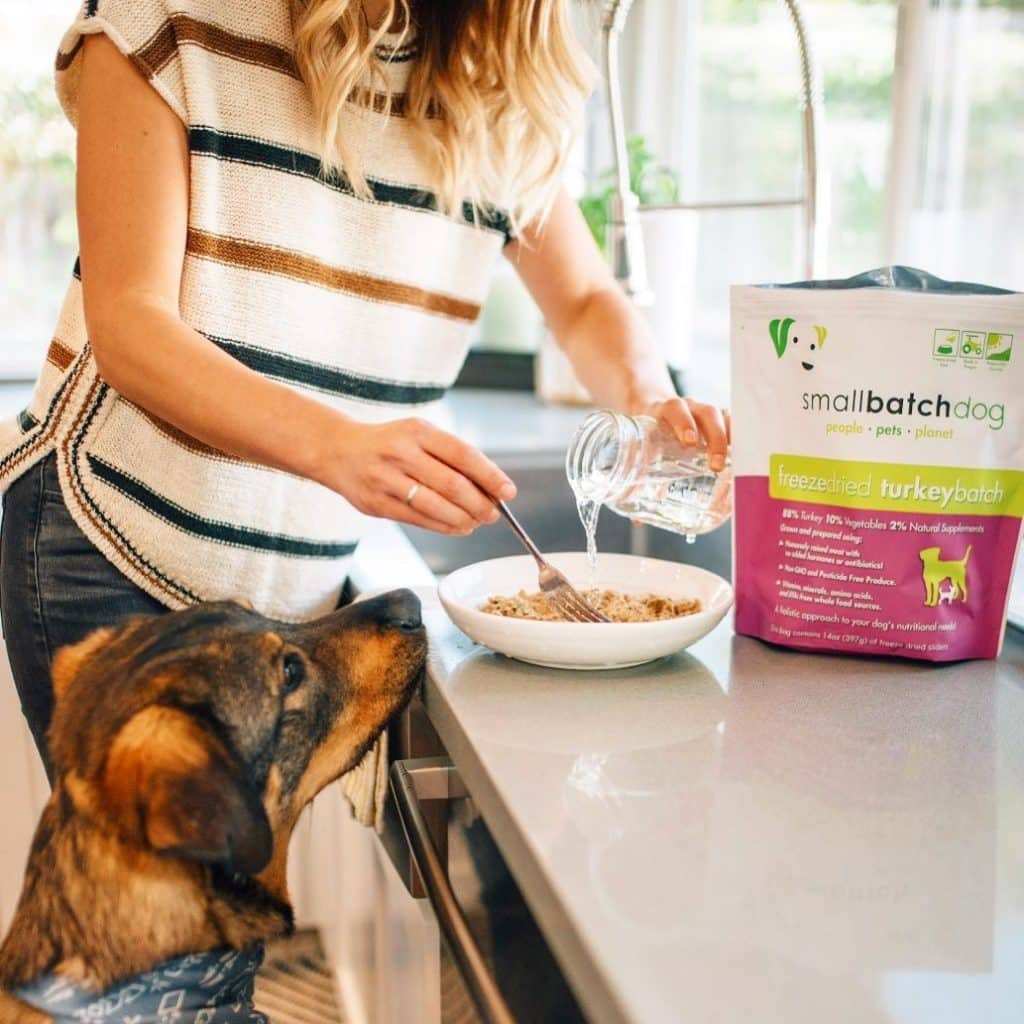 Credit: smallbatchpets
Raw pet food is controversial, to say the least. While owners claim that their furry buddies thrive on food inspired by their ancestral diet, vets and food officials maintain that it is dangerous for both animals and people. 
The biggest concern about raw food is that it is easily contaminated. The primary culprits are Salmonella, E. coli, Listeria, and Campylobacter. These pathogens could infect dogs and also expose people to the risk of infection through the dogs' feces, coats, paws, or saliva (if they lick us). Official scientific attitude toward raw dog food is, therefore, that it should not be used at all.
Owners and raw food makers beg to differ. smallbatch people fervently believe that raw food is ideal for canines as their stomachs are more acidic than ours, which makes them exceptionally resistant to bacteria, parasites, and viruses that live in raw food. Enthusiastic smallbatch raw dog food reviews show that doggos that were fed on this raw nutrition experienced: 
Smaller, firmer, and less stinky stool
A decrease in allergy flare-ups
Raw food takes less time to digest, so you may need to feed your dog more often. Some recipes contain quite a lot of fat, so it's crucial that you stick to the serving recommendations printed on the packaging. Otherwise, your goggie may get chubby.
Another thing to keep in mind regarding raw food is that, while it usually has enough fats and proteins, it often lacks calcium. To make sure your pooch gets proper amounts of this nutrient that is essential for their bones and teeth, choose the food that, like smallbatch, lists raw bones among its ingredients. You don't need to fear that they will harm your pooch — only cooked bones, especially those coming from poultry, are brittle enough to do that.
small
batch
Dog Food Recall History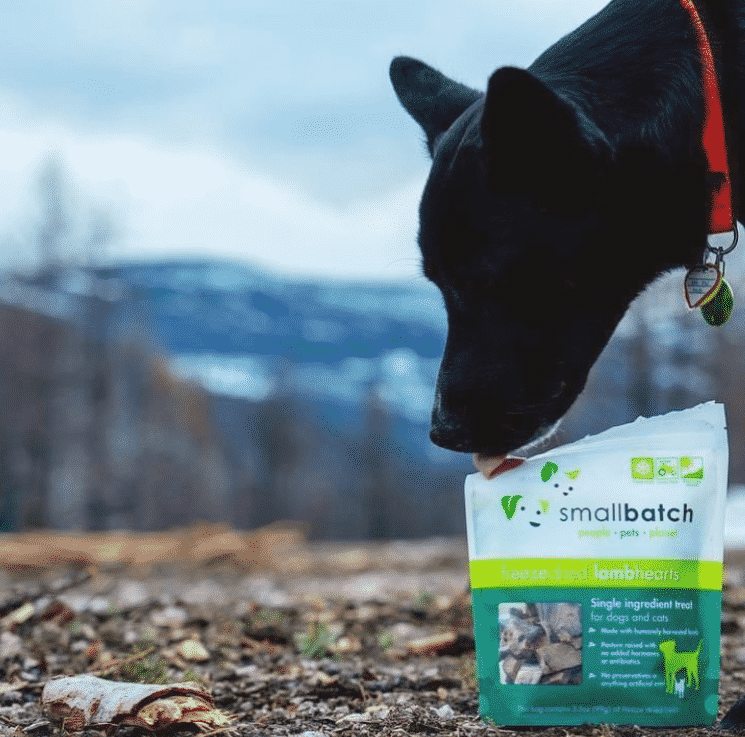 Credit: smallbatchpets
smallbatch had only two product recalls — one in 2016 and one in 2017, both of which they issued voluntarily.
The 2016 recall involved one lot of Frozen Dog Duckbatch sliders because it was suspected that that batch was contaminated with Salmonella and Listeria monocytogenes. In 2017, they recalled two lots of Frozen Chicken Blend for cats and dogs (the only smallbatch product that wasn't included in our review) as it was potentially infected with Salmonella. 
What We Liked the Most About small
batch
Dog Food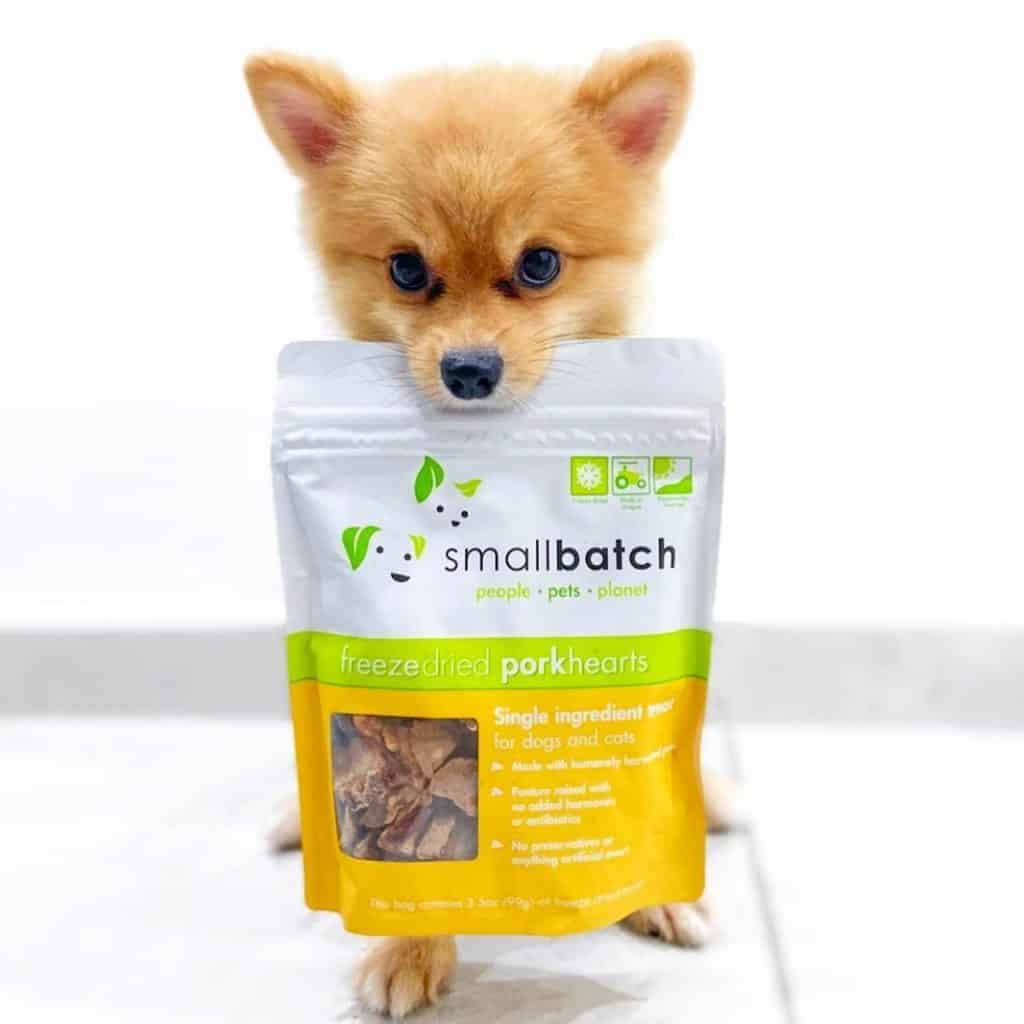 Credit: smallbatchpets
Based on our thorough research, we identified the following as the best aspects of smallbatch dog food:
Their sourcing of ingredients.

All their products contain humanely raised and harvested meat and organic fruit, herbs, and veggies.

Their manufacturing processes.

They no longer use HPP, a process that lowers the nutrient value of food, and they don't separate meat from bones mechanically, which means that by-products can't find their way into their formulas.

Their support of local foods and businesses.

All the ingredients they use come from local farms and people they know personally (they will even connect you with those farmers if you have any questions about their products). The only product that is not U.S.-grown is organic kelp, which they import from Iceland. All small

batch

products are sold only by local retailers.

Their transparency.

All ingredients and their origin are displayed publicly on their website, and anyone who would like to know more about smal

batch

can get in touch with them via email or phone.
What Are the Drawbacks of small
batch
Dog Food
Although we were quite impressed with this raw pet food brand, there is also room for improvement. Here is what we didn't like:
The delivery may be late.

This company's products are in high demand, and they admit that delays in delivery are possible. It is a small price to pay for supporting local businesses, but who is to say that we won't decide it's easier to visit a chain store or order from Amazon when our pup's small

batch

order is running late?

Garlic.

Some of their formulas contain organic garlic. It is listed fairly down on the ingredient list, which means it is found in small quantities, but the fact remains that this ingredient is toxic for dogs.

All their formulas are for "All Life Stages."

We know very well that the

best puppy food

and the

best senior dog food

have to meet significantly different nutritional requirements from adult formulas.

The dangers of raw food.

This company claims that raw is the way to go, but the fact remains that there is not enough research to back up their claims. Even though our pooches are relatively resilient to raw food contaminants,

we

are not, and we risk our health every time we pick up their poop, pet them, or cuddle with them.
So Does small
batch
Make a Big Difference?
In terms of product quality, smallbatch chow is way above-average. Their ingredient sourcing and food manufacturing practices are a rarity in the canine nutrition industry. It would be much easier for them to go with the grain and opt for cheap ingredients, by-products, non-organic veggies, additives, and fillers — for refusing to do that, this company deserves our admiration and respect.
However, we are far from convinced that raw is the only way to go. We have ample experience in reviewing many other brands and other food formulas, and we failed to notice the drawbacks of kibble or canned food that would make us religiously serve only raw food to our pooches.
If you are a proponent of raw dog food, we warmly recommend you try smallbatch — and don't forget to let us know what you think. If you are not inclined to try their raw dog grub, you should stick to kibble or wet food. Here are some of our guides to the best and worst dog food options we were able to identify:
You can also check out Wellness CORE dog food that has bits of freeze-dried raw meat mixed in with the kibble to offer your pooch the best of both worlds. Alternatively, take a look at Dog for Dog food with a good cause or another family-owned business in our Fromm dog food review.
References
Iennarella-Servantez, Chelsea A. "Evaluation of Raw Meat Diets on Macronutrient Digestibility, Fecal Output, Microbial Presence, and General Health Status in Domestic Dogs."

Tierarztl Prax Ausg K Kleintiere Heimtiere.

doi:10.31274/etd-180810-5154.

Marshall, Scott Jay.

Raw Feeding 101: Beginner's Raw Feeding Guide.

CreateSpace Independent Publishing Platform; 1 Edition (May 23, 2018), 2018.