Metronidazole for Dogs: Dosage, Side Effects & Warnings
Jul 03, 2021
Metronidazole, also known as Flagyl, is a veterinary prescribed antibiotic medication used in dogs.
Metronidazole for dogs is usually used to treat giardia or other conditions causing diarrhea.
Common side effects of metronidazole in dogs include stomach upset, nausea, and decreased appetite; therefore, it is recommended that this medication be given with food.
If you notice serious side effects of metronidazole including neurological symptoms such as rapid eye movements, dizziness, and disorientation, you should discontinue this medication and contact a veterinarian immediately.


What is metronidazole for dogs?
Metronidazole is an antibiotic that is commonly prescribed by veterinarians. The brand name of metronidazole is Flagyl, so you may hear this term when talking about this medication. Metronidazole is used to treat giardia infections and other diarrhea-causing bacterial infections. This medication may also have some anti-inflammatory effects in the bowel so it is often used by veterinarians to help improve symptoms of diarrhea. It may also be used at lower doses to treat inflammatory bowel disease in dogs. Metronidazole has many potential side effects so it should only be used under the direction of a licensed veterinarian.
Can I give my dog metronidazole for diarrhea?
Metronidazole for dogs is most commonly used by veterinarians to treat bacterial infections causing diarrhea. Prior to administering any medication, it is always important to first consult with your veterinarian. Metronidazole has some rare but potentially serious side effects so only your veterinarian will be able to determine if metronidazole is the right medication for your dog.
What is metronidazole commonly used to treat in dogs?
Metronidazole is most commonly used to treat giardia and bacterial infections causing diarrhea in dogs. It can also be used to treat other protozoal parasites including Entamoeba histolytica and Pentatrichomas hominis. Metronidazole may also be used to treat Clostridial diarrhea, inflammatory bowel disease, and Helicobacter gastritis. If you suspect your dog has parasites, consider reading more about the symptoms of intestinal parasites.
What bacteria does metronidazole kill?
Metronidazole for dogs kills anaerobic bacteria. This medication works by disrupting the DNA within the bacteria which leads to bacterial death. In addition, metronidazole kills certain protozoal organisms so it is useful in the treatment of giardia.
Metronidazole Dosage for Dogs
The metronidazole dosage for dogs is variable depending on what your veterinarian recommends. Because metronidazole can cause potentially severe side effects, you should always consult with your veterinarian about what dose of metronidazole is safe for your dog.
The most common metronidazole dosage for dogs that a veterinarian will prescribe is 5 to 7 mg per pound by mouth every 12 hours. Veterinarians will prescribe much lower doses if your dog has liver disease or other diseases that could increase the risk of side effects. Veterinarians will usually not prescribe over 10 mg per pound because of the higher risk of side effects and toxicity.
Prior to administering metronidazole, you should be sure to mention any medications that your pet is taking that might interact with metronidazole. Also when discussing medications with your veterinarian, be sure to discuss if there are any natural supplements that could benefit your dog. Probiotics may be helpful in the treatment of recurrent diarrhea, so consider checking out Alpha Paw's 15 in 1 Multi Chew which contains probiotics.
How long should I give my dog metronidazole?
Metronidazole should be given for the amount of time directed by your veterinarian. Usually, veterinarians will prescribe metronidazole for a duration of 5 to 10 days depending on the type of condition they are treating.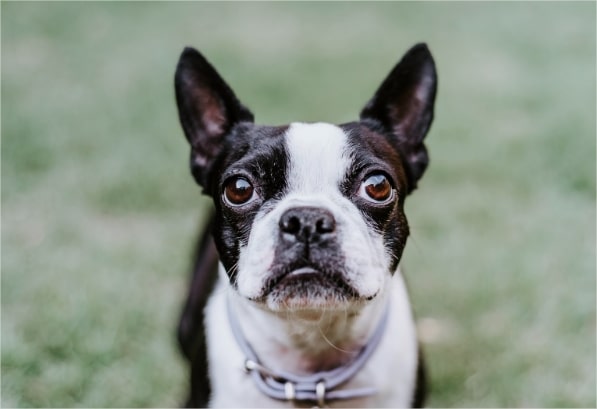 Metronidazole Side Effects and Warnings
The main metronidazole side effects include minor stomach upset and nausea so this medication should usually be given with a meal. This medication also tastes bitter so it is best to place the medication inside a Pill Pocket to avoid drooling and gagging after administering the medication. You should consult with your veterinarian if you notice any medication side effects, but usually, the most common side effects of metronidazole are mild and do not require discontinuing the medication.
If you notice any of the following Flagyl side effects, you should speak with your veterinarian as soon as possible:
Decreased appetite
Vomiting
Diarrhea
Nausea
Drooling or gagging immediately after administering medication
Lethargy
Blood in the Urine
Hair loss
Bumps on the skin
Serious Neurological Metronidazole Side Effects
There are a few rarer side effects that are associated with metronidazole for dogs including neurological issues such as dizziness, weakness, and eye movements. These rare but serious brain side effects indicate that your dog may be at too high of a dose of the medication, and you should immediately consult with your veterinarian prior to administering the next dose of medication. If your pet is having these symptoms after hours, you should contact an emergency veterinarian.
The following symptoms indicate serious neurological side effects from metronidazole:
Dizziness
Weakness
Disorientation
Tilted head
Strange eye movements
Tremoring
Seizures
Contraindications for Metronidazole Use in Dogs
Metronidazole should not be used if your dog has the following conditions unless your veterinarian feels it is absolutely necessary:
Pregnant dogs
Nursing dogs
Liver failure
Dogs on blood thinners
Dogs on Phenobarbital
Can metronidazole kill dogs?
At doses that veterinarians usually prescribe, metronidazole typically only causes minor side effects. Many medications can potentially be fatal if a pet consumes large amounts of medications and overdoses. This can occur when a pet eats an entire bottle of medication off of the counter or an owner accidentally administers too much medication to an animal.
Metronidazole at toxic levels can cause severe neurological symptoms including seizures. If dogs overdose on large amounts of metronidazole, it could potentially be fatal. If your dog has ingested more than the prescribed dose of metronidazole, you should call Pet Poison Helpline or ASPCA Poison Control and get your dog to a veterinarian as soon as possible.
If you are curious about other common household items that can cause toxicity in dogs, be sure to check out this article on Common Household Foods That Are Toxic For Your Dog.