A Dog Ramp For A Senior Dog
Friendship knows no bounds but maybe making a dog ramp for a senior dog exemplifies it (a little). Jeff Kramer and Tashi's friendship is a poignant example of that. The mailman and the dog he befriended on his route have become internet sensations with their heartwarming story. Typically, mailmen run away from dogs, and dogs bark at them.
​​
However, for Tashi, a black Labrador who lives in Boulder Colorado, that's not the case. When they first met, at least three years ago, the friendly dog ran straight to the mailman. Jeff was amazed and Tashi was glad to make a new friend. Needless to say, their friendship was formed and they've been best friends ever since.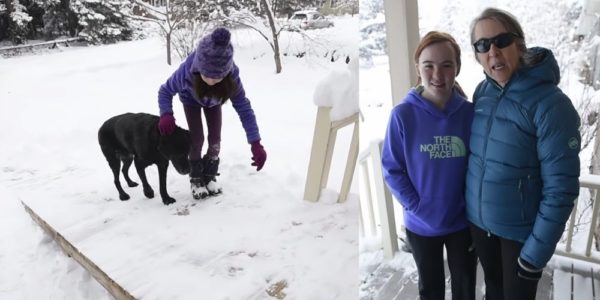 Lending A Helping Paw
Unfortunately, Tashi is an older dog and running down the stairs to greet Jeff became more difficult as the years past. In 2019, Jeff noticed Tashi struggling to get down the stairs to see him. By now, Tashi was 14-years-old, and the years were showing. Jeff thought about Tashi's situation and realized that he could repurpose the ramp he had built for his own dog, who had passed away.
A Life-Changing Ramp
One thing led to another and before Tashi could bark a thank you, he had a nice ramp to keep him active. Jeff was thrilled he was able to upcycle his old dog ramp for a another dog in need! Karen Dimtrosky, Tashi's owner, was beyond thrilled by the ramp. She had been carrying Tashi to get down the stairs and it wasn't an easy task, and Jeff's ramp was a life-saver. Not only was Tashi able to run down to see Jeff, he had more mobility and independence. Do you have a dog who needs a little ramp help? If so, make sure you mention our ramps! Watch the video of their heartwarming story below!
Watch Their Story
Jeff's act of kindness and his frienship with Tashi was a big hit and you can watch the feel-good story in the video above. Do you know an older dog who uses a dog ramp? Share your story, let us know about their experience.