Boxer Pug Mix Facts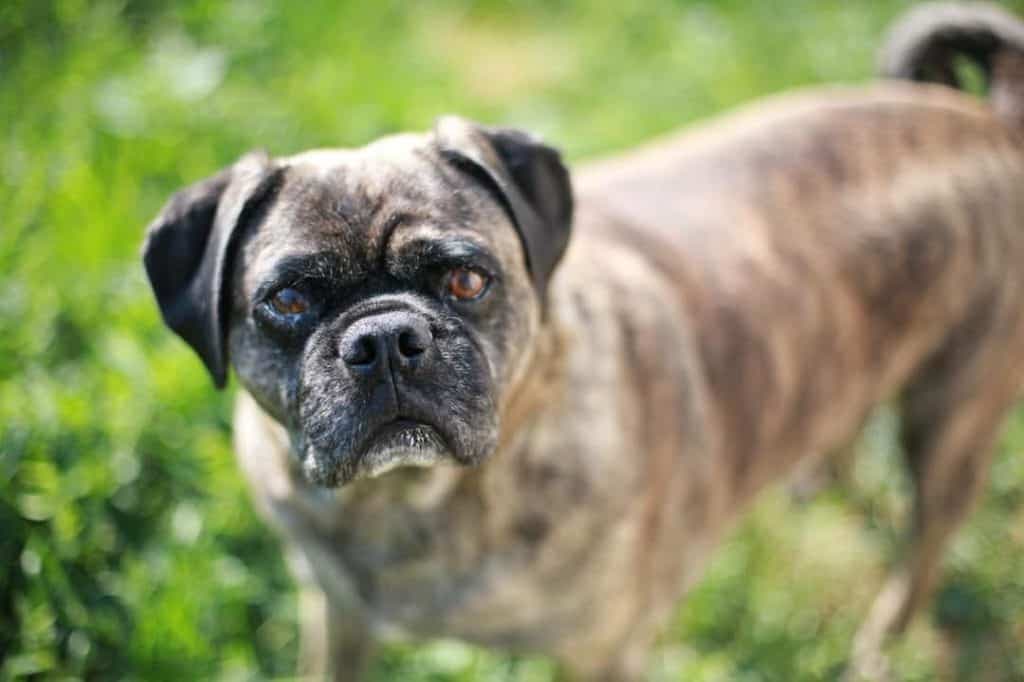 Pug Boxer Mix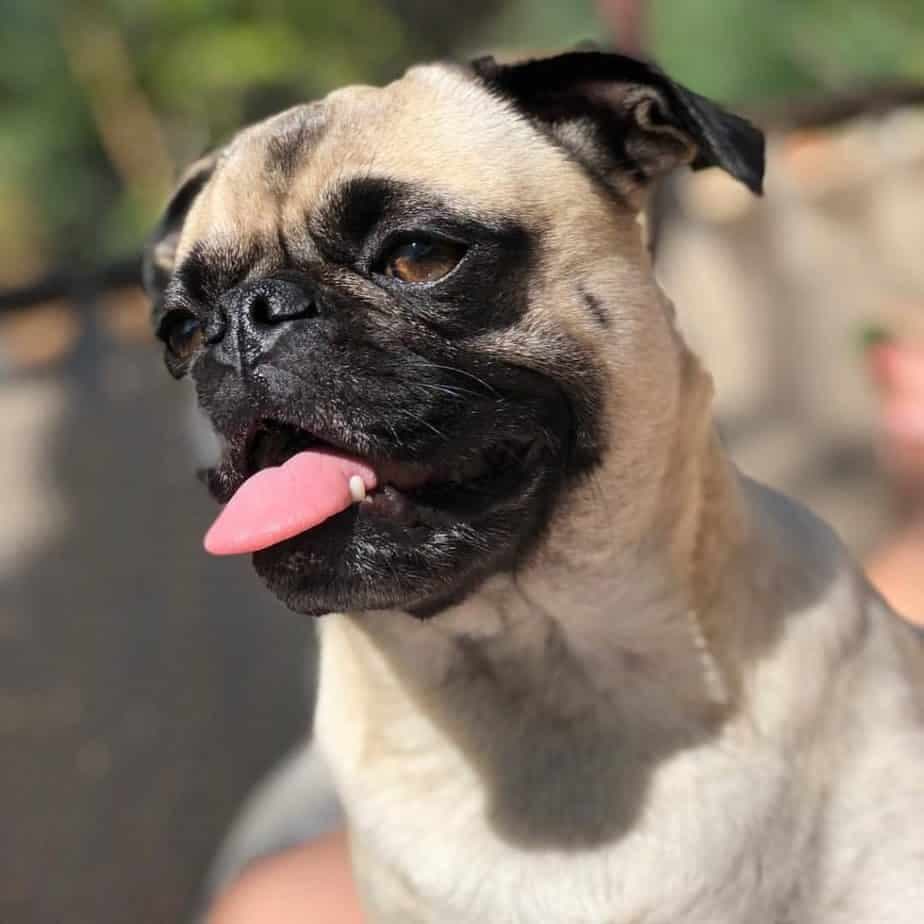 A Boxer and a Pug, bred together, will give you a Boxer Pug. The pups will carry-over the personality of both traits, and this depends on which genes will be dominant. The only way to be sure with what your puppies may be like is to know the individual personalities of Boxers and Pugs.
Boxers are known to have a short face and muzzle, and with flabby folds on their snout. They are good watchdogs, especially if you're able to train them at an early age. Boxers are perfect for individuals or families who have an active lifestyle, as the breed requires a lot of exercise and training. Not only are Boxers great family dogs, but they are also great with strangers.
Pugs, on the one hand, are known for its flat face and nose, with many cute little folds in its body. Pugs are very adorable and love to be around people. Because of their size, pugs are great for people living in an apartment, and it hardly needs any time outside the home. They make perfect house pets and companions for you and the family.
3 Reasons Why You Shouldn't Get a Boxer and Pug Mix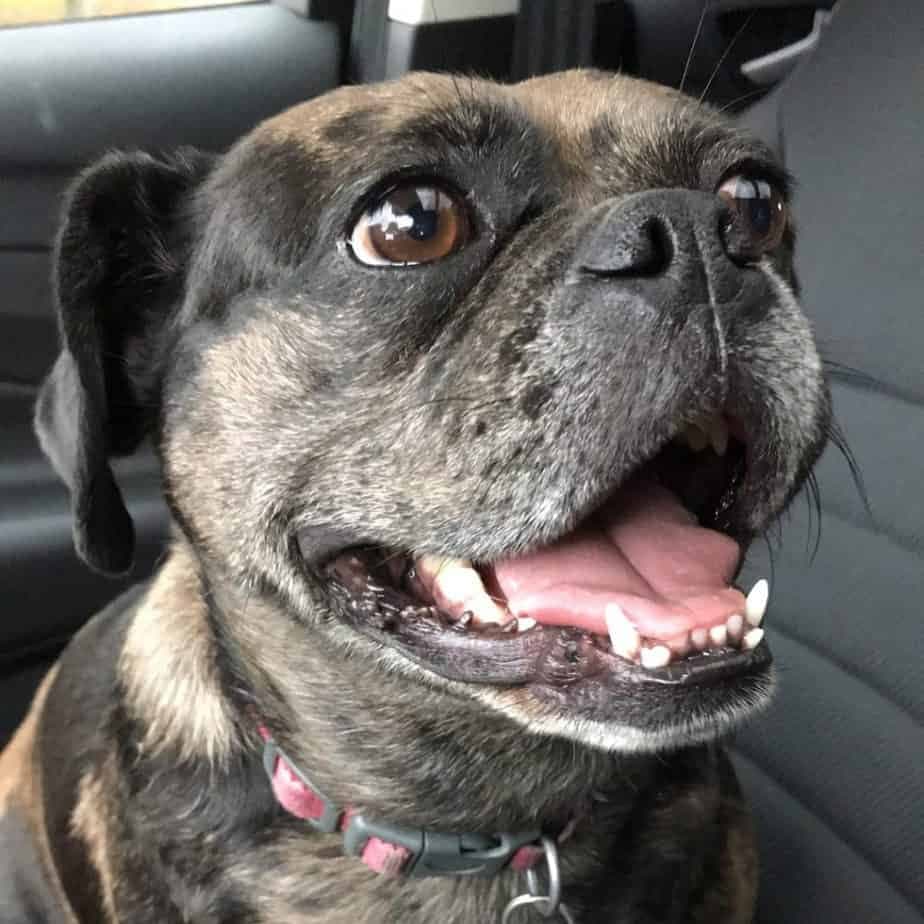 What level of activity are you involved in? Boxers and Pugs have different energy levels. While Boxers have a lot of energy for exercises and training, it isn't entirely the same for Pugs. Although Pugs are playful, they don't have the same energy levels as Boxers. Thus, having a Pug Boxer Mix is a gamble especially if you're looking for a particular type of energy for dogs.
Life-Spans of the Boxer and Pug Mix are unpredictable. Boxers usually encounter several health concerns in their lifetime, and it's unfortunate they don't live a long life. Pugs, on the other hand, aren't at the risked of developing any serious health concerns. Depending on which dominant genes your pup turns out to have, they may either have a longer or shorter life than other dogs.
Training them may be difficult and requires some patience. Both breeds are smart, and you won't have a problem with their learning pickup. However, both are quite stubborn and mischievous when it comes to training. Boxers are stubborn, and its owner needs to be stubborner, firm, and smart with training them. Pugs, on the other hand, are mischievous, and they'd escape out of a training session if you don't watch them well.
3 Reasons Why You Should Get a Pug and Boxer Mix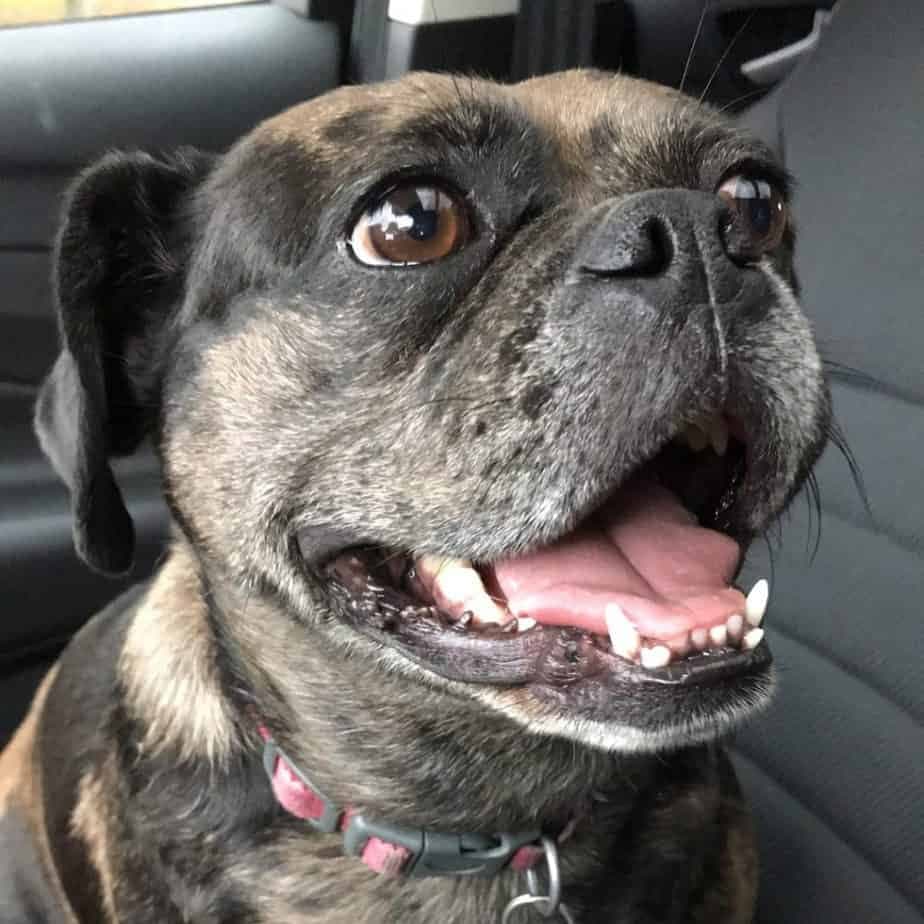 The perfect companion for children and watchdogs. Both Boxers and Pug exhibit non-aggressive traits and welcoming to almost everyone, even strangers. You can expect that the Boxer Pug will make a good companion for you and your family, as well as great play companions for your children. Moreover, Boxers are known to be good watchdogs, especially with babies and properties, if you train them at a young age.
Healthy breed with little allergies. There are some breeds which have a lot of allergies, especially in food. Luckily, Pug mixed with Boxers doesn't exhibit this trait of having too many allergies. The mix generally has good health; especially you monitor it yearly. Although Boxers are known to develop health problems, this trait may be present with Boxer Pugs, but it can be mitigated and prevented.
Perfect for inside house companions who don't require too much activity levels. Boxers and Pug are at different ends of the spectrum when it comes to their energy levels. But if one thing's for sure, they have a medium energy level perfect inside the home. The Boxer and Pug Mix make a good pet for people who don't have a big space for pets to run around, also considering their size. The Boxer Pug Cross usually ends up being short and small, taking only a little space in your home.
Appearance, Personality, and Traits of Boxer Pug Mixes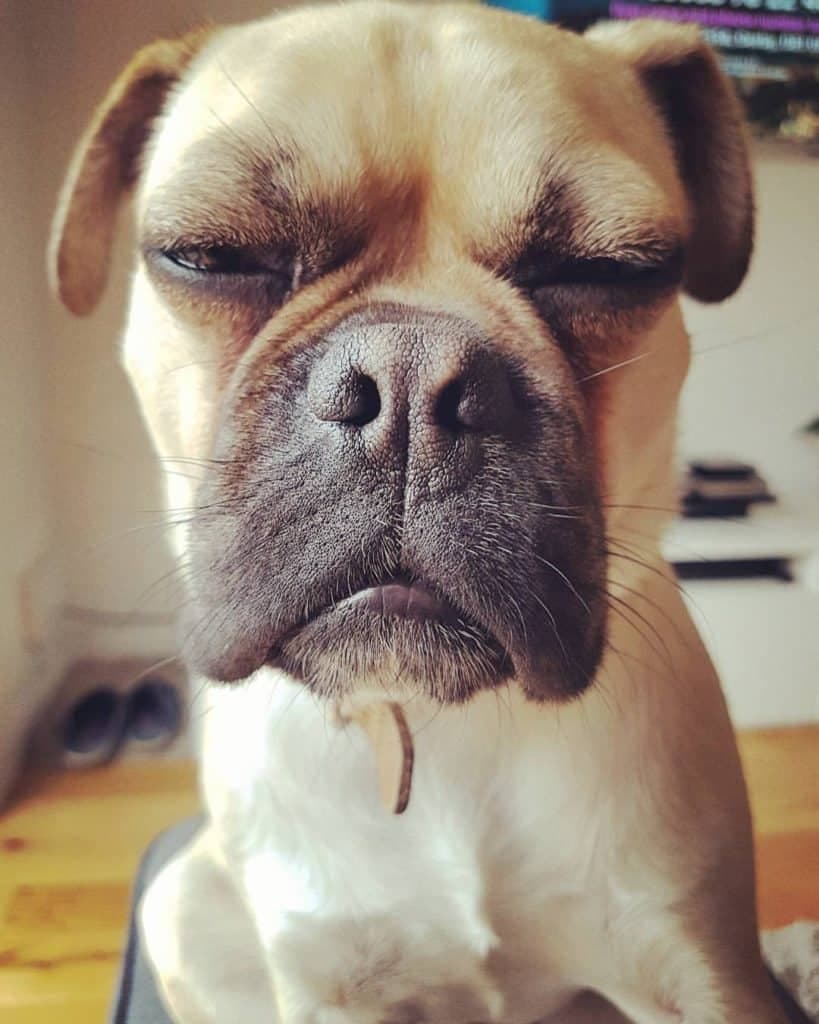 Weight
Male: 20 to 26 lbs

Female: 20 t0 25 lbs

Height
Male: 14 to 22 inches

Female: 14 to 20 inches

Size
Medium to Large
Coat Type
Short Coat
Coat Color
Dark or Light Hair
Amount of Shedding
Moderate to regular shedding
Life Expectancy
12-15 years. Females usually live longer than Male Boxer Pugs.
Temperament
Intelligent, perfect watchdogs, playful, friendly, excellent with children.
Knowing what your Boxer Pugs will be like is a gamble, but the breed is known to have some standard features you can expect. When it comes to their hair, its either it'll be dark or light in color but expect it to be short. Boxers are large dogs, while Pugs are small. While Boxers have a smoother coat than pugs, you still have to give them weekly brushing to keep their coats healthy looking. Boxers only undergo occasional shedding, whereas Pugs regularly shed.
Together, a Boxer Cross Pug makes a medium size dog. However, there are some instances when the Boxer mixed with Pug end up being large dogs. You can expect an average life span for your Pug and Boxer Mix of around 12-13 years. Luckily, the Boxer and Pug don't vary when it comes to their grooming requirements.
Boxer Pug Cross make family dogs and companion because of their loving and charming personality, though Pugs show an individual trait of being mischievous. Nevertheless, they are both excellent at supervising children and get along with other dogs. Both breeds are smart, but training Boxers are easier than with Pugs.
Pug Cross Boxer Puppies for Sale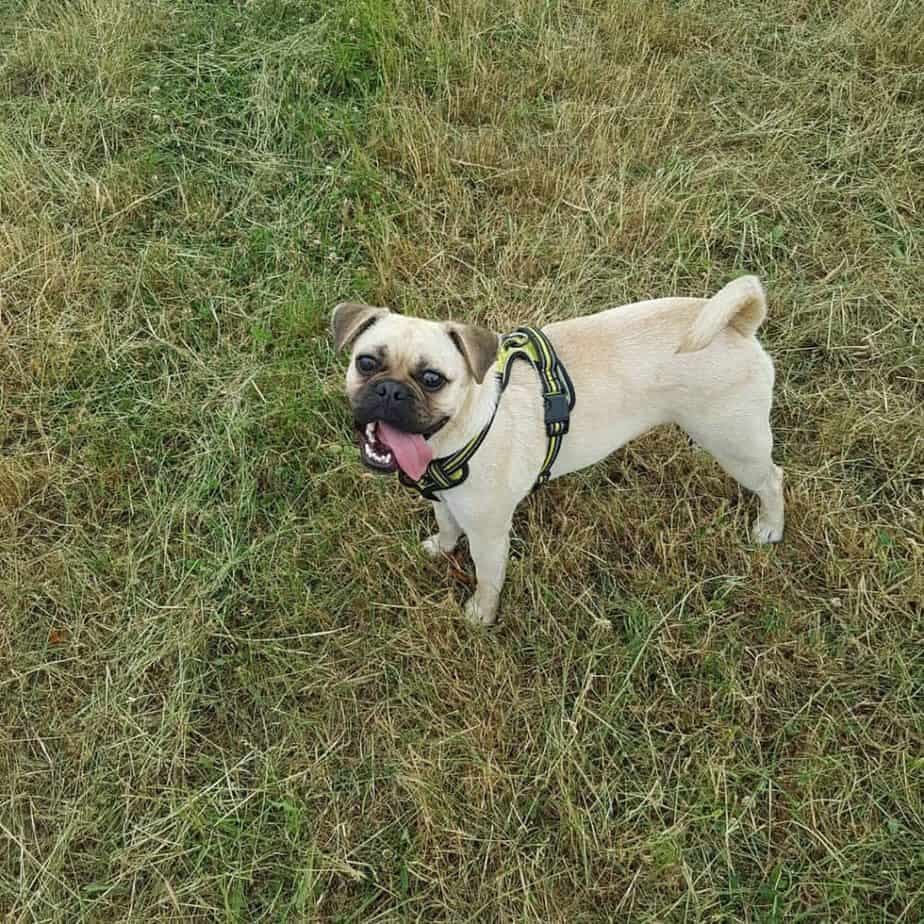 There are several people online who sell Pug mixes, and finding a Boxer mixed with Pug won't be a problem. Finding a Boxer Pug is easy, as the breed is generally favored because of its great personality and features. But before buying online, you have to be strategic and smart with your purchase. Use your senses wisely when you're about to purchase a Pug Boxer Mix.
Choose from a breeder who is known to be good at breeding dogs, and who can guarantee that the parents of the pup are healthy. Make sure to genetically filter your animals first, because you can avoid experiencing unexpected bad personality behaviors or health concerns. It's usually easy to find a good breeder around you, but here are some easy steps to guide you with your big purchase:
Look for a breeder near you, or within driving range. This way. You can personally visit their shop and see the conditions of the dog, and it is one of the most definite ways to see how legit their business is, and the breeders would gladly be proud of their property.
Ask your friends for a referral. If you already have friends who own a similar breed or other mix breeds, asked them how their experience was with that particular seller. You want to watch out for signs that point to the seller being dishonest.
Approach your local shelter or vets for recommendations. Asking their opinion about mix breeds and breeding practices should help you with your decisions. Ask if they have any suggestion for breeders, or if they also have particular kinds which they can recommend for you.
Always get a guarantee from your breeder; in cases, your puppy shows health problems. If they don't guarantee your pup, they're most likely afraid of getting into any liability with you.
Grooming Your Boxer Cross Pug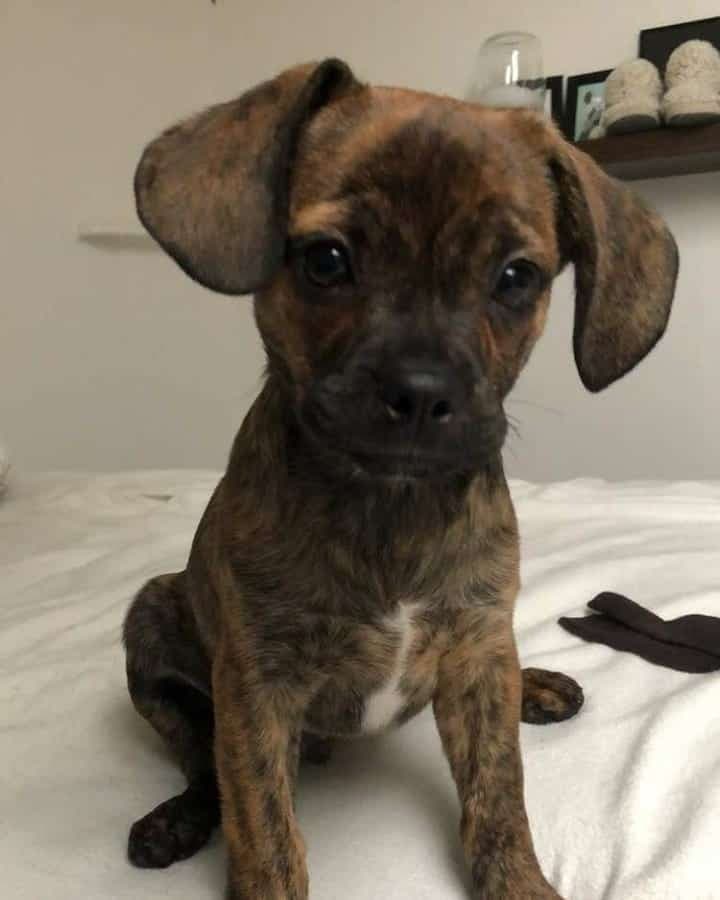 You want to make sure your Boxer Cross Pug always look at its best, and this involves some maintenance requirements. Grooming them is easy, and here are some basic things you have to observe.
Brush their coat at least two to three times a week, to keep their fur looking excellent and clean. Don't worry because the Pug Boxer Mix don't shed too much, but regular brushing will help any dirt and loose hair.
Clean the folds and wrinkles on their body. You'll find that their heads, especially their foreheads, have a lot of wrinkles, and you want to get these areas clean and dry. Doing so prevents bacteria from breeding.
Check their eyes, and clean any dirt surrounding the area. The breed is known for suffering health injuries on the eye, and you want to prevent any harm from these areas as much as possible.
Boxer Pugs are generally low maintenance dogs, but that doesn't mean you can get away with the responsibility of grooming them. Their appearance is just as important as their internal health condition, and their appearance is an excellent manifestation of what's going on within. Make sure to cover the simple basics of regularly cleaning their ears and eyes, trimming their nails, and brushing their coats.
Boxer Pug Cross Health Problems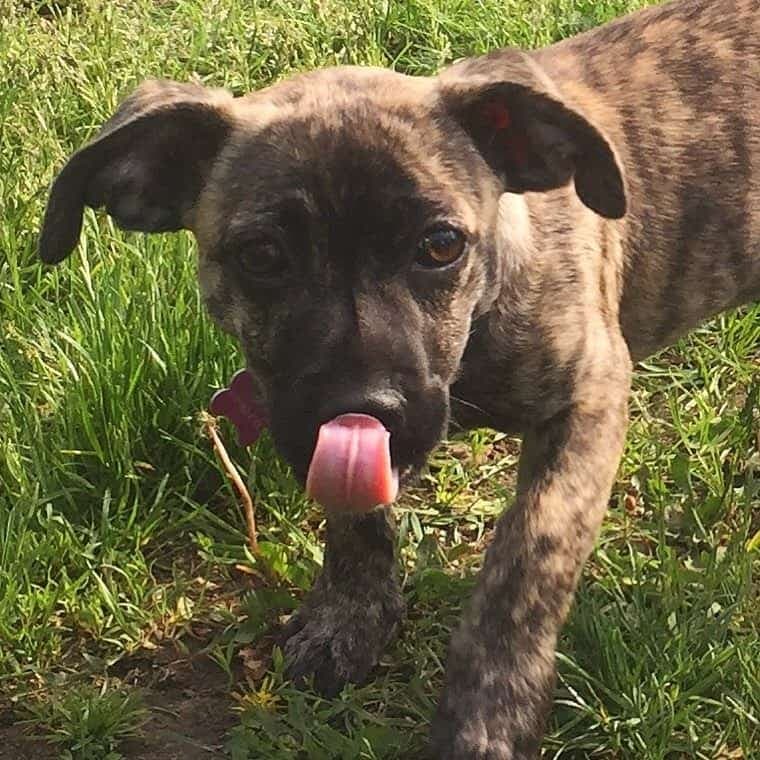 Boxer Pug Mix are generally healthy dogs, so you don't have a lot of worries in terms of their health. They aren't prone to many diseases, as well as allergies. However, because of their flat face, their eyes are sometimes prone to injury. Their love food increases their potential of developing obesity, coupled with the fact that the breed is a perfect apartment dog which doesn't require high activity requirements. Here are some common health conditions which Boxer Pug Cross are prone to having.
1. Hip Dysplasia – most of the time, this condition has something to do with the genetic component of the dog, and Pugs are one of the dogs known to have this component. Through time, the condition can put a strain on the muscles of your dogs and cause them extreme pain. Here are some of its common signs:
Limping
Painful when touched
Inactivity
Abnormal swaying while walking
Difficult of getting up from a sitting or lying down position.
Hip Dysplasia can be mitigated through these tips:
Don't overfeed your pups because the unnecessary weight may stress your dog's joint.
Engage them with some activity. To exercise their joints and muscles for a bit.
1. Eye Problems – the Boxer and Pug Mix are prone to many eye problems, because of their large protruding eyes. Debris can quickly enter their eyes, and you'll eventually encounter some discharge around the eye area, which is why you need to clean them regularly. Here are some steps to help you take care of their eye:
Prevent anything from getting in their eye, especially during grooming time.
Make sure to regularly wipe around the eye area, to remove any debris, food particle, or discharge.  Make sure to use wipes for sensitive skin, or a soft towel with some water. Ideally, this has to be done at least once a day.
2. Patellar Luxation – this occurs when your dog's kneecap gets dislocated from its normal position. This condition is common among small dogs, like the pugs, and the Pug and Boxer Mix may also be susceptible to this problem. Here are some of its common symptoms.
Abnormal hind limb movement
Limping
Signs for pain and discomfort.
3. Yeast Infections and Rashes – this is a skin condition common for Pug Cross Boxers because they have a lot of folds in their body, which is why you need to clean their folds regularly. Yeast infections breed in humid environments, and when this happens to your dogs, their immune system is compromised.
Pug Mixed with Boxer Food Requirements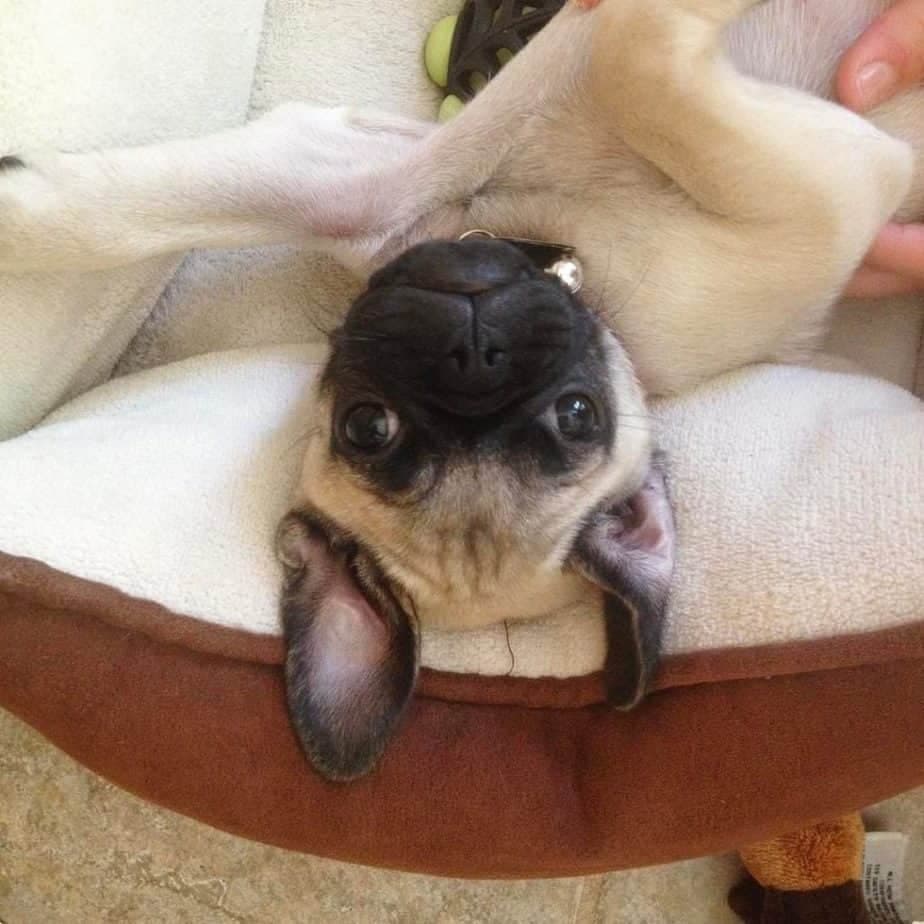 The Pug and Boxer mix needs at least three cups of dog food per day, but make sure not to overfeed them and only give them top quality food — you will find plenty of options in our list of the best dry dog food. If you want to feed them with foods commercially made, make sure that its ingredient lists aren't full of food colorings, additives, and fillers that are typical of the worst dry dog food, which may give them an allergic reaction. Remember, in exchange for what you're paying for is the health and wellness of your dog. Don't be a scrooge when it comes to giving your pup its required nutrients, especially for its proper growth.
Making food at home for your Boxer Pug Cross can also be a money-saving tip, and it's too easy.  Some of the ingredients you'll be needing are probably some which you already buy. However, if you decide to serve your dog with a home cook meal, make sure to use fresh ingredients and real meat. Here are some ingredients or dishes you may want to consider:
Lean Hamburgers – you can use chicken breasts, veal, lamb, or turkey.
Fresh vegetables – you can serve the vegetables either raw or steamed. Some plants your dog will enjoy are potatoes, peas, carrots, and cauliflowers.
Fresh fruits – fruits are a good source of anti-oxidants and are low in calories. They make tasty treats for your dogs. Bananas, mangoes, watermelons, pears, and blueberries are perfect options.
Pasta's and rice
Canine vitamin or mineral supplement – if you want extra protection for your dog, make sure to give them some supplements in their meals.
Here are some people food you may once in a while give to your dog's as a special treat.
Raw Unsalted Peanut Butter – many dogs love peanut butter. It's a good source of protein and contains healthy fats like Vitamin B, and C. Make sure to give them natural peanut butter because normal ones are full of artificial sweeteners which are toxic to dogs.
Salmon – incredibly delicious and a good source of omega three fatty acids to keep your dog's coat healthy and beautiful. Not only that, but salmon helps boost the dog's immune system.
Oatmeal – they make an excellent source for fiber and is beneficial for dogs especially senior ones. Make sure to cook the oatmeal first before serving them to your dogs.
Here are some Dog Foods for your Boxer Pug, to choose from:
ACANA Wild Prairie – all natural goodness, with ingredients like chicken, turkey, eggs, and fish. It includes the essential nutrients dog's need, which eliminates the need for you to but additional supplements.
Victor Yukon River Salmon and Sweet Potato – a perfect meal for the Pug and Boxer mix who only have normal activity levels. The food is rich in vitamins, minerals, and essential fatty acids to boost your dog's health. This food is particularly significant for dogs who have allergies and skin conditions.
Merrick's Real Buffalo and Sweet Potato Recipe – grain and gluten-free, made with all natural ingredients. It has glucosamine and chondroitin to help mitigate any related hip conditions.
On top of all that, you may still notice that your stunning mixed goggie isn't overly enthusiastic about their munch-time. Since they inherited the different genes of their diametrically different parents, their taste for food may also enter the equation. So, give your pooch a bite of both the best dry dog food for small dogs and the best large breed dry dog food, and check which sits better with them. When you find the right recipe, stick with it!
Another thing to consider is the age of your pup. Little munchkins should eat specially tailored formulas, such as those designed by the best puppy food brands. Old doggos, however, need a different nutrient blend to meet their needs, so you should find your pick among the best senior dry dog food options. Either way, it's always wise to consult with your dog's vet before deciding on one food over the other!
Boxer Mixed with Pug Exercise Requirements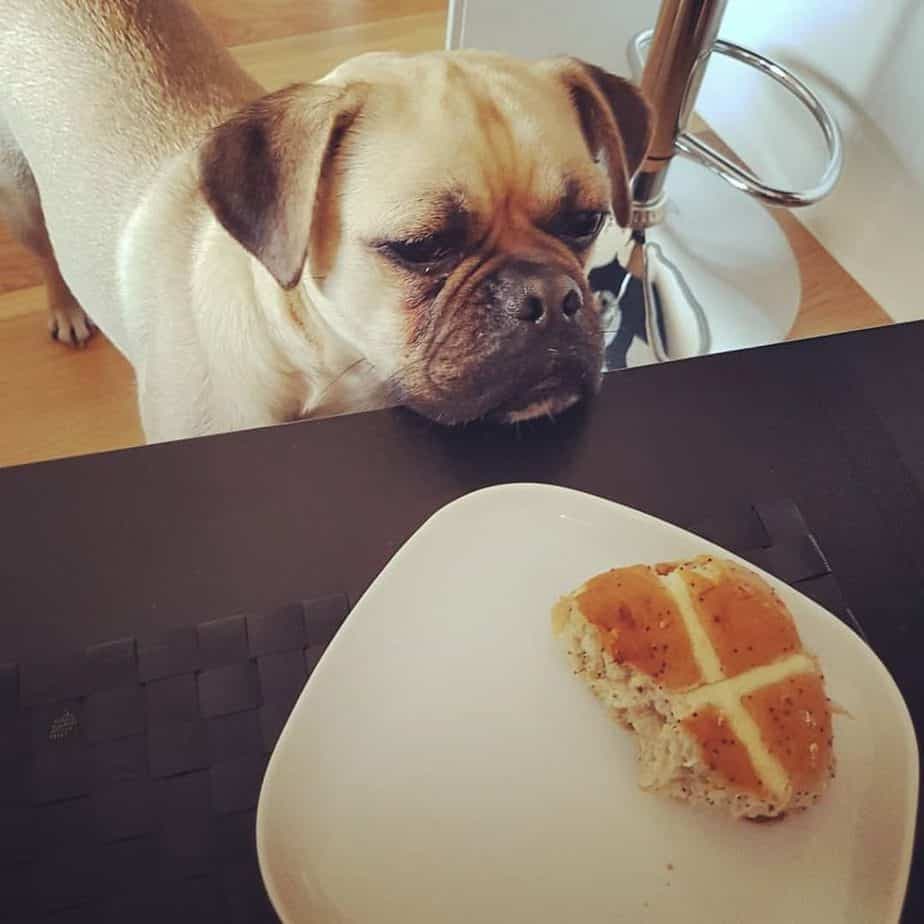 The Boxer Pug Cross is highly playful, and they need regular exercise to keep their health at an optimum level. However, you have to consider which genes it may take on as the Pugs are known to be lazier than Boxers, who is generally a bundle of energy. But one thing's for sure, the Pug and Boxer Cross will need some exercise routine to help them stay healthy, and keep their minds sharp. The mix has a medium energy level, and they can walk up to 9 miles per week. Good exercise time for them would be 40 minutes to an hour, to get them going.
Boxer Pug Mix Training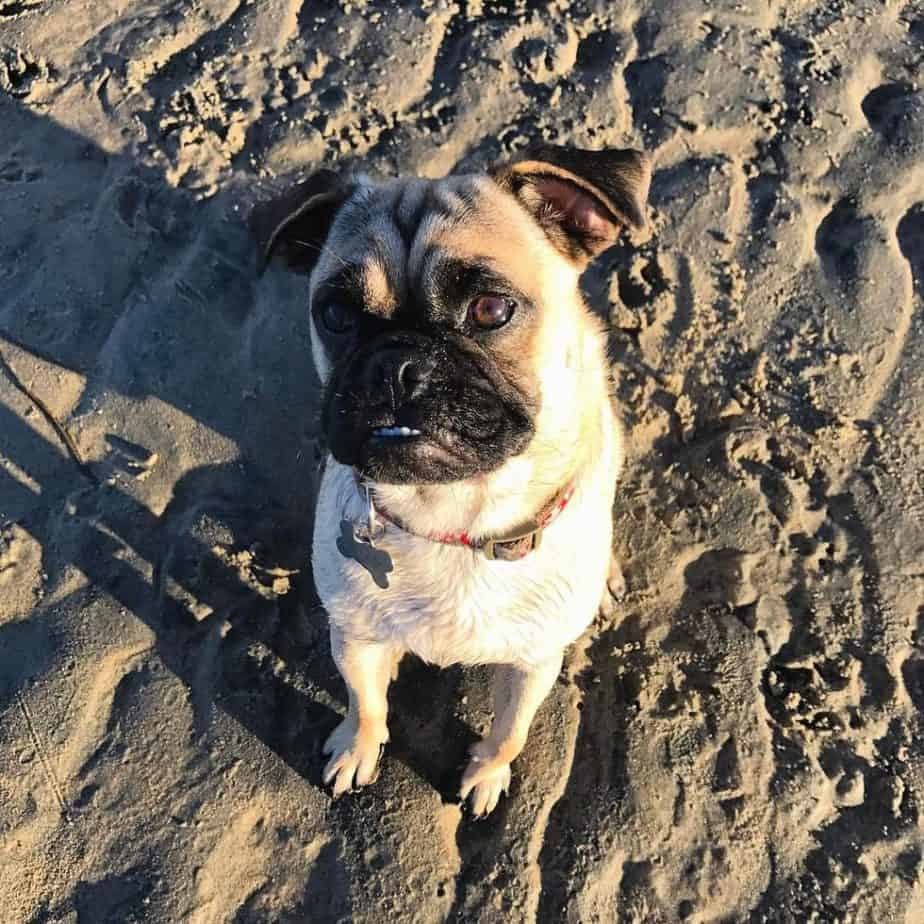 The Boxer Pug are obedient and smart dogs, and they can be trained easily. Boxers are highly trainable but may show signs of being stubborn at times. On the other hand, Pugs may be taught, but they are highly mischievous and won't be too interested in what's going on. Depending on which dominating gene your pup may have, it's essential that you observe the following:
Teach them how to be obedient. Start them off with the basic commands like "Sit," "Stand," "Up," among others, which are basic obedient commands. Do this first and lay down the foundation with your dog. It is at this stage that you want to show them who has the upper hand, and who they should be obedient to.
Positive Reinforcement. Don't scare your dog; it'll only discourage them. Most dog professionals share the same sentiments that the best way for dogs to learn is through positive reinforcements such as giving them treats and giving them verbal cues that they are doing a good job.
Use Games to Train Them. Training should be fun for dogs. Having a routine makes the exercise boring and monotonous, and can discourage your dogs from participating. Moreover, having fun training through games gives them something to look forward to. Finally, it's easier for your dogs to learn your commands while the two of you are having a good time.
Patience is the key. Don't be too hard on your dog, and remember that each dog has its learning curve. If you think your dog is slow on the pick-up, don't be frustrated and guide them through the whole training. It may take some time, but it all be worth it and rewarding for you.
Pug Boxer Mix and Families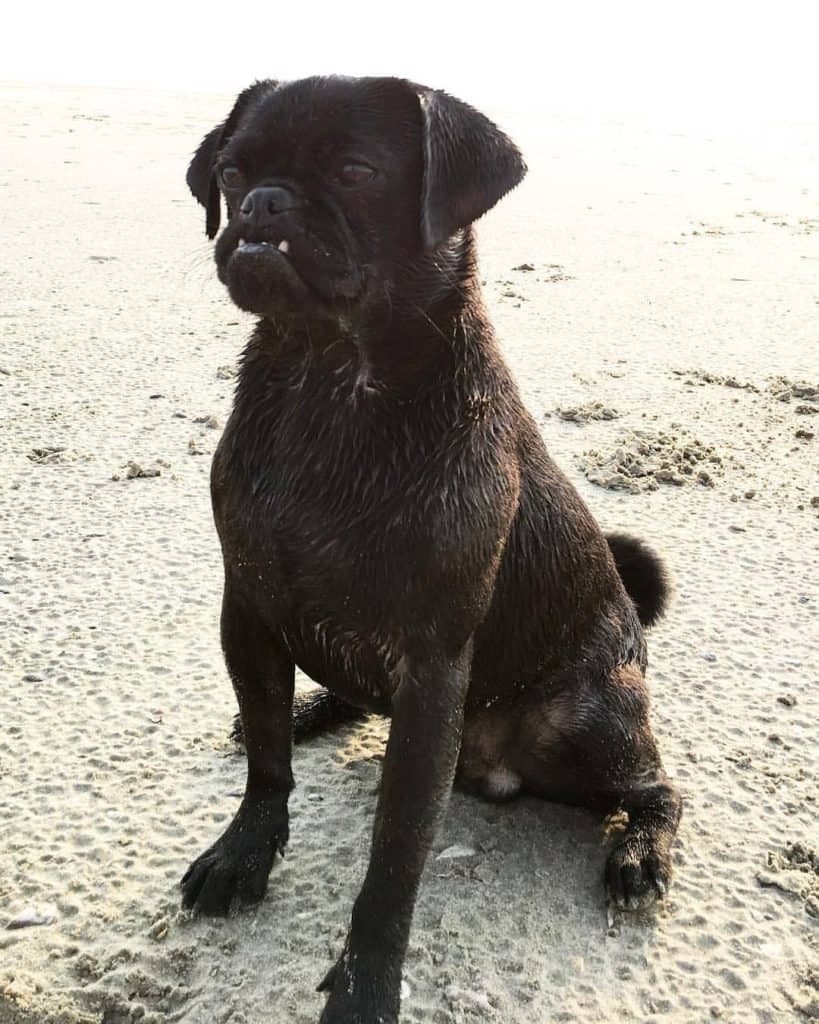 Boxer mixed with Pugs are perfect family dogs, and you can cuddle with them anytime. They'll always follow you around, and they'd want you to notice them most of the time. Individually, both Boxers and Pugs are good companions with a good sense of energy. Boxers are smart and alert, and they have a lot of energy to play with your children and activities. Boxers also make perfect watchdogs and good at protecting your children. Pugs, on the other hand, are full of energy despite its size; they love children and can get along with almost anyone.
Boxer Pugs can get along with kids, and even other pets. They display multiple personalities but rest assured they're always willing to go on an adventure. As your pup grows, you'll begin to witness some dominating personality features of the other breed, and it should be easy for you, by then, what to expect of them.
References:
Brocal, J., et al. "C7 Vertebra Homeotic Transformation in Domestic Dogs – Are Pug Dogs Breaking Mammalian Evolutionary Constraints?" Journal of Anatomy, vol. 233, no. 2, 14 May 2018, pp. 255–265., doi:10.1111/joa.12822.
Meurs, Kathryn M. "Arrhythmogenic Right Ventricular Cardiomyopathy in the Boxer Dog." Veterinary Clinics of North America: Small Animal Practice, vol. 47, no. 5, 21 June 2017, pp. 1103–1111., doi:10.1016/j.cvsm.2017.04.007.
Nicholas, Anna Katherine. Pug. Kennel Club Books, 2004.
Beauchamp, Richard G. Boxers for Dummies. IDG Books Worldwide, 2000.
https://en.wikipedia.org/wiki/Boxer_(dog)
https://en.wikipedia.org/wiki/Pug
Compare Pet Insurance