Doberman Lab Mix Facts
The Doberman Lab mix is a unique mixed dog breed that comes with individual needs. I knew that I could help new pet parents better understand what this unique breed is, how to correctly care for it and train it. I know too that with proper training, you will be able to raise a happy and healthy Lab Doberman pup.
Table of Contents
1

 Doberman Lab Mix

2

 3 Reasons Why You Shouldn't Get a Doberman Lab Mix

3

 3 Reasons Why You Should Get a Lab Mixed with Doberman

4

 Appearance, Personality, and Traits of a Lab Doberman Mix

5

 Doberman Mixed with Lab Puppies for Sale

6

 Grooming Your Doberman Crossed with Lab

7

 Doberman Lab Health Problems

8

 Lab Doberman Mix Food Requirements

9

 Doberman crossed with Labrador Exercise Requirements

10

 Doberman mixed with Labrador Training

11

 Doberman Labrador Mix and Families

12

 References:
Doberman Lab Mix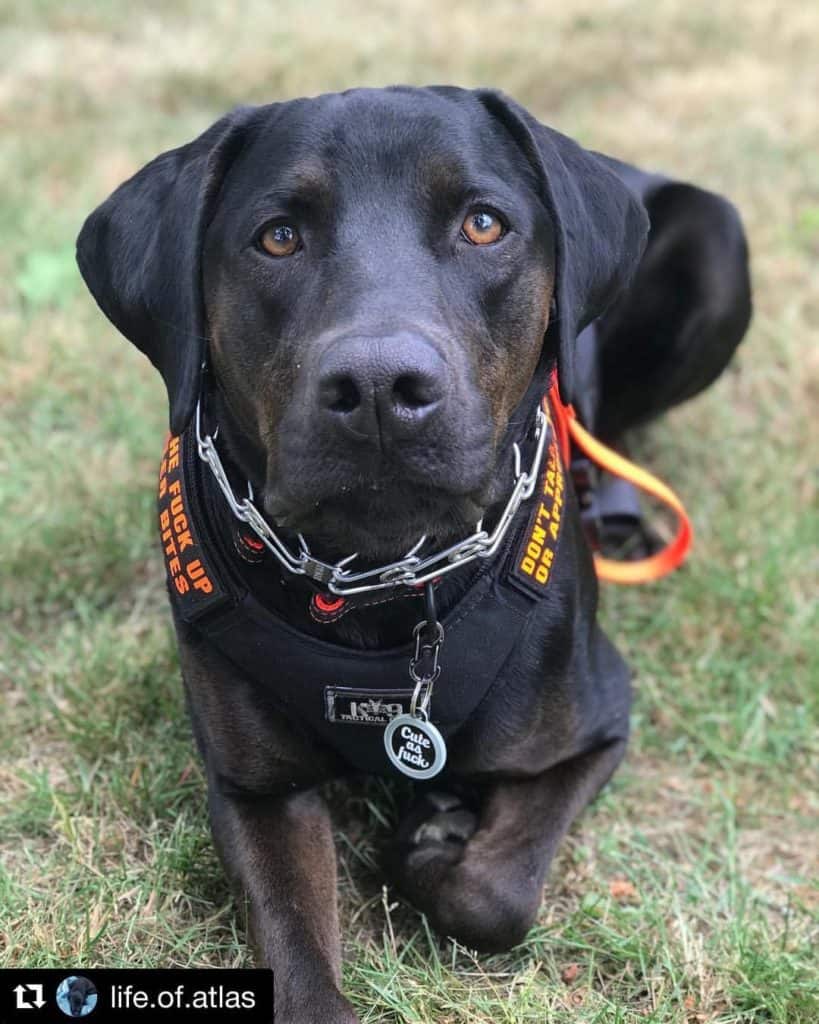 The Doberman Lab is a mixed breed dog which is a cross between two purebred dogs namely a purebred Doberman Pinscher and a purebred Labrador Retriever. Both parent breeds are very popular dogs and are among the top list of dogs in most countries.
To find out what your Doberman mixed with a Lab pup will be by the time it becomes older, you can check the temperament, intelligence and activity levels of its parent breeds. When you study the parent breeds carefully and understand the nutrition, training and grooming requirements of your new dog, you will surely be on the road to raising a smart and healthy pup.
You may have known Dobermans to be vicious and robust dog breeds because of stories, TV shows, and movies. But in reality, Dobermans are lovable and are great family dogs. This breed is very loyal and very protective of its master and its family which is why Dobermans make excellent guard dogs. You will find Dobermans employed in different fields but mostly as police dogs, bomb-sniffing dogs, and security dogs.
Labrador Retrievers were bred as hunting dogs. These dogs helped hunters track their game and retrieve fowl even swimming to get birds in the water. This breed is so versatile, intelligent and loyal that it is used as service dogs, police dogs, bomb-sniffing dogs, and hunting dogs. There are individual schools and professional trainers that can train your Lab or Doberman to become excellent security or service dogs.
3 Reasons Why You Shouldn't Get a Doberman Lab Mix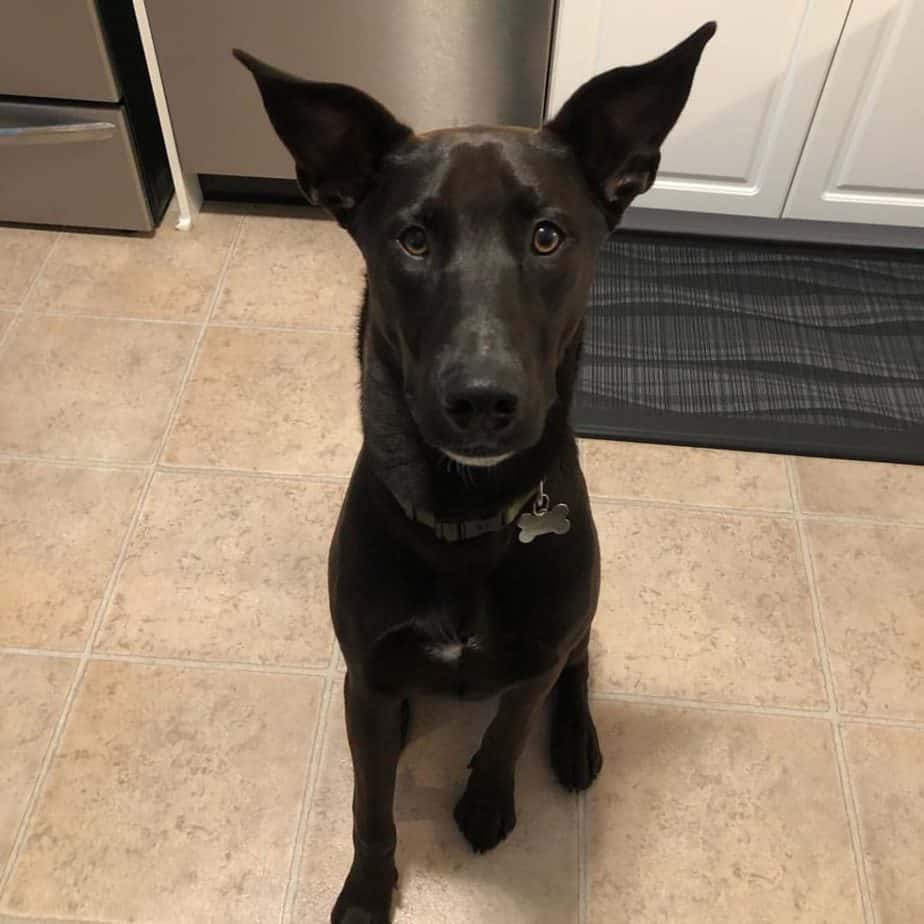 This Mixed Breed Needs A Lot Of Space
What this mixed breed dog need is plenty of space to move about. Both the Labrador Retriever and the Doberman are agile, energetic and fun-loving breeds and therefore your dog needs a lot of space to do what they want to do: play and have fun. You must have a home with ample space outdoors, or you must have access to a play area or dog park at least. If you don't have these, then consider a smaller or less active breed.
This Mixed Breed Dog Needs A Lot of Exercises
One thing that this dog need is a lot of exercises. A Lab Doberman needs to have at least two hours of continuous training and play. If you are the type who are not into activity or going outdoors, then you must not get a Doberman Lab mix.
This Mixed Breed Dog Needs Constant Training
Regular, home-based training won't do if you want a Lab Doberman to achieve its full potential. You must have it trained under a professional trainer to be able to become a good service dog or security dog. You must at least give your pup constant training and consider professional training to enhance its talents and skills.
3 Reasons Why You Should Get a Lab Mixed with Doberman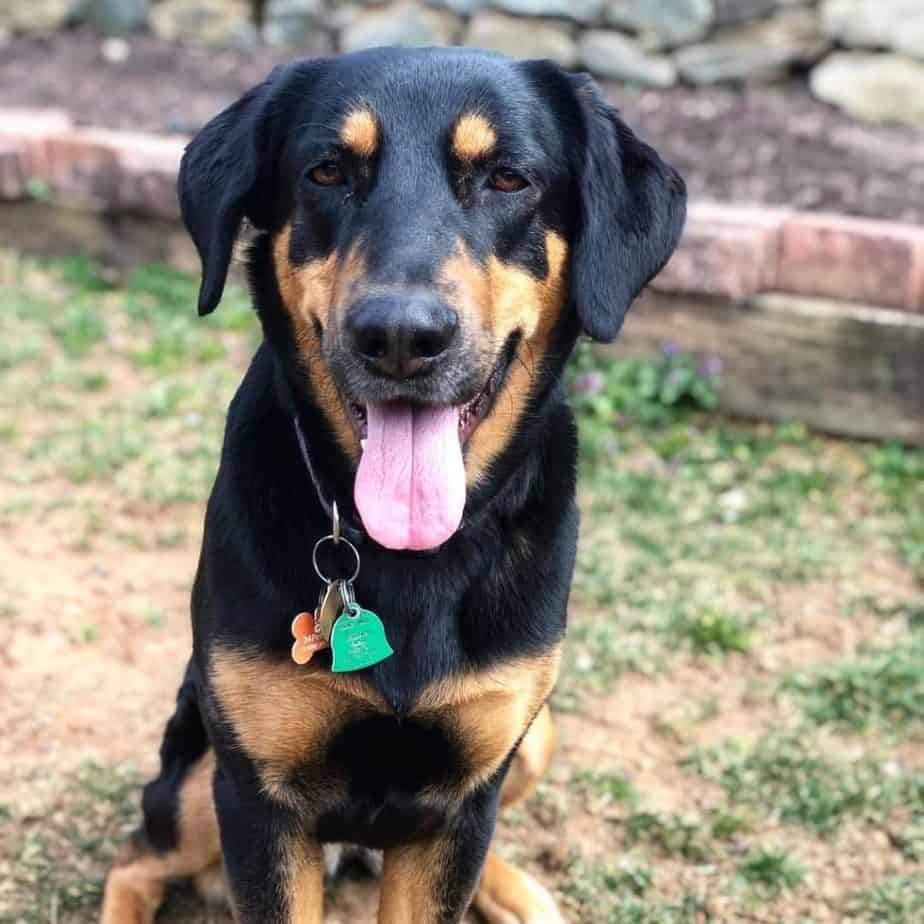 1. This Mixed Breed Dog Is Incredibly Loyal
A Doberman mixed with a Lab will never leave your side. It will remain loyal and will stay and follow your every command. This dog is brilliant and will know immediately if there is something wrong based on your behavior.
2. This Mixed Breed Dog Is Very Intelligent
You will adore this mixed breed because it is a combination of two of the brightest dog breeds in the world. Your little pup will immediately learn tricks and will continue to amaze you until it becomes an adult. Your dog will be your source of inspiration because of its wit and his eagerness to learn day after day.
3. This Mixed Breed Dog Is A Fun Family Dog
When your dog is socialized early and is taught to live with other pets especially dogs, he will be a real family friend and member. Your dog will become the light of your family and will even be a patient pet that will also work well with young children.
Appearance, Personality, and Traits of a Lab Doberman Mix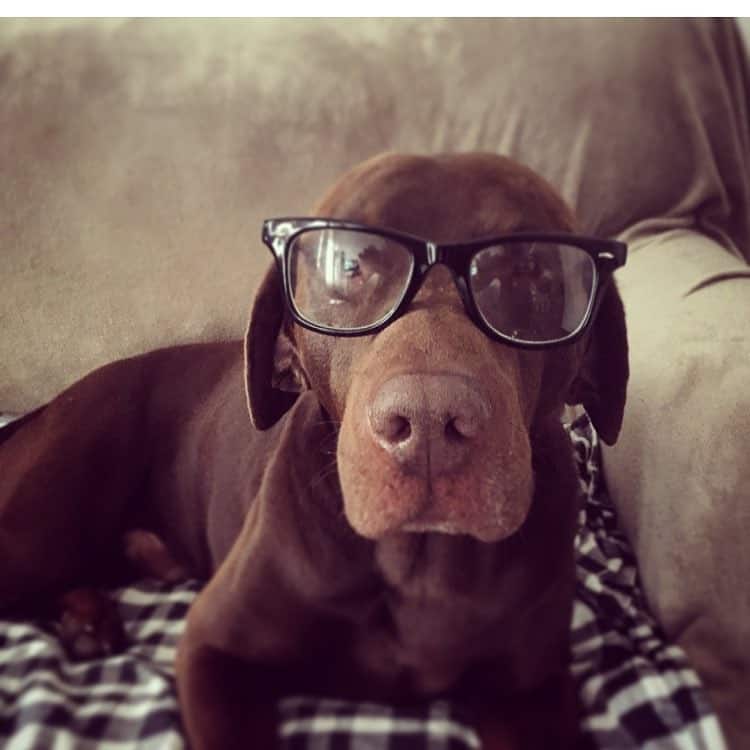 | | |
| --- | --- |
| Weight | 50 to 80 pounds |
| Height | 21 to 27 inches |
| Size | Medium to large |
| Coat Type | Short but shaggy or long but thin (depending on the dominant parent) |
| Coat Color | Varying colors |
| Amount of Shedding | Minimal to high shedding (depending on the dominant parent) |
| Eyes | Round |
| Nose | Long |
| Ears | Pointed or drooping (depending on the dominant parent) |
| Temperament | Loyal, lovable, fun-loving |
| Life Expectancy | 10 to 15 years |
| Hypoallergenic | No |
| Kids Friendly | Yes |
| New Owners Friendly | Yes |
| Breed Recognition | N/A |
You will never be able to find out what your Lab Doberman puppy will look like as an adult. However, you can always check on the physical appearance of your dog's parents.
An adult Doberman can weigh up to 80 pounds and could measure more than 27 inches tall. The Doberman has a stately appearance, and this contributes to its height and stature. Meanwhile, a Labrador Retriever weighs from 70 to 80 pounds and can grow up to 25 inches tall.
Considering the weight and size of a Lab Doberman's parents, you will be able to predict that your puppy will grow between 23 to 27 inches tall and will weigh up to 80 pounds.
At present, there are no dog organizations and dog breed registries that recognize the Lab mixed with Doberman dog breed.
Doberman Mixed with Lab Puppies for Sale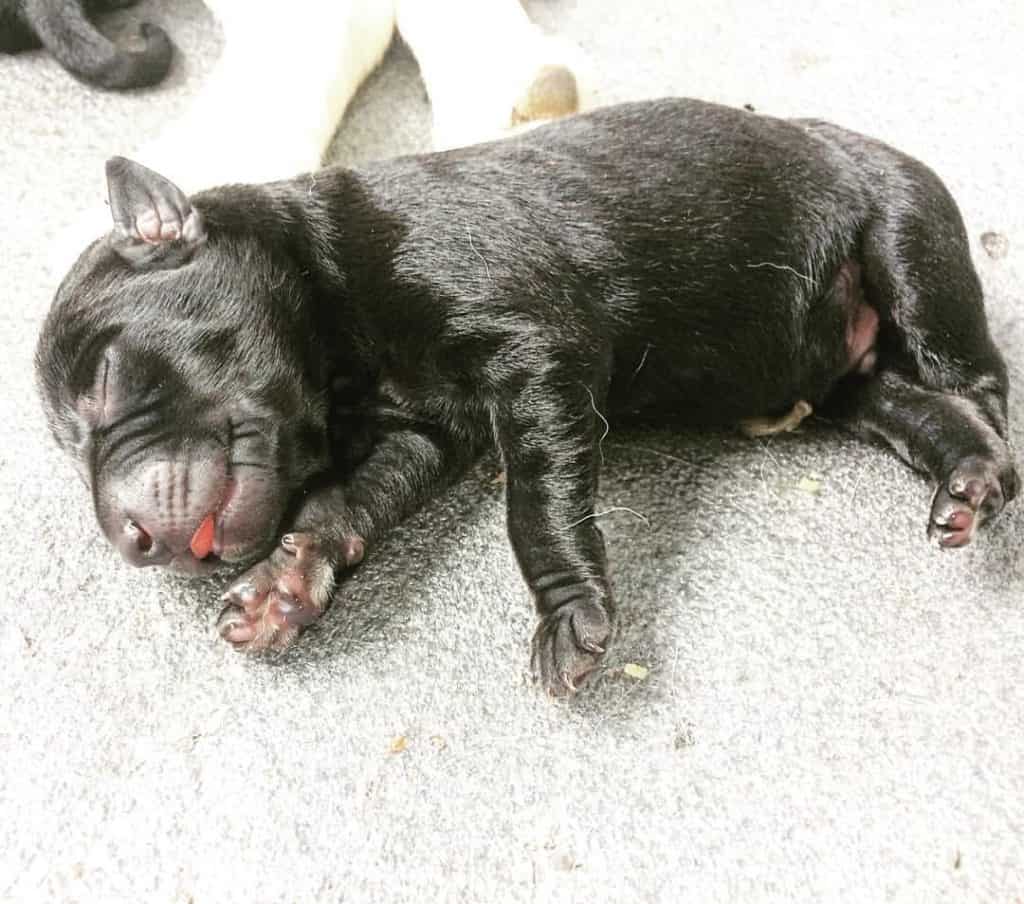 Possibly the first thing that comes to your mind is to look for a breeder to purchase your Lab Doberman pup. But before you do, please consider getting a puppy or a dog from a shelter.
The American Society for the Prevention of Cruelty to Animals (ASPCA) recommends getting a rescue dog or adopting a dog from a shelter. The ASPCA is against buying animals from a local or online breeder.
If you still want to purchase a dog from a breeder, make sure that you find a reputable local or international breeder. Talk to the breeder about the health conditions and behavioral issues and temperament of your dog's parents.
A good breeder will be willing to show you documents about the dog's parents and proof that these were bred to get Lab Doberman puppies.
The following are online sites are found to have ads for Doberman mixed with Lab puppies or dogs.
PuppyFind.com (International)
Adopt-a-Pet.com (United States)
Petfinder.com (the United States and Canada)
Grooming Your Doberman Crossed with Lab
Grooming depends on what type of coat your dog has. If it has a longer coat because of its dominant Lab parent, then you should brush it more often. You may also choose to have it groomed in a pet salon. Invest in a good lint roller and a vacuum cleaner because your dog will likely shed a lot.
If your dog hails from its dominant Doberman parent, then expect a dog with very short hair, therefore, less frequent grooming is required. You must still brush it once a week to keep its coat shiny and healthy.
Clean your dog's ears and paws. Inspect its nails and cut or file it as necessary. You should also give it some dental products to clean its teeth. Playing with a net or a rope may also help your dog floss his teeth.
Your dog needs a bath but only when it is dirty. But if your dog swam, wash him off with plain water to remove chlorine from its coat.
The following are the best dog shampoos for this mixed breed dog:
1. Burt's Bees Oatmeal Dog Shampoo
Burt's Bees is a dog shampoo that will clean your Doberman Lab's coat, and it can also soothe your dog's itchy and irritated skin. This shampoo is made only from all- natural ingredients including oatmeal, honey, and beeswax. These ingredients are known to soothe skin and can help relieve with a variety of skin conditions in dogs as well as in humans.
The Burt's Bees Oatmeal Dog Shampoo is paraben-free, sulfate0free and cruelty-free. It can help balance the pH of your dog's skin and leave it soft, shiny and healthy.
2. Earthbath All Natural Pet Shampoo
This dog shampoo is made from aloe and oatmeal and can heal itchy, dry and flaky skin. It can reduce irritation and stop inflammation. You will love the smell of this shampoo because it smells like delicious vanilla and almond oil.
This shampoo also has moisturizing effects that can promote healing. It does not contain parabens, dyes, and phosphates that can only cause irritation and itching. Earthbath All Natural Pet Shampoo is suitable for dogs with sensitive skin and allergies.
3. Nootie Oatmeal & Aloe Dog Shampoo
The Nootie Oatmeal Dog Shampoo is for dry and itchy skin. It is a paraben and soap-free dog shampoo that contains aloe and oatmeal to treat skin conditions. It will remove smelly odors and deodorize your dog's coat. Allow the shampoo to sit on your dog's fur for at least five minutes before rinsing so your dog can get the maximum effects of this shampoo formula.
Your dog may have a solid color like a Labrador Retriever or may have a combination of black, gold, brown or gray if it has a Doberman dominant gene.
If possible, have your dog groomed at least once a month especially if it has the coat and long fur of its Lab parent.
Doberman Lab Health Problems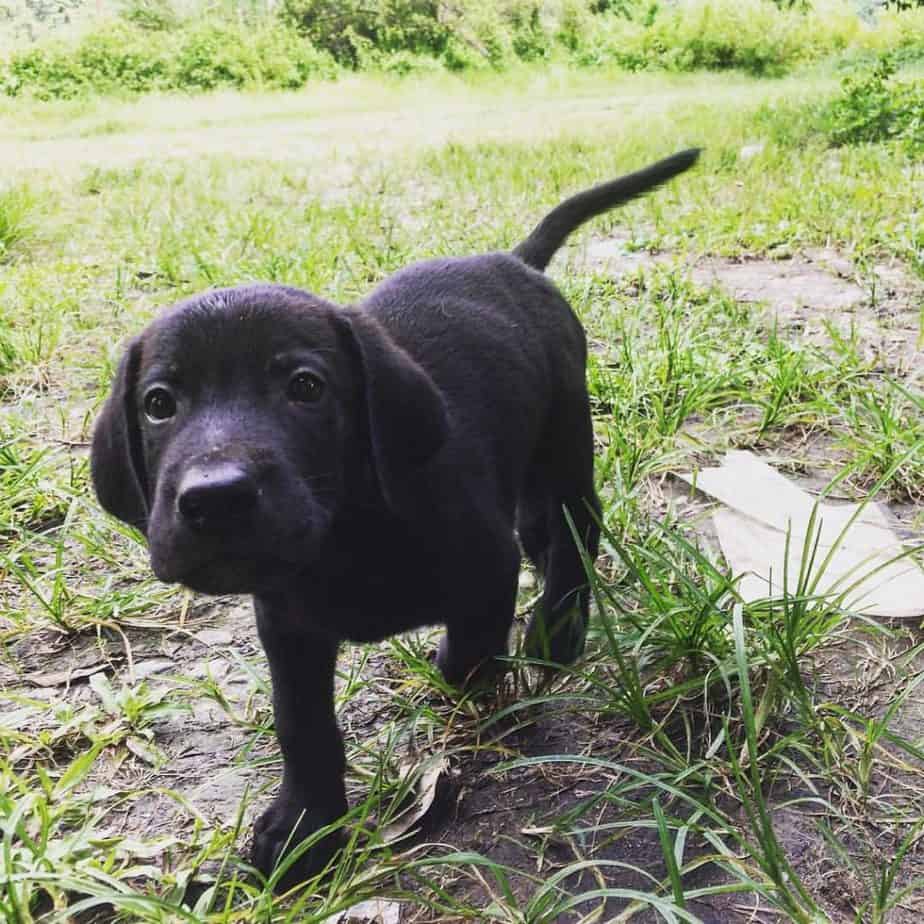 The Lab Doberman mix may inherit the health issues of its parent breeds. As much as possible, have your puppy checked by a vet to rule out any health condition. This should be done as soon as you take it home from a breeder or the pound or the shelter.
The following are common health problems of a Lab Doberman mix.
Heart disease
Cervical vertebral instability
Canine hip dysplasia
Bone cancer
Mange
Canine hemophilia
Twisted stomach
Hypothyroidism
Vision loss
Obesity
Inverted or folded eyelid
Heart valve malformation
Diabetes
Muscular dystrophy
Cataracts
Lab Doberman Mix Food Requirements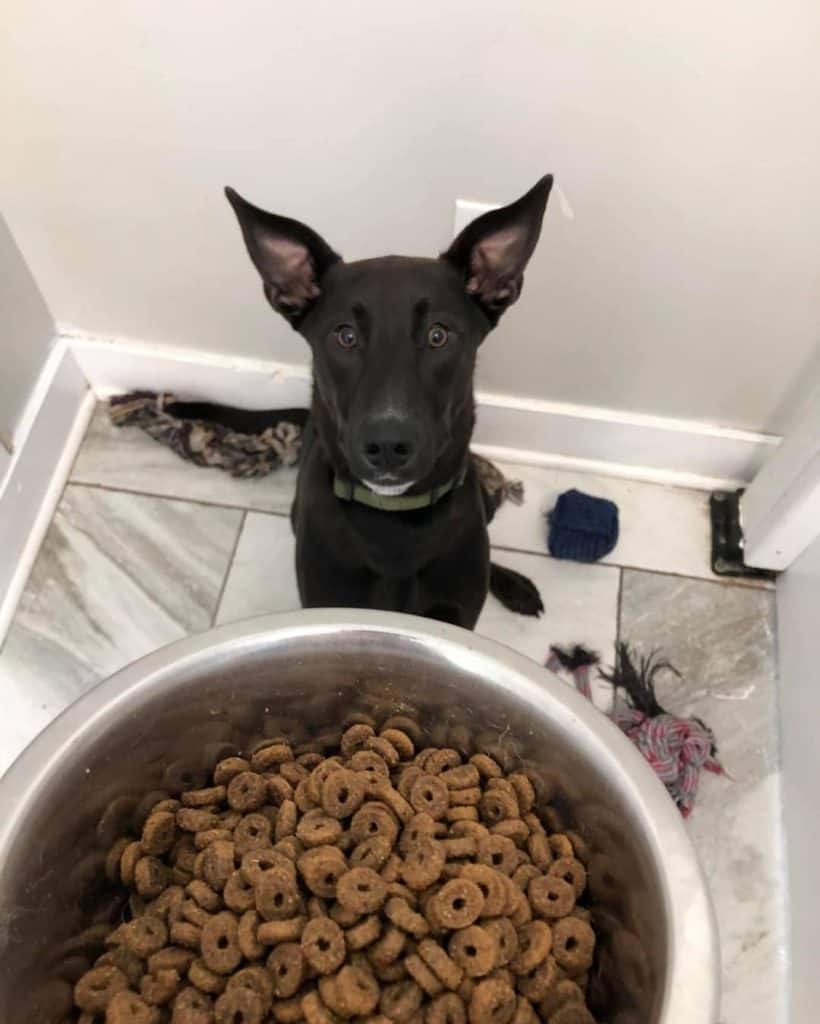 A Doberman Lab mix breed dog is a medium to a large dog which means it needs enough protein and carbohydrates to fuel it during the day. There are a variety of dog food mixes for Dobermans and Labs but none for a mixed breed.
That is why your choices are plenty! Start by offering your pooch some of the absolute best dry dog food for any breed, and see how it fares. You can also choose one of the best large breed dry dog food options. If you notice that your pup isn't thrilled with those, you can even go for the best dry dog food for small dogs — the only difference is the number of calories per serving, so make sure to adjust the portion to your buddy's needs.
If you landed on this page because you are wondering what to feed your newly-adopted cub, we've got you covered! Take a look at our guide to the best puppy food brands. If the opposite is true, and your fellow is an aged canine, they will undoubtedly enjoy the best senior dry dog food. In either case, make sure to avoid the worst dry dog food brands whose products contain additives and preservatives that may harm your doggo's health.
In case you need more advice on giving your mixed breed dog the ideal nutrition, consult a vet. Your vet will help you find the perfect brand of dog food that has the best amount of nutrients for your dog.
Your vet will be able to help you if your dog has allergies. There are dog food varieties that are right for his sensitive stomach.
Remember to avoid giving food treats at all cost because this can only lead to obesity and overeating. Obesity can have untoward effects on health and can affect the overall quality of life of your dog.
The following dog food brands will work correctly with Doberman Lab mix breeds:
Dog For Dog Food
Wellness Core Dog Food
Nutra Thrive dog food supplement
Merrick Grain-Free Real Buffalo + Sweet Potato Recipe Dry Dog Food
The Merrick Grain-Free dog food that contains healthy and natural ingredients that will not cause allergies. It does not include grains and uses sweet potato as its main carbohydrate source.
This dog food also contains deboned buffalo as its primary protein source. It also contains nutritious ingredients like blueberries and alfalfa as well as omega fatty acids, glucosamine and chondroitin.
Wellness Complete Health Large Breed
This is made with rich protein sources such as salmon meal, whitefish, and chicken. It comes with flaxseeds that contain high omega-3 fatty acids and probiotics to promote a healthy gut. It has a delicious flavor and smells that your Doberman Lab will love.
Taste of the Wild Grain-Free High Protein Natural Dry Dog Food
The Taste of the Wild dog food is a high-protein dry dog food that is primarily designed to follow the diet of wild dogs. It has high protein content to give your dog a complete selection of amino acids.
The protein source of this dog food is salmon while it takes nutrients from ingredients like tomatoes, dried chicory root, sweet potatoes, and blueberries. It contains vitamins, antioxidants, and minerals that your dog needs.
Never give human food. Most of these foods can upset your dog's stomach and may even be fatal for your dog. Never provide the following to your dog:
Alcohol
Avocado
Chicken Bones
Chocolate, coffee, or tea
Garlic
Grapes or raisins
Macadamia nuts
Onion and chives
Raw eggs
Salty foods
Doberman crossed with Labrador Exercise Requirements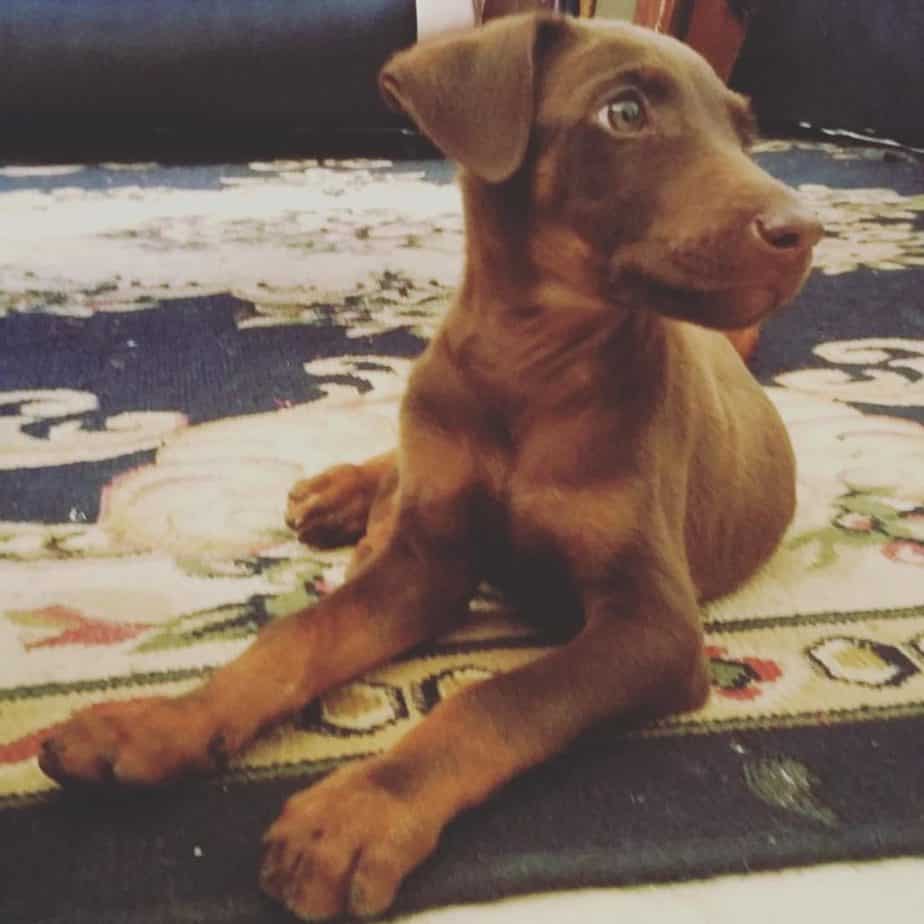 A Doberman mixed with a Lab is one energetic dog. It will require regular exercise and extended play time. Even if outdoor fun and training is over, this dog will continue to engage you in play activities at home.
Be prepared to provide your dog with all kinds of physical activity including running, fetch and all sorts of toys that move and pull. The following are the best durable toys that are perfect for moderate to large breed dogs such as a Doberman Lab:
1. Starmark Treat Dispensing Bob-a-Lot Dog Toy
This is a best-selling toy for large dogs. It is a toy that your dog will play which will automatically dispense treats. He can bounce this, throw it or gnaw at it and it's perfectly indestructible. It is made from very durable materials and will never crack or peel. Your dog will learn how to wait for treats and not to eat food in one go.
2. KONG Tires Extreme Dog Toy
This is a top dog toy made for large dogs like the Doberman Lab. It is a chew toy that your dog can chew on and play with all day without tearing, peeling or cracking. This is made from very durable materials and will produce a nice bouncy feeling. The KONG Tires Extreme Dog Toy is an excellent toy for fetch and as a reward because it will soon be your dog's favorite.
3. Jumbo Tennis Ball
This extra-large tennis ball is perfect for a large dog. It is an excellent toy to catch and also a reward for being such a good boy. It is 9.5 inches in diameter and therefore it is hard to chew on. This large tennis ball will be up to the task when your dog wants to sit still and play on his own.
Doberman mixed with Labrador Training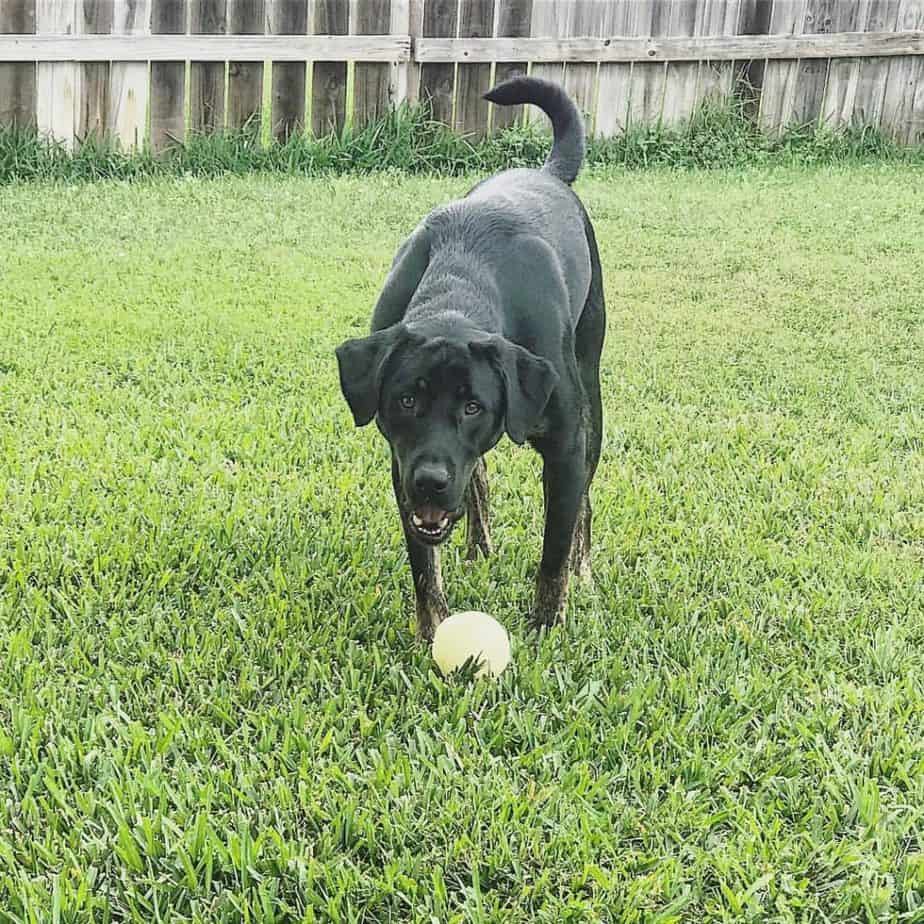 A Lab crossed with a Doberman is a brilliant dog, and it will be able to follow commands closely plus new commands are a breeze.  But as much as possible, you need to train your dog early and regularly. If you do not teach your dog soon, it may develop behavioral problems.
Remember the following when training a Lab Doberman pup or dog.
Training Should Be Done ASAP
Start training your dog as soon as it gets home. Start by house proofing your pet by showing him around your home. Show him where he will eat and drink as well as where he can poop or pee. Teach him how to wear a collar and leash. Walk your dog and show him around. This way, your dog will become well-adjusted and ready for more training.
Provide Positive Reinforcement
When your dog performs new tricks, reward it with positive reinforcement. This way, he will understand that he has done right. Using positive reinforcement can take different forms. You can give your dog his favorite toy, pat him on the head or scratch him on the chin and tell him he's a good boy or give him a good massage.
Employ The Clicker Training Technique
Use the clicker, a simple tool that can help train dogs. Click the clicker to associate it with good behavior. Once your dog does the action again, click the clicker once more. Your dog will love to hear the sound of this tool and later on, it will associate good behavior with the clicking sound.
Train Indoors And Without Distractions
During your dog's first weeks of training, train your dog in a familiar environment. This should be a place where it's quiet and where there are no other people except you. Once he has mastered these tricks from this familiar environment, you may now train your dogs on complicated tricks outdoors. After he has learned tricks indoors, you can now teach him in a dog park, playground or at the beach.
Doberman Labrador Mix and Families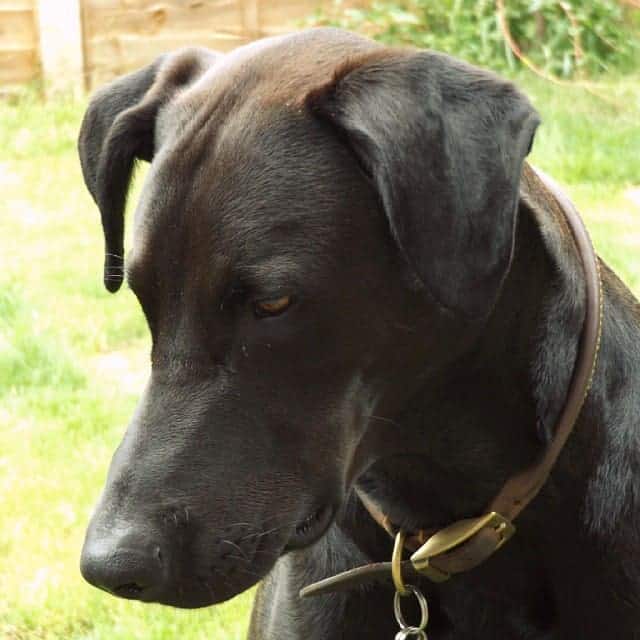 Lab Dobermans are great family dogs. They are kind, gentle and lovable. This dog will love to be with their families and will always be loyal to its master.
However, Lab Doberman mixes are not good with strangers, often, their protective instincts take over, and they tend to be very vicious when protecting their families.
The Doberman Lab may also become a good companion dog for singles and will be very protective of their owners as well.
The key to a friendly and well-rounded dog is to socialize it early. Let it play with other dogs or other pets at home. It should also learn how to behave well with other people and not be very wary of strangers.
Your Doberman Lab mixed breed dog will grow up to be a loyal, behaved and healthy dog when it is trained early. If you have questions about your new dog's nutrition, training, and health, consult your vet.
References:
Davison, L.j., et al. "The CaninePOMCGene, Obesity in Labrador Retrievers and Susceptibility to Diabetes Mellitus." Journal of Veterinary Internal Medicine, vol. 31, no. 2, 8 Feb. 2017, pp. 343–348., doi:10.1111/jvim.14636.
Dyggve, H., et al. "Antihistone Autoantibodies in Dobermans With Hepatitis." Journal of Veterinary Internal Medicine, vol. 31, no. 6, 30 Sept. 2017, pp. 1717–1723., doi:10.1111/jvim.14838.
Pets, About. Doberman. Simon & Schuster, 2005.
Walton, Joel, and Eve Adamson. Labrador Retrievers for Dummies. Wiley Publishing, 2007.