Pug French Bulldog Facts
The French bulldog and Pug Combination was first known as Bouledogue Francais, with roots tracing back to England in the 18th century.  The name has since evolved into Frenchie Pug or Frug.  Classified as a designer hybrid, it is a cross between the French Bulldog and Pug.  They may be small and compact but they got loads of impeccable characteristics.  Historically, they are used to being treated like royalty, with a lot of pampering, cosseting, and indulgence.
3 Reasons Why You Shouldn't Get a Pug French Bulldog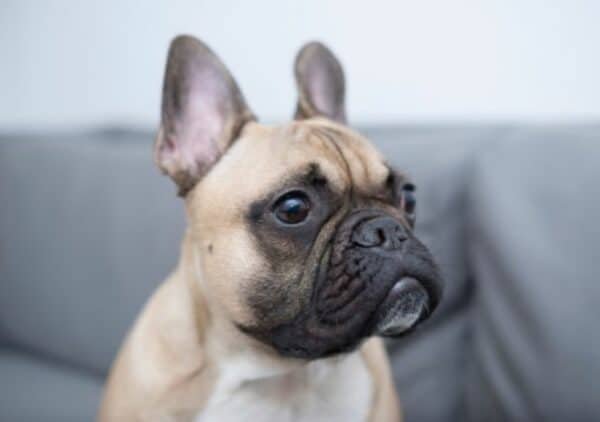 A combination of French Bulldog and Pug don't want to be left alone, especially for an extended period.  They become distraught if you've been absent for too long and display symptoms of separation anxiety which include urinating, defecating and eventually eating their poop.  Chewing, pacing, barking, howling, and digging are other signs of separation anxiety.
They are very clingy, and your French Bulldog Pug Mix wants to follow you everywhere. This is referred to as the Velcro Dog Syndrome.  Although we may find it slightly similar to separation anxiety, there are quite a few differences.  It is important to note that the underlying reason for clinginess may be attributed to their health so it is important to consult a Veterinarian.
They are relentlessly jumping up and down when excited.  While this is a welcome gesture for pet owners, this behavior may be unacceptable to a stranger.
3 Reasons Why You Should Get a French Bulldog mixed with Pug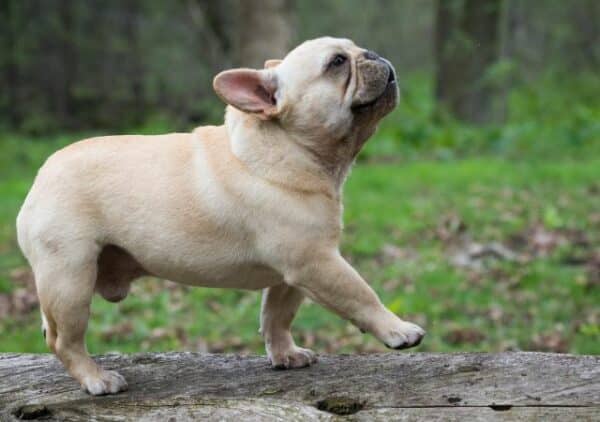 French Bulldog Pugs are incredibly adorable and irresistible with their flat face, short nose and bat ears sticking out, not to mention the folds around their forehead and eyes.
They are a whole entertainment package, your happy pill.  You will never get tired of being with them.
The combination of French Bulldog and Pugs are very dedicated and loyal pets. They want to stay close to their masters.  If you're looking for a companion dog, this pet fits the bill perfectly.
Appearance, Personality, and Traits of a Pug mixed with French Bulldog
Weight
15 – 23 lbs
Height
10 – 12 inches
Size
Small and stocky
Coat Type
Fine short and smooth
Coat Color
Black, Cream, White, Fawn, Brindle

Coat could also be a combination of the parents' markings

Coat Density
Sparse to Normal
Amount of Shedding
Rare
Eyes
Brown and Round
Nose
Black
Ears
Bat ears that  stick out
Temperament
Intelligent, lively, active
Life Expectancy
9 to 15 years
Hypoallergenic
No
Kid Friendly
Yes
New Owner Friendly
Yes
Breed Recognition
ACHC, DDKC, DBR, IDCR
The Pug has small droopy ears and wavy, pig-like tail whereas the French bulldog has bat-like ears and tiny, straight tail.  Both breeds have the same wrinkled and loose skin. It is to be expected then that your mix of French bulldog and pug will share similar characteristics as the parent breeds join together.  All things considered, we can say that the French bulldog Pug is one incredibly cute and adorable mix.
A Combination of French Bulldog Pug Puppies for Sale
Time and again, you are encouraged to buy directly from the breeder to avoid any problems.  Online businesses are often unregulated and buying from websites may put you at risk of running into fraudulent transactions.  Let us review some scam scenarios:
Bait and Switch – This scam sells on pictures of cute and healthy puppies.  The consumers are not aware that the photos are stock photos grabbed from other websites.  All correspondence is conducted via email.  Once the sale is finalized, the wrong puppy is delivered
Free to Good Home – Scammers use this method with sad stories to tell – from a wife or a child in the hospital to fund a relief organization.  Sorry stories generally tug and melt the heart so this is a favorite among perpetrators.   Payments are made via money transfer with no real dogs involved.
Scamtuaries (Sanctuaries) – This particular scam preys on individuals who love dogs. The puppy mill sets up a fake website and poses as a shelter or sanctuary which offers purportedly rescued animals.   Adoption fees for these dogs often exceed $1,000.
In most cases, the dogs that are advertised online and sold at pet stores are trained in puppy mills where living in cramped and filthy spaces is the norm. It is best to hunt for small scale breeders who would welcome visitors into their kennels to check out their dog's living standards. Reputable breeders usually provide pertinent information regarding the puppy and its parents.  And when you've come to the decision of buying, the puppy will come with registration and vaccination records to give you the reassurance you need.  Listed here are several breeders of the mix of Pug and French Bulldog to jumpstart your search:
This website will provide you with a comprehensive list of affiliated breeders.
https://marketplace.akc.org/breeder
A visit to the local shelter or rescue group is an ideal option if you are more inclined to adopt.  Hundreds of abandoned and abused dogs are surrendered so there might be a chance for you to find a French Bulldog Pug here.
Grooming Your A Combination of Pug French Bulldog
A mix of French Bulldog and Pug will only require minimal grooming because of their short coats.  Brush the hair with firm bristles at least once a week to get rid of dead hairs.   You can use a wet cloth to wipe off a speck of dirt or bathe your dog entirely if he becomes all grubby and grimy.  Always see to it that the creases on the face are thoroughly dried up to prevent any infection.   Clean both ears and trim their nails regularly.
French Bulldog Pugs Health Problems
It is typical for hybrids like the Pug and French bulldog Combination to inherit the health condition that has afflicted the parent breed.  Being born hale and hearty is not always a guarantee that they will not develop the same problem.  Screening tests are now available to help breeders determine which dog to breed.  Ultimately, you need to be conscious and be able to recognize the signs for these illnesses.
Glaucoma is caused by high pressure that builds up in the eye.  This may impair the optic nerve and can result in total blindness.  It usually starts with just one eye and can progress into the other.
Cataracts affect the lens of the eyes, making them dense and opaque.  The most common cause is genetic.  Diabetic dogs are more vulnerable and prone to develop this disease.  Eye injury and infection are also common causes.
Allergies or allergic reaction whether from food or the season may be in progress if you notice an increase in scratching, licking, and chewing.  Antihistamines usually work wonders.
Atopic Dermatitis is a chronic skin disease related to allergies.  Like most allergies, the signs include itching, scratching, rubbing, and licking, especially around the face, paws, and underarms.
Entropion is when the eyelashes, including the skin around the eye, have direct contact with the cornea.   This condition is either congenital caused by an anatomic defect or acquired as a result of trauma.
Hip Dysplasia occurs when a dog's hip joints don't develop correctly causing it to dislocate.  Obesity and pelvic muscle mass may exacerbate this condition
Patellar Luxation happens when the dog's patella or kneecap is dislocated from its normal anatomic position in the groove of the femur or thigh bone.  Dogs with dislocated kneecaps exhibit prolonged and abnormal movement of the hindlimb.  You may find them occasionally skipping or limping.
Brachycephalic Obstructive Airway Syndrome is characterized by elongated soft palate, stenotic nares, everted Laryngeal Saccules.  Brachycephalic dogs like the French bulldog and Pug mix, often have difficulty breathing and may have respiratory problems.
Health issues may affect their quality of life.  Therefore, it is your responsibility to look after the welfare of your Pug French bulldog.   It is essential that you limit activities that may lead to excessive physical exertion.
Keep in mind that these mongrels are also unable to swim so try to keep them away from pools or puddles.  Exposure to direct sunlight and excessive heat can make them susceptible to illnesses so make sure that you monitor their temperature.
Pug French Bulldog Food Requirements
Your primary goal is to properly nourish your French Bulldog Pug, so you may want to give him only the best food brands available in the market.  Veer away from artificial and synthetic ingredients which may pose a threat to your dog's health.  They could do with approximately one and a half to two cups of dry dog food in a single day.  Reduce the quantity of serving if you also intend to give canned dog food – you don't want to overfeed your Pug French bulldog as it might lead to obesity. Measuring the amount of food you serve and monitoring how much he eats are highly recommended.
Top choices for Puppies
As a puppy, it's essential that you find a food that not only gives proper nourishment to your French Bulldog and Pug mix.  Find products that they will also enjoy eating.
Canidae Grain Free Pure Foundations Puppy Formula
Canidae Grain Free Pure Foundations Puppy Formula contains omega-3 and 6 fatty acids to support supple skin and a beautiful coat, antioxidants for a healthy immune system, and probiotics to assist in proper digestion. The recipe is especially helpful for puppies with sensitive digestion
Main Ingredients: Chicken, Fish, Peas, Potatoes, Lentils
Wellness CORE Natural Grain Free Wet Canned Dog Food Puppy Formula
The formula uses highly palatable and very nourishing ingredients that are also easy to digest.   It is free from any artificial ingredients, by-products or fillers. It is considered as a protein powerhouse with 80% more meat as compared to other dog food.  It is also rich in antioxidants, Omega fatty acids, probiotics and more.
Main Ingredients: Turkey, Turkey Broth, Chicken, Chicken Liver, Herring, Carrageenan, Sweet Potatoes, Broccoli, Kale, Apples and Blueberries
VeRUS Puppy Advantage Chicken Meal, Oats and Brown Rice Holistic Formula
VeRUS Puppy Advantage is an easy-to-digest, holistic food for small breed puppies. It has DHA that promotes optimum brain development and probiotics that aids digestion.  It also has omega-3 fish oils, vitamins, and minerals. It has no additives and harmful chemicals; VeRUS provides ample nourishment for a growing dog.  Main ingredients: Chicken and chicken fat, Ground Brown Rice, Ground Oats
Top choices for Adults
Your Pug French bulldog's diet and food should be adjusted as he reaches full growth.
Castor & Pollux Organix Small Breed Grain Free Adult Dog Food
Nearly all ingredients of Castor & Pollux Organix Small Breed Grain Free Adult Dog Food are organic.  It is one of the most popular natural dog foods in the market. It is totally free of grain and corn, wheat and soy which makes it easy to digest and definitely safe for dogs with sensitive stomachs.
Main Ingredients: Organic Chicken and Chicken Meal, Organic Chicken Fat, Organic Sweet Potatoes, Organic Tapioca, Organic Chickpeas, Organic Peas, Organic Pea Protein, Organic Sunflower Seed Meal, Organic Coconut Oil
Nulo Freestyle Adult Dog Salmon & Peas Recipe
Nulo is relatively new in the market but has already gained popularity and recognition.  With 80-84 percent which is by far the highest animal-based protein compared to other dog food, Nulo does not use by-products or any other food derivatives. Their recipe is free of artificial flavors and colors, and preservatives.  It is also approved and recommended by AAFCO or the Association of American Feed Control Officials.
Main Ingredients:  Turkey, Salmon, Menhaden Fish, Sweet Potato and Whole Peas
Taste of the Wild's High Prairie dog food
This product is a very reasonably priced and great choice if you're working on a budget.  Taste of the Wild's High Prairie dog food is grain-free and Made in the USA. With no common allergens added, this dog food is an excellent choice for Pug and French bulldog combination with sensitive stomachs and skin allergies.
Main Ingredients: Lamb, Chicken, Roasted Venison, Roasted Bison, Sweet Potatoes, Potatoes, Peas, Canola Oil, and Egg Product
Fromm Adult Gold Small Breed
This recipe makes a perfect choice if your dog is allowed to eat grains.  It is completely free of wheat, corn, and soy and has probiotics for good digestion.
Main Ingredients: Chicken, Duck, Grains like brown rice, barley, and oatmeal
Top Choices for Senior French Bulldog Pugs
The mix of Pug and French bulldog will start to lose muscle strength and become less active as it ages. They will need nutritious food that's laden with protein to keep them healthy.
Orijen Senior Dog food is manufactured with 80 percent meat and fish making it a good source of high-quality protein.  It is low-glycemic and low-carb which helps keep your dog's blood sugar stable. It provides natural sources of chondroitin and glucosamine which supports healthy joints.
Main Ingredients:  Chicken, Turkey, Yellowtail Flounder, Whole Eggs
Blue Buffalo Life Protection Formula Senior Chicken & Brown Rice Recipe Dry Dog Food
The Senior Chicken & Brown Rice Recipe features delectable deboned chicken rich in protein with the right ingredients to support your senior dogs' overall health and well-being.  Key benefits include Omega 3 and 6 fatty acids to ensure healthy skin and coat, an increased amount of protein and L-Carnitine for healthy muscles, carbohydrates for energy, Vitamins, chelated minerals and antioxidants for immune system health and natural sources of chondroitin and glucosamine for mobility and healthy joints.
Main Ingredients: Chicken, Chicken Meal, Peas, Potato Starch, Brown Rice, Barley, Oatmeal
Made with exceptional quality ingredients, Diamond Naturals offers complete and holistic nutrition for your aging friend.  The formula is enhanced with guaranteed probiotics and fiber to help support digestion especially among sensitive pets, high-quality protein to maintain ideal body condition, and added glucosamine and chondroitin to support healthy joints.
Main Ingredients: Chicken, Brown rice, Rice Bran, Oatmeal, Peas, Egg
Interestingly, there are also human foods that are safe for your Pug French bulldog's consumption:
Fruits and vegetables like apples, bananas, carrots, and sweet potato are loaded in vitamins and minerals, and fiber to aid digestion.
Chicken, turkey, and beef are great sources of protein.
Salmon and tuna are rich in Omega-3 fatty acids which promotes healthy brain and heart and good eyesight.
Rice, wheat, and grains are carbohydrates that our pets can actually digest.
French Bulldog mixed with Pug Exercise Requirements
This cross between Pug and French Bulldog are energetic as puppies.  But as they grow old, they become more relaxed.  They are known to be moderately active dogs, so too much exercise is dangerous.  Physical activities for about 20-40 minutes ensure that your dog gets a sufficient amount of exercise and stimulation.  A leisurely walk each day is one activity that your dog will surely enjoy.  You may also engage them in play using toys.
Luckily, these toys are readily available in the market:
Throwables – for playing fetch and tossing
JW Pet Products Hol-ee Roller – Your dog, develops problem-solving skills as they work to extricate treats or toys from this rubber ball.
Floppy Disc Soft Flying Disc Toy for Dogs – This toy not only flies, it floats too.
Chuckit! Launchers and Chuckit! Ultra Ball – Bring your fetching experience to the next level with the launcher and a high bouncing ball that also floats in water.
Chewables – for chewing and teething
Kong Original Toy Rubber – Stuff it with treats and your dog will find this satisfying.  It also reduces distress caused by separation anxiety.
West Paw Zogoflex Tux Interactive Treat Dispensing Dog Chew Toy for Aggressive Chewers –
Interactives – for playing alone or with the master
OurPets Smarter Toys Interactive IQ Treat Ball Dog Toy – Perfect for playing solo, it provides mental and physical stimulation.
Dogit Mind Games 3-in-1 Interactive Smart Toy for Dogs – This Includes Hide-and-Seek, Spin-a-Whirl, and Sliding Puzzle Games.  The toy teaches your dog how to focus attention and helps lessen hyperactivity.
Comfort goods – for calming
goDog Dragon With Chew Guard Technology Tough Plush Dog Toy – This super soft and plush toy squeaks is the perfect lovey for your dog.
Go Pet Club Solid Memory Foam Orthopedic Pet Bed – Your pet will love to snooze away on this super cozy and luxurious bed.  The structure provides adequate comfort and optimum levels of relaxation.
Bone Dry DII Microfiber Pet Blanket – The plush and soft material provides absolute comfort, a perfect complement to any pet bed.
Pug mixed with French Bulldog Training
Training is a fantastic bonding experience for you and your mix of Pug and French Bulldog.  Furthermore, consistent and regular training will help you achieve desirable results.
Obedience – Training your Mix of Pug and French Bulldog may be a little daunting as they prove to very obstinate and may have difficulty picking up on tasks.  Establish yourself as the master and let him know you are in control.
Watchdog – You may start this training by letting your dog socialize or mingle with other people.   This will provide him experiences that will help develop his sense of inquisitiveness.   Through this, your Mix of Pug and French Bulldog will be able to recognize suspicious activities around him.
Tricks – They will always aim to please so you can use this opportunity to teach your pet friend entertaining and interesting tricks like a handshake, kiss, crawl, walking backward and a lot more.
Ultimately, it is important to reinforce training with love – let your mix of French Bulldog and Pug know and feel your appreciation by giving him treats or toys.
French Bulldog Pug and Families
The cross between Pug and French Bulldog are gaining much popularity as household pets because of their lovable and affectionate nature.  This is very appealing, especially among the younger generation.
Before you take home the newest member of your family, there are certain things that you need to consider.  Establish the rules and assign responsibilities like who is going to feed, bathe, and walk him. Designate one activity room in your household where family members can mingle with your new pet while pointing out which rooms is off-limits.  Being the champion chewers as they are the combination of French Bulldog and Pug have a penchant for biting into things so you need to organize your belongings ahead of time. You may consider building up a temporary living space that is gated off.  This is where your pet could stay in when you're not around to prevent him from having housetraining accidents.
References:
Brocal, J., et al. "C7 Vertebra Homeotic Transformation in Domestic Dogs – Are Pug Dogs Breaking Mammalian Evolutionary Constraints?" Journal of Anatomy, vol. 233, no. 2, 14 May 2018, pp. 255–265., doi:10.1111/joa.12822.
Ryan, R., et al. "Prevalence of Thoracic Vertebral Malformations in French Bulldogs, Pugs and English Bulldogs with and without Associated Neurological Deficits." The Veterinary Journal, vol. 221, 31 Jan. 2017, pp. 25–29., doi:10.1016/j.tvjl.2017.01.018.
Nicholas, Anna Katherine. Pug. Kennel Club Books, 2004.
Stephenson, Beverley. French Bulldog. The Pet Book Publishing C, 2015.