Lab Akita Mix Facts
Table of Contents
1

 Lab And Akita Mix

2

 3 Reasons Why You Shouldn't Get an Akita Lab Mix

3

 3 Reasons Why You Should Get an Akita Labrador Cross

4

 Appearance, Personality, and Traits of an Akita and a Lab Combination

5

 Lab Akita Mix Puppies For Sale

6

 Grooming Your Lab Akita Cross

7

 Labrador and Akita Combination Health Problems

8

 Akita Labrador Mix Food Requirements

9

 Akita Lab Cross Exercise Requirements

10

 Akita and Labrador Combination Training

11

 Akita Lab Mix And Families

12

 References:
Lab And Akita Mix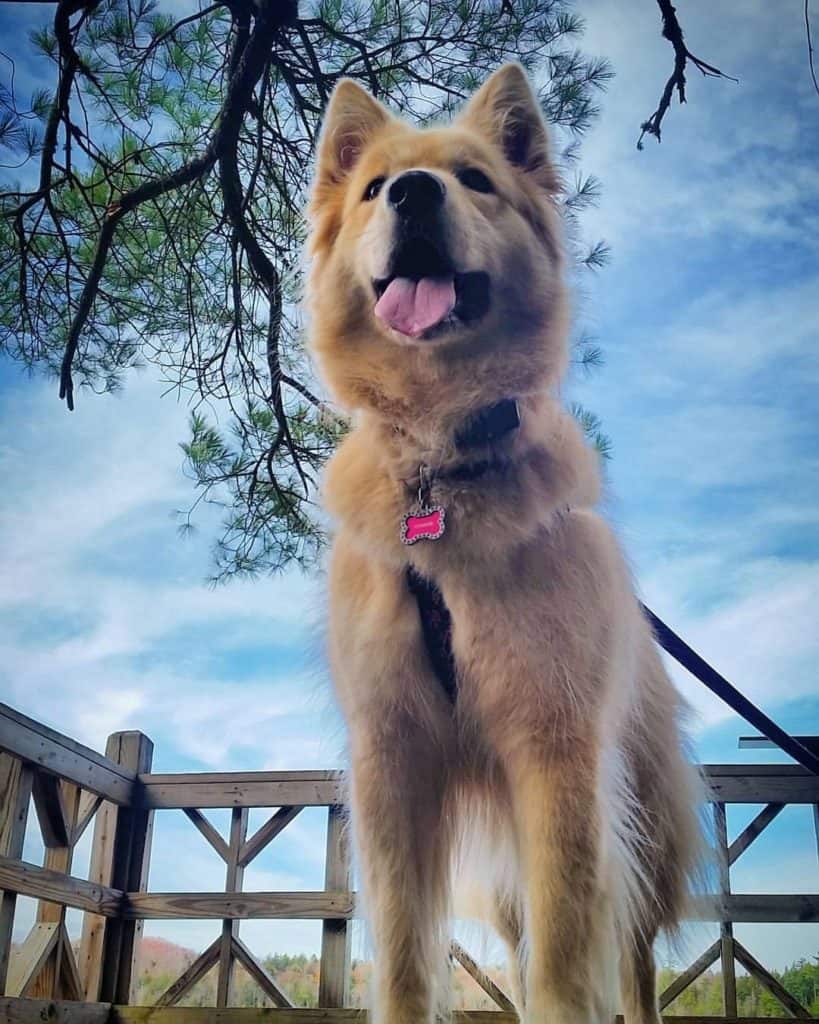 This combination is also known as a Labrakita – an intelligent, friendly, and easy-to-train dog.  The most accurate way to establish a set of standards for this designer hybrid is to conduct thorough research about the parent breeds, the Labrador retriever and the Akita Inu.
3 Reasons Why You Shouldn't Get an Akita Lab Mix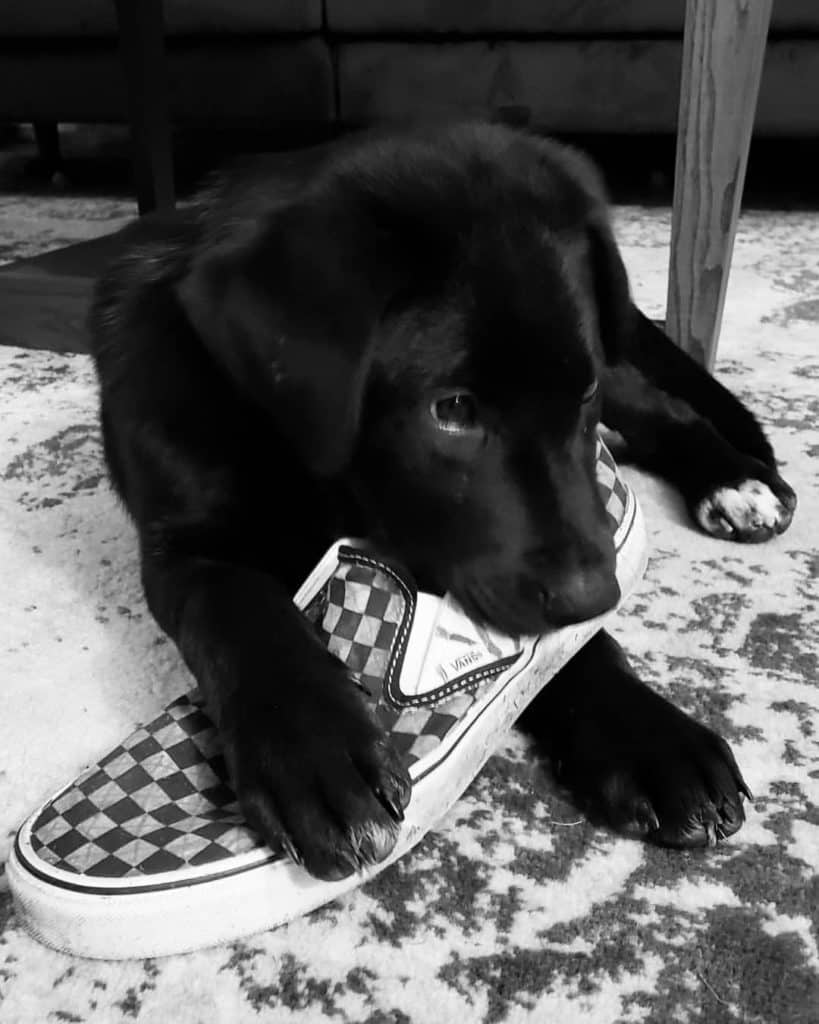 Food aggression – The Akita Lab Cross is extremely possessive of his food; anyone who approaches his bowl may be in for a vicious attack.  It is vital that you keep your children and your other pets away from him during mealtime.
Naturally aggressive – Because of their massive size and strength, the Lab Akita combination is not usually a viable choice for a first-time owner. They can be very dominating which can be hard for a novice owner to manage.
Short- tempered and strong-willed – He may use his intelligence to suit his own purposes so he needs a master who will be able to take charge.
3 Reasons Why You Should Get an Akita Labrador Cross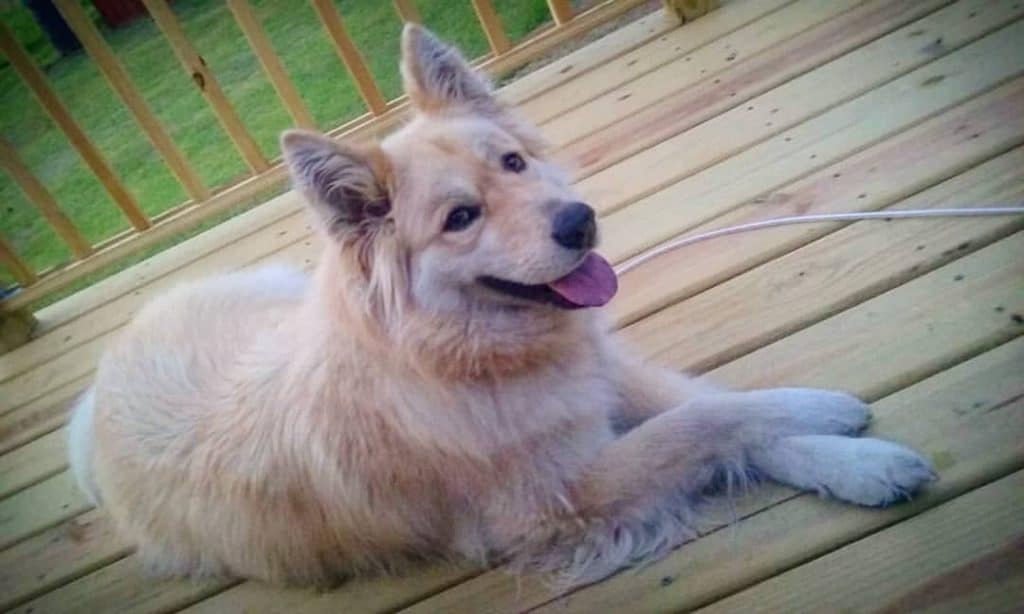 Good watchdog – The Akita Lab has a penchant for being territorial and protective of their family and homes. You can suppose this dog to be aloof with strangers.  They must be familiar and comfortable with people from while they are young to control his guarding instinct.  Unless defending their home, the Akita is generally calm and gentle.
Good Family Dog – Akita Labs have a very loving nature and are extremely demonstrative.  They are usually good with children, and the Lab Akita is said to have an affinity for smaller ones. However, you should always take precautionary measures with children.
Loyal Friend – The strong and silent Akita Lab undoubtedly makes a devoted pet. If you love quiet big dogs, this is the right type for you.
Appearance, Personality, and Traits of an Akita and a Lab Combination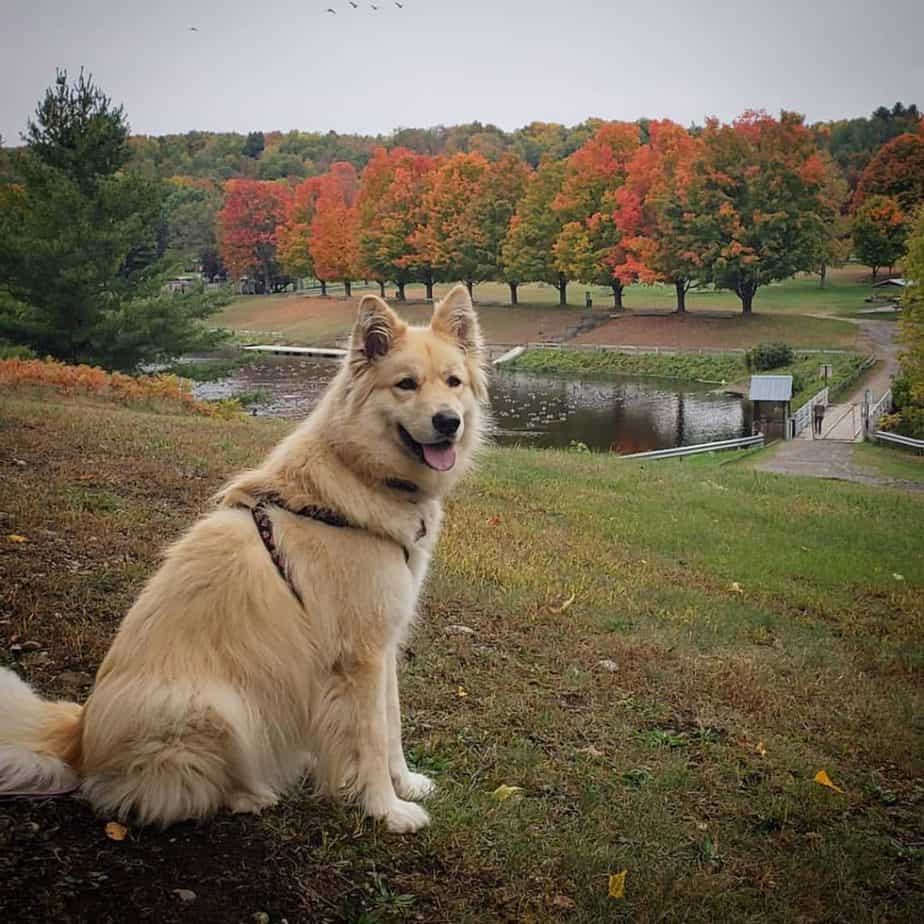 This mix has a relatively long muzzle and an interestingly thoughtful expression.   The Akita Lab combination has a light mask and chest; a large and square-shaped head; a stocky built and a set of muscular thighs; and a slightly curved long tail.  The body of the Lab Akita Mix is a blending of the Lab and the Akita. They are long-legged and tall, with a square appearance, nicely-shaped paws, good bone structure, and a decent, upright stance.
| | |
| --- | --- |
| Weight | Male, 80 – 110 lbs; Female, 70 – 100 lbs |
| Height | Male, 24 – 27 inches; Female, 22 – 25 inches |
| Size | Tall, large and stocky |
| Coat Color | Black, Gray, Brown, Red, cream, Fawn, White, Pied, Brindle |
| Coat Length | Short to Medium |
| Coat Density | Normal to Dense |
| Coat Texture | Straight |
| Amount of Shedding | Heavy |
| Eyes | Hazel, Brown, Amber |
| Nose | Black, Brown |
| Ears | Triangular, set up high on the head and maybe floppy |
| Temperament | Intelligent and loyal |
| Life Expectancy | 10 – 13 years |
| Hypoallergenic | Yes |
| Kid Friendly | Yes, with adult supervision |
| New Owner Friendly | No |
| Breed Recognition | DBR, IDCR |
The Cross between a Lab and Akita is a formidable one, regardless of whose appearance, personality, or traits he has inherited.
Lab Akita Mix Puppies For Sale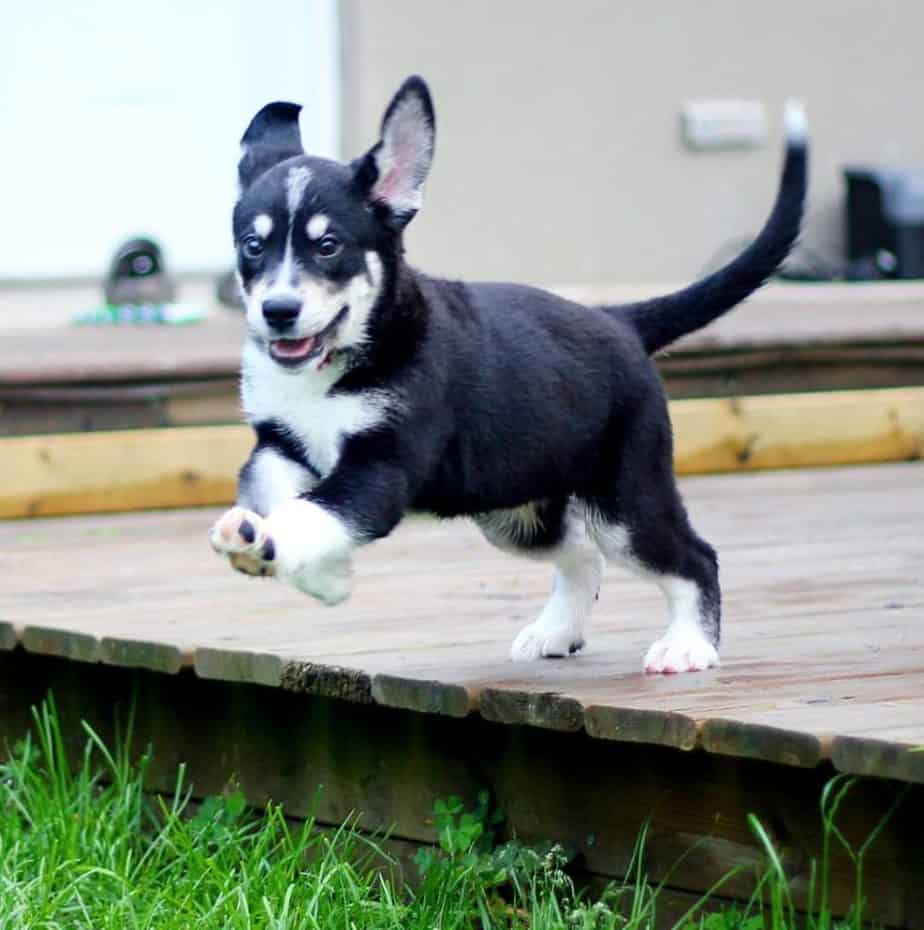 The Akita Lab Cross is a relatively new designer hybrid, so it's not that easy to find.  And if you ever see one in the market, chances are, it will be pretty expensive. The price is indicative of the value of the parents, the number of available puppies, and medical attention received.
If you're planning to purchase from a breeder, the safest route is to buy from a trustworthy and reputable one.   A reputable breeder will show legit documentation about the puppy's health. A reputable breeder will show results of breed-specific health examinations as required and recommended so that you'll know the parents are both hale and hearty to breed.  While breeders can be located with just one click, never pay or send money for deposit online where "greeders" are aplenty.
Another way to acquire an Akita Lab Cross would be through shelters and rescues whose primary focus is to find prospective homes for rescued puppies.  A convenient way to start your search is Adopt-a-Pet.com  where an Akita Lab may be listed.
Grooming Your Lab Akita Cross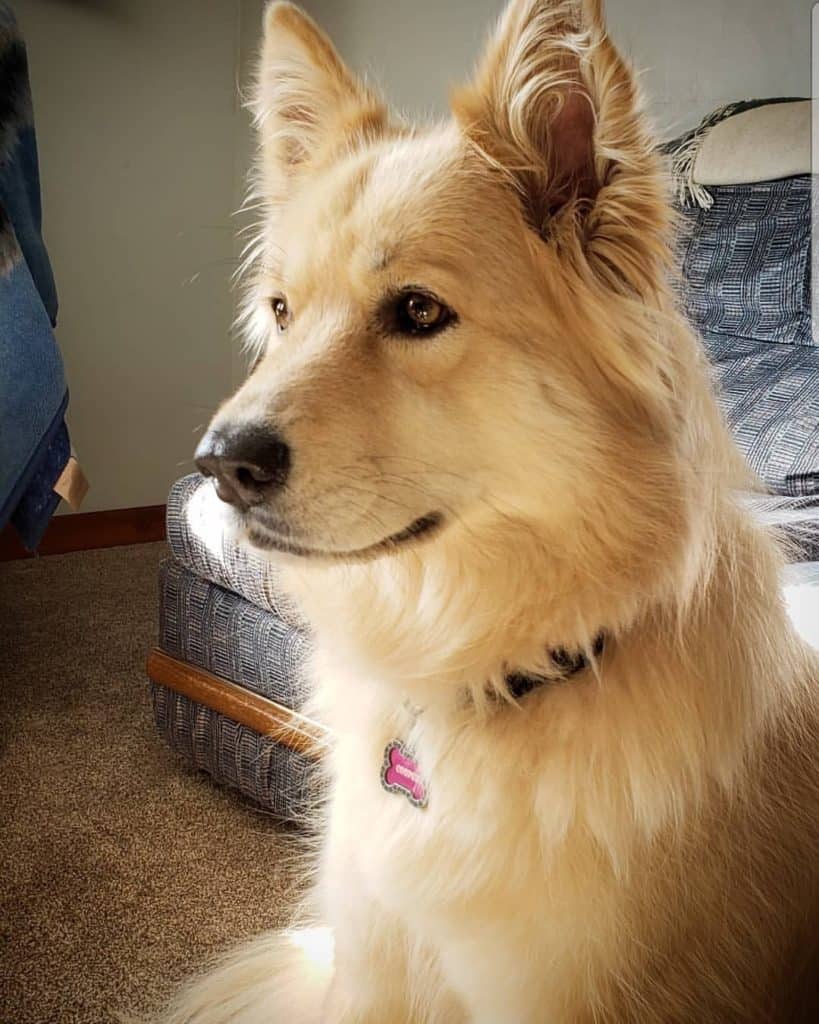 The Akita Lab Cross is a very heavy shedder; they "blow" coats several times in a year, and especially so during the summer and spring months.   This hybrid can cleanse itself just like the cat, but remember to brush the coat several times a week. Bathe your Lab Akita Cross only when needed because their skin tends to dry out if you bathe and shampoo them so often.  You should trim the toenails about once a month, check ears for mites and wax buildup and brush teeth regularly to prevent cavities and other dental conditions.
We listed some grooming essentials below:
Safari Wire Pin Brush – A pin brush that works marvelously in grooming large dogs.  It is useful in removing loose, lifeless hair and debris, leaving a healthy shine.
CHI Comfort Flexible Head Slicker Brush – This brush is designed with comfort in mind.  It is bendable and conforms to the contours of your pet, effectively removing loose and lifeless hair. It works to reduce shedding and prevent matting for a healthier and shinier coat.  It features an ergonomic handle to make grooming more comfortable and CHI's Ionic Technology that reduces static while restoring balance to the hair.
Pet Magasin Dog Nail Clippers – Trimming your pal's nails has never been this easy with the Pet Magasin Dog Nail Clippers.   These clippers have a built-in safety stop and an ergonomic grip for a more relaxed and comfortable trimming session with your Akita Lab Mix.
Gold Medal's Ear Mite & Tick Control – A gentle remedy formulated to relieve itchy and irritated ears effectively, Gold Medal's Ear Mite and Tick Control is made of natural insect repellent from flowers.  It effectively kills insects like ticks and ear mites and even works to eradicate the eggs.
GNC Pets Anti-Bacterial and Anti-Fungal Medicated Lavender Dog Shampoo effectively fight bacterial and fungal skin infections due to allergies, frequent scratching, and regular grooming. It features a soothing lavender scent for clean and fresh-smelling hair.  It is also formulated with ketoconazole to combat fungal infections and chlorhexidine gluconate to fight bacteria while promoting a soft and lustrous coat.
GNC Pets Anti-Bacterial and Anti-Fungal Medicated Lavender Dog Conditioner is the best compliment to the GNC Pets Anti-Bacterial and Anti-Fungal Medicated Lavender Dog Shampoo.
Vet's Best Complete Enzymatic Dog Dental Care Kit – The Toothpaste is formulated with enzymes, grapefruit seed extract, aloe, neem oil, and baking soda to effectively remove tartar and plaque and freshen your dog's breath.  The triple-headed toothbrush offers a unique design that conforms around the teeth makes brushing from all angles effortless. You will find the grip handle's patterned texture helpful if your Lab Akita Cross gets a little squirmy.
Labrador and Akita Combination Health Problems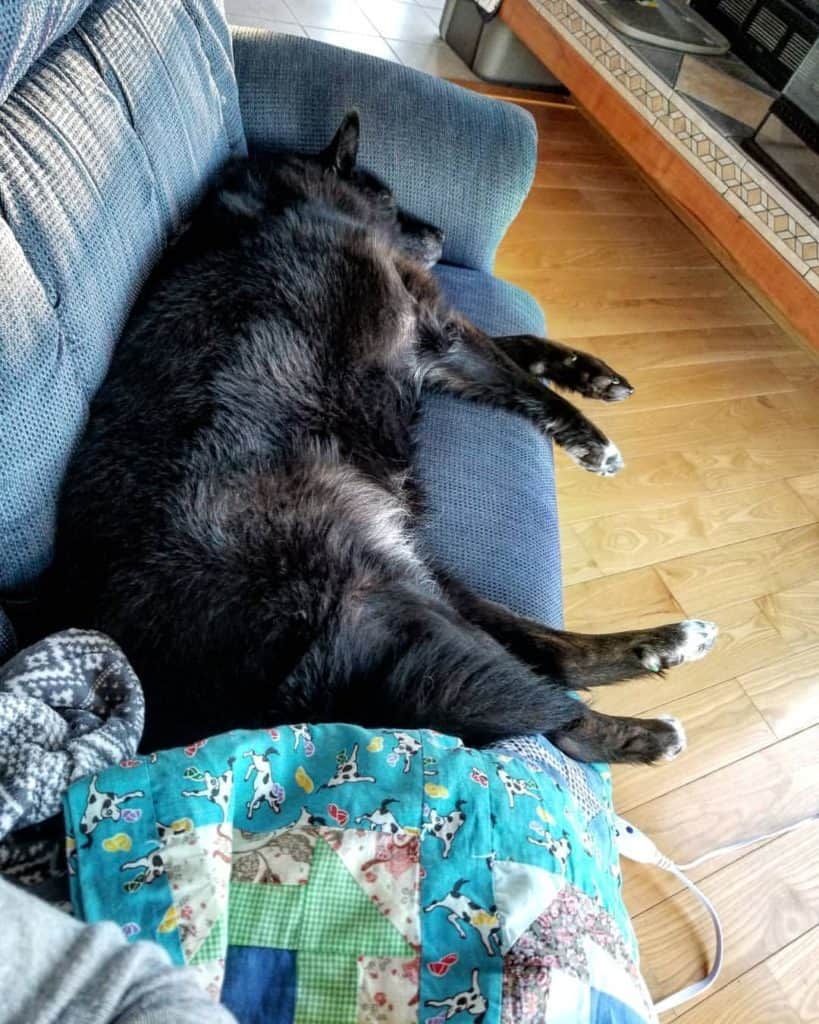 Like all hybrid dogs, there's always a possibility that the Akita and Lab combination will develop genetic health problems.  On that premise, buying from a reputable breeder is more favorable now than before because you can avoid a potentially sick dog.   A breeder with a good reputation should offer a health guarantee on puppies. A Clearance is a proof that a dog has been examined for and cleared from a particular health condition.
Hip and Elbow Dysplasia – Hip and elbow dysplasia is a skeletal condition in which the joints (for both hip and elbow) have grown unusually.  The unusual shapes restrict the sockets and joints from the meeting, resulting in grinding instead of gliding smoothly. The major complication with hip dysplasia is unsteady joints, whereas, in elbow dysplasia, the bone and cartilage loosen and irritates the joint tissues. The continuous rubbing can cause an assortment of pain problems. Surgery can be done to remedy the joint if diagnosed early on. It is essential to have your Akita Lab Combination examined by a Vet for dysplasia so you'll know what activities and exercises would be appropriate for him.
Gastric Dilation-Volvulus or Gastric Torsion – Also known as bloat, this condition is characterized by a sudden, painful swelling and twisting of the abdomen.  Bloat occurs when the dog's stomach is filled with gas, food, and fluid causing it to expand and put pressure to his other organs. GDV is more common in large, deep-chested dogs like the Akita and Lab Mix.  If your pet is showing signs of bloat, it is best to bring him to the Vet for immediate treatment as this condition might kill him. Surgery is done to decompress the stomach.
Epilepsy – Dog Seizure happens when your pet is shaking incessantly and uncontrollably for a fraction of a minute to several minutes.  With generalized seizure or grand mal seizure, the dog will convulse and can lose consciousness. The irregular electrical activity is happening throughout the brain.  With the focal seizure, the dog will show involuntary movements in one appendage or one part of the body. Seizures may have an underlying cause – Liver or Kidney disease, Brain Cancer, Strokes, Anemia, Encephalitis, Head injury, Low or high blood sugar, Electrolyte problems or eating poison.
Cranial Cruciate Disease – The cranial cruciate ligament, which is a vital knee joint stabilizer, is ruptured causing pain, arthritis, and lameness of the hind leg. Surgery is recommended to keep the tear from advancing to more severe problems in the joints.
Eye problems – Glaucoma, extreme pressure injures the optic nerve and ultimately leads to blindness; Entropion, a genetic eye defect where one or both eyelids are inverted and rub on the eye surface; Cataracts, a common eye problem that causes cloudiness and obstructs vision; and Progressive Retinal Atrophy (PRA), a degenerative disease radically affecting the retina and eventually leads to blindness, are major eye concerns in the Lab Akita Cross.
Autoimmune Disorders – Akita Labs experience many autoimmune disorders such as Autoimmune Hemolytic Anemia, the immune system destroys his red blood cells; Pemphigus, antibodies attack the skin and cause painful ulcers, blisters, and boils; Sebaceous Adenitis, a genetic skin condition that causes scaly dried out skin and hair loss; and Vogt-Koyanagi-Harada, the body attacks the skin cells that generate pigment (melanin) in the skin, eyes, and hair.
Others  – Renal cortical hypoplasia, a genetic condition that causes unusual development of the kidneys which may lead to renal failure; Hypothyroidism, a thyroid abnormality resulting to low and inadequate hormone production and may cause obesity, low energy levels, and an inelastic coat;  Cancers have also been observed
Akita Labrador Mix Food Requirements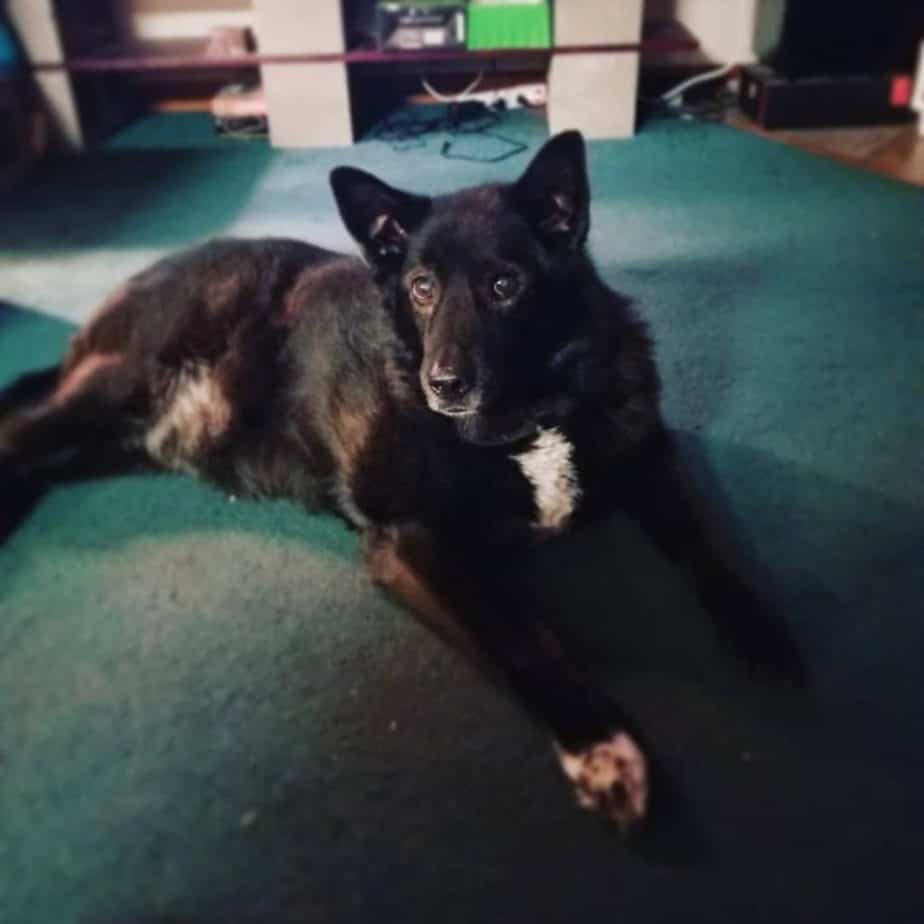 Each dog is unique and therefore will require a specific diet.  Since the Akita Lab Cross is prone to hip and elbow dysplasia, give him food fortified with fish oil, glucosamine, and chondroitin.  It is imperative to avoid overfeeding your dog as it can only aggravate health problems such as elbow and hip dysplasia. Your most important goal should be to nourish your pet friend properly.
Hill's Science Diet Dry Dog Food Chicken Recipe – Complete and balanced nutrition formulated for adult dogs with sensitive stomach and skin; Omega 6 fatty acids and essential nutrients good for the skin and coat; a blend of antioxidants with vitamins C and E to support your dog's immune system
Elevate Acadia Recipe Super Premium Dog Food – Grain-free, and free of artificial flavors and preservatives; Omega-3 and 6 fatty acids for healthy skin and coat; and a powerful blend of antioxidants to help support the immune system
Taste of the Wild Grain-Free Premium High Protein Dry Dog Food – Grain-free formula for optimal health and vitality; Antioxidants to help protect dog's overall health; Omega fatty acid blend to help keep a healthy skin and a shiny coat; Protein blend for lean and strong muscles; Probiotics for healthy digestive and immune systems
Annamaet Dog Food Extra 26% – Chicken Meal and Brown rice formulated with L-Carnitine to help maintain lean muscle mass; DHA for brain development and to support healthy cognitive function; and Omega 3 Fatty Acids  healthy, supple skin and coat
If you're a first-time mom or dad of a pooch, choosing the right dog food could turn into a quest! The best way, to begin with, is to make sure you avoid feeding the Akita Lab the worst dry dog food around and instead choose among best dry dog food out there to make sure you provide all nutrients to your furry pal—or choose between Wellness Core Dog Food or Dog For Dog Food.
Supplements should also be taken into consideration if you fear your doggy is not getting enough nutrients. Before buying one of these, learn more about nutrition boosters by reading our review of Nutra Thrive dog food supplement.
If you adopted a pup just recently, hop over to our best puppy food brands list, and if you own a wise, old doggo, maintain their health with the perfect ratio of nutrients for older dogs by offering them a cup of best senior dry dog food.
The Akita Lab mix is usually a big dog, so going for best large breed dry dog food may be the right choice. If, against all odds, your dog turned out small, test one of these best dry dog food for small dogs and see if they like it!
Remember that some of the smallest breeds have the most refined taste. Even though your Akita Lab combo is big, we're sure your pooch won't mind taking a bite of these best dry dog food brands for Pugs!
Akita Lab Cross Exercise Requirements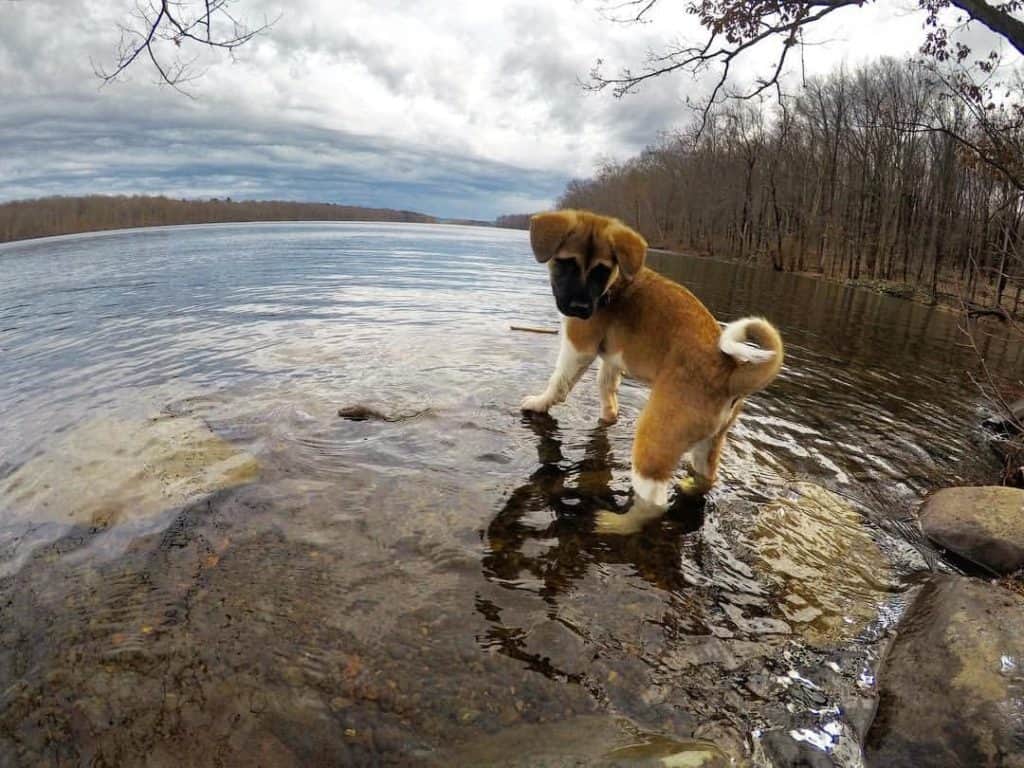 Both of the parent dogs are hunters, so the Lab Akita Mix naturally has a lot of energy and stamina. Take them for long walks or hikes, engage in play or fetch, go running or swimming.  They have the propensity to become overweight, depressed, and destructive if they don't get enough activity and stimulation.  About s60 to 90 minutes of vigorous activity every day will satisfy their exercise requirements.  Because of their aggressive behavior, exercises should be done in a fenced-in yard.
Cool Pup Insect Shield Dog Bandana treated with an odorless formula of permethrin to shield your Lab Akita Cross effectively from mosquitoes, flies, fleas, and ticks.  The innovative harness features built-in insect protection with state-of-the-art cooling technology to protect your dog in extreme temperatures. It is made from lightweight and breathable polyester to guard against the sun's harmful UV rays.  The adjustable strap provides a snug and comfortable fit while the reflective trim offers safety.
Doggles Rubber Framed K9 Optix Dog Sunglasses designed with shatter-proof lenses will provide your pup with 100% UVA protection.  The rubber-coated frames feature a flexible nose-bridge for comfort and perfect fit. It also has an adjustable strap to ensure the glasses stay on even when your pet companion is up and about.
If you enjoy the sun, the sea, and the sand and want to bring your Akita Lab Mix along for a swim, the Frisco Dog Life Jacket is a must-have!  With safety in mind, this life jacket features three adjustable straps that allow for a perfect fit, so your pet to move comfortably in the water. It also has a grab handle so you can effortlessly pull your pet friend out of the water in case of emergency.
Akita and Labrador Combination Training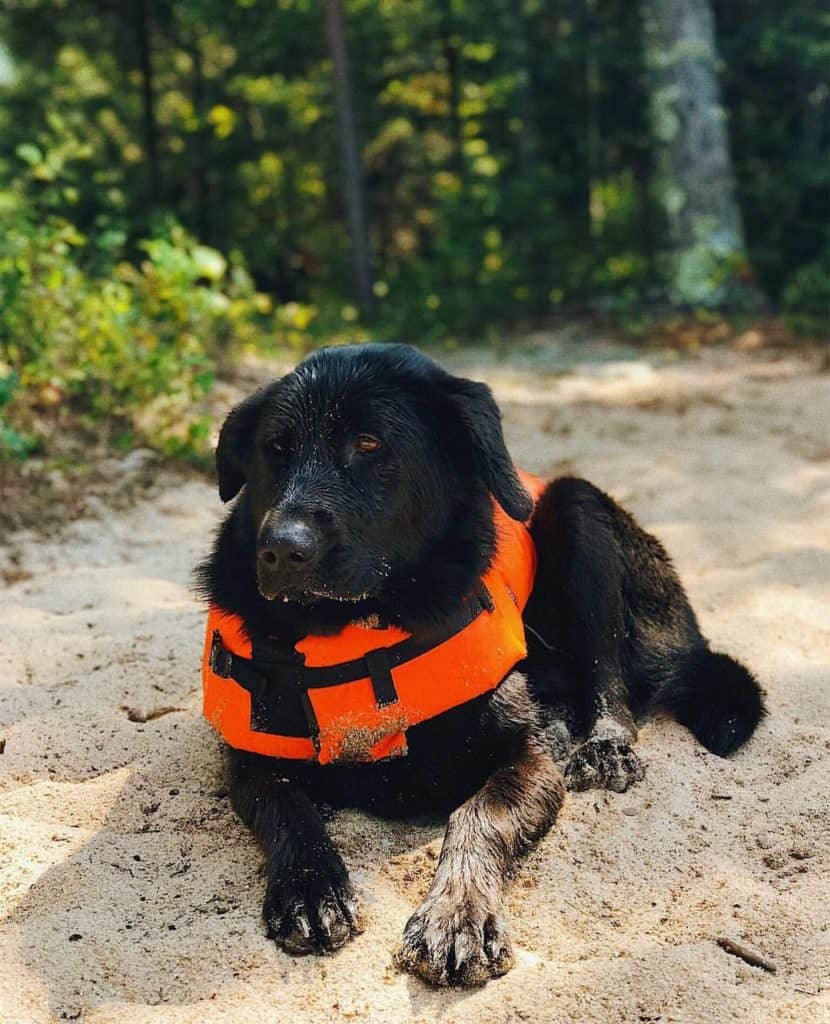 It is easy to train an intelligent dog, but it can also be daunting because the Akita Lab Cross is stubborn.  But like all other dogs, they will respond best to positive reinforcement.  This mix aims to please and will love a physical challenge.
Behavior Training – Potty Training can be annoying, but cleaning up is just as exasperating.  The Petmaker Indoor Restroom Puppy Potty Trainer is the perfect alternative place for your Akita Lab Mix to "go" when it is impossible to go outside.  It looks and feels like real grass so your pet won't have a hard time adjusting to it when he wants to his business. The artificial turf also emits an organic scent that lures dogs to use it. This mat is odor resistant and antimicrobial to help keep your space clean and fresh-smelling.  It has three layers and works by sitting the carpet above the plastic insert and drain the liquid into the tray inclusion for easy cleanup.
Chore Training – Bring You His Bowl is adding fun to feeding your dog.  Start by introducing the names of different objects in your house such as a ball, a toy, and his favorite bowl.  Once he recognizes the names, training your dog to bring something to you will be easy peasy. The Dogit Go Slow Anti-Gulping Dog Bowl made from plastic is super lightweight, you can use it for this training.  There's no need to worry because the bowl is phthalate free, PVC free and BPA free and safe for food.  The molded bumpers prevent pets from eating or drinking too fast thus avoiding problems with digestion or vomiting.
Fun Training – Catch a Treat is an effective way to help keep his mind active.  This trick relies on food being hurled at your pet so giving him praise is also essential.  What better way to help him dispense some of his energy? The Smokehouse USA's Prime Slices Dog Treats made from cleaned beef ligaments roasted to perfection enhancing their true beef flavor and crispy texture.
Akita Lab Mix And Families
A cross between the Labrador and Akita Inu which are both family-oriented dogs, this hybrid also makes a perfect family pet.  Keep in mind though that strict supervision is necessary for households with very young children.  They will delight in the company of new friends or other dogs provided that they are introduced first.
The Lab Akita combination is also an excellent guard dog because of their protective nature. They can become very hostile and may attack strangers aggressively.
Keep in mind that early socialization helps take care of any bad habits that could develop.
References:
Davison, L.j., et al. "The CaninePOMCGene, Obesity in Labrador Retrievers and Susceptibility to Diabetes Mellitus." Journal of Veterinary Internal Medicine, vol. 31, no. 2, 8 Feb. 2017, pp. 343–348., doi:10.1111/jvim.14636.
Ogawa, Eri, and Sakurako Neo. "Akita Dogs Possess GLUT1 in Erythrocytes, and Na,K-ATPase Activity Enables More Efficient Ascorbic Acid Recycling." Journal of Veterinary Medical Science, vol. 78, no. 10, 18 June 2016, pp. 1557–1561., doi:10.1292/jvms.16-0119.
Akita. About Pets, 2012.
Walton, Joel, and Eve Adamson. Labrador Retrievers for Dummies. Wiley Publishing, 2007.