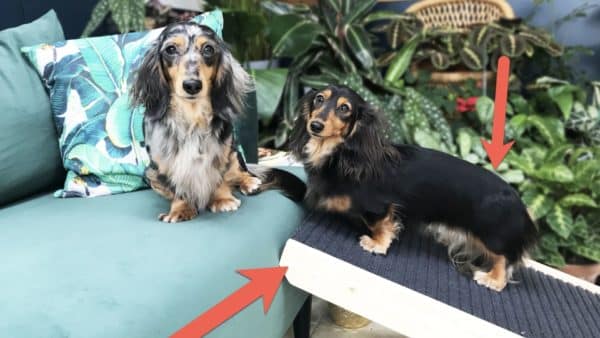 If You Love Your Dachshund, Get Them A Ramp!
There is one reason why a ramp is essential for Dachshund owners, their elongated spines. Wiener dogs have the highest rate of suffering from IVDD.
Our dachshunds are an important member of our family, routinely hopping on and off the furniture, in and out of a car, stresses the joints and bones of any dog, but due to a Dachsund's long body and short legs, they are extremely prone to back issues caused by jumping.
Watch Dr. Ross's Review on Dog Ramps
A dog ramp
can help minimize the stress of these jumps placed on your
dachshund's joints,
for much of their lives, your doxie needs to jump to reach the bed, couch, or car. Many times, these places are so high off the ground, it's difficult for them to do it, so offering a safer and easier way to help them will prevent injuries and costly vet bills.
Prevent Jumping Injuries
Dachshunds love jumping on and off the furniture and will do this many times throughout the day. But just because your Doxie looks like it's doing this with ease, it doesn't mean he should be doing it at all.
Months and years of this jumping up and down put enormous stress on your Dachshunds back and joints, risking injuries and arthritis. A dog ramp will protect your Doxies joints by reducing the number of times he jumps each day. If your pup is too small to reach the bed or couch, owning a ramp is a great way to avoid needing to lift them up and down throughout the day.
Don't miss the sale happening NOW for  Alpha Paw's #1 Vet-Recommended, patented dog ramp – CLICK HERE!
IVDD Survivor Story – Hannah & Louis
Dachshunds and IVDD
Dachshunds have a predisposition to developing IVDD in part, because of their genetic makeup and because their bodies carry a disproportionate amount of weight on a small frame. IVDD is a common cause of back pain, weakness, and paralysis in dachshunds, and surgery can cost up to $10,000 this condition is a disease of the spinal cord that causes the discs to lose moisture, harden and degenerate.
Here Are Some Common Injuries Caused By Jumping:
Broken toenails
Footpad injuries
Sprains to the legs, and wrists
Slipped kneecaps
Spinal injuries – Dachshunds have an increased risk of ruptured disks and spinal injuries when jumping from furniture and cars
Once your dachshund is at ease and trained to use his dachshund ramp, you'll be grateful for the reduced strain on your back and your doxie will reach his favorite spots easier and with a lower risk of injury.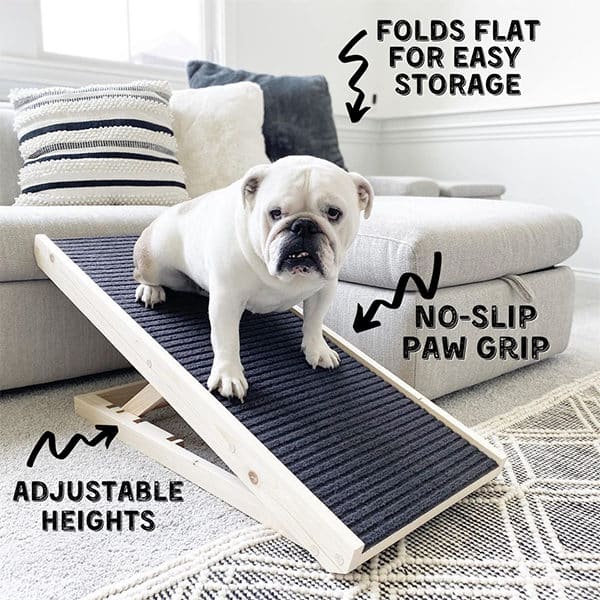 Don't miss the sale happening NOW for  Alpha Paw's #1 Vet-Recommended, patented dog ramp – CLICK HERE!
Then you can hang on the couch or snuggle in the bed with your best friend, knowing his advancing age, small build, or other physical challenges won't keep the two of you from fully enjoying your lives together.
How Do You Train A Dachshund to Use A Ramp?
If you've trained your dachshund to do anything, training them to use a dog ramp shouldn't be an issue, the trick for most Doxies is training with treats, and lots of praise when they use the ramp.
Many pups will take to the ramp immediately and enjoy the freedom of running up and down, but if your Doxie is hesitant, training and persistence will help them get used to using their new method of transportation to the bed or couch!