Hi Furiends!
My name is Moo, I live in sunny Miami, Florida! 
I got a lot of new friends recently, because my coat is very different from my other Dachshund cousins, so I figured I'd introduce myself! Hopefully, you'll be my furiend too!
I was adopted at 9 weeks old by amazing humans who wanted to share me with the world through Instagram: Check me out at @moo_in_miami!
I love napping and chewing toys, although I have a favorite for chewing shoes!
I don't like it when my human works out, it looks hard and I would much rather be napping. Napping is much better!!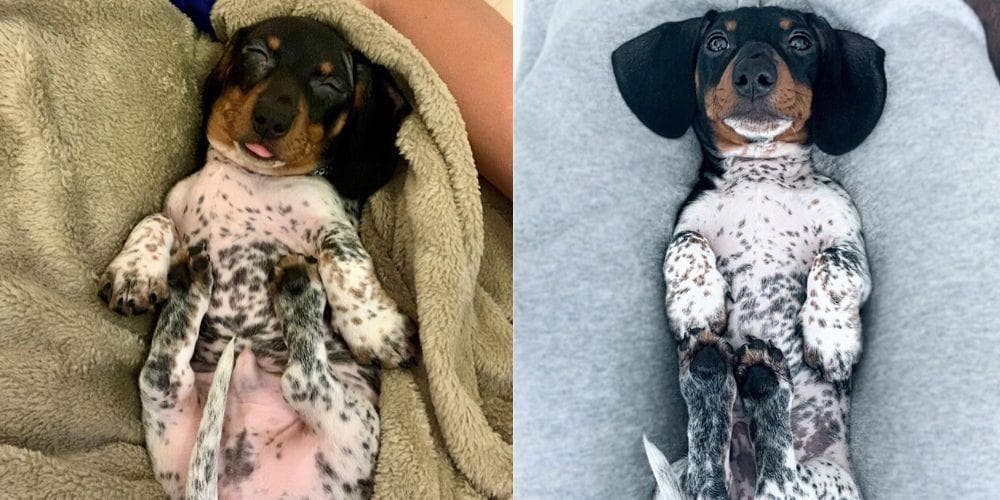 Although food is always good food, I have a special place in my heart for Cesar Chicken & Liver Paté.
Besides chewing socks and chews, my favorite thing to do is taking a bath. I'm a clean boy!
I will never say it enough, I love napping, but have you ever napped in the sun? It feels so good! I don't tan, but I don't like it any less!
People were surprised to see me because my coat is unique! My head is black and tan and my body is brindle piebald black and white! A lot of you think I look like a little cow, but I'm okay with that. My name is Moo after all! Also, and that might surprise you, but my butt is all pink like one of a little baby! 
Do you want to know more about me? Follow me on Instagram at @moo_in_miami!