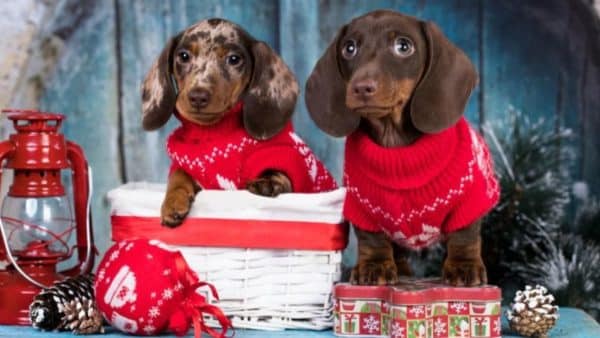 Make Christmas Safe For Your Doxies
Check out our list of things you can do to make Christmas safe and fun for your Dachshunds. Christmas Day is just around the corner and we know how busy it can be during this holiday season. Thus, it is not surprising to see that during Christmas, a lot of dachshunds (and dogs for that matter) get in trouble simply because not enough precaution was observed.
Don't miss the sale happening NOW for Alpha Paw's #1 Vet-Recommended, patented dog ramp – CLICK HERE!
As Christmas Day approaches, there are certain things you need to remember to keep you, your family, and your doxie safe and happy. Here are some of the things you need to keep your dachshund away from.
Christmas Presents
Traditionally, you might be placing your gifts and presents under the Christmas tree. However, that may not be a good idea especially if you have a playful and curious dog running around. It is better to keep them in a place your doxie won't be able to reach.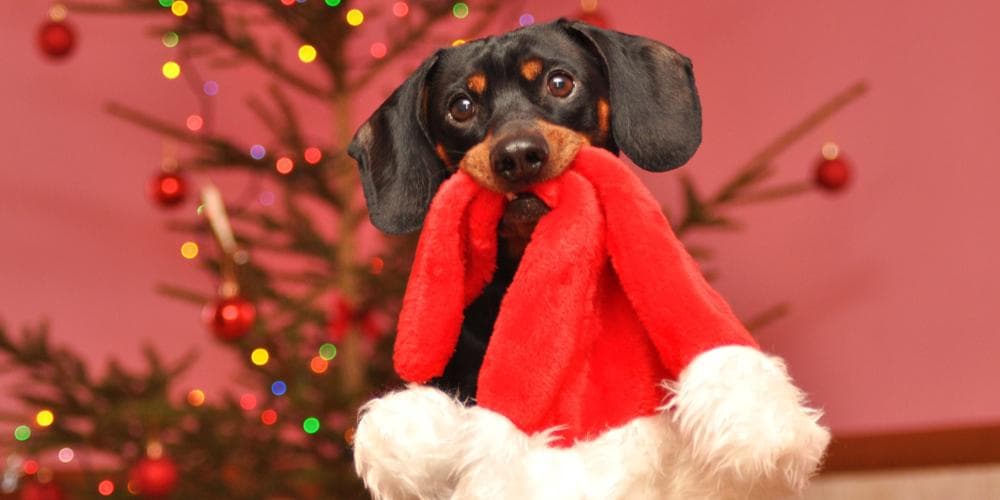 Food Harmful to Dogs
Not all human foods are suitable for your four-legged bestie. Be careful that you don't let foods such as raisins, sultanas, and chocolates lying around. These and other poisonous dog food can easily get your doxie sick.
Be sure as well that you get familiar with other food that may be harmful to your dogs such as
onions, mince pies, alcohol, yeast dough, macadamia nuts,
candies, and others. A little knowledge about these foods will go a long way.
Other foods you shouldn't give to your doxie include turkey and chicken bones. These can severely damage the stomach and intestine of your pooch.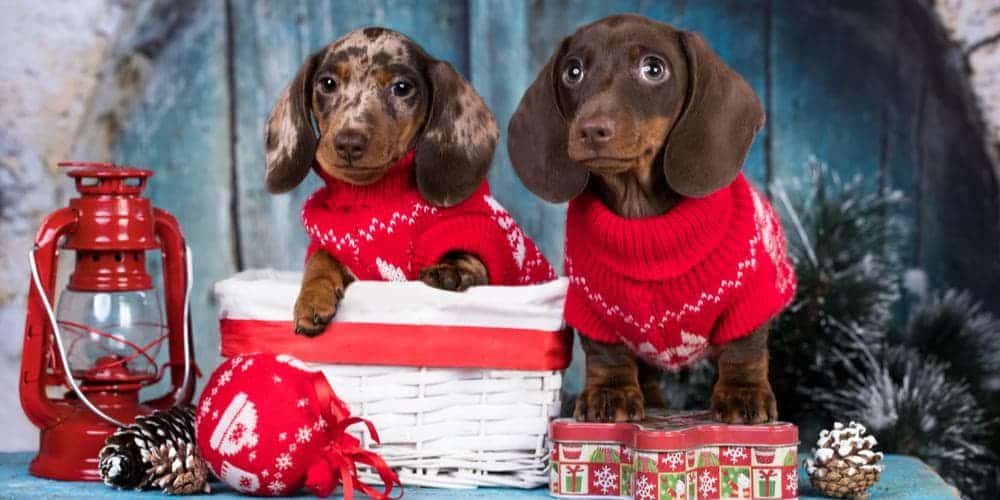 Other People
Christmas time is also a time for families and friends to get together. If you have people who don't like dogs or who are allergic to one, it would be good to keep your doxie away from them.
Loud Sound or Music
Christmas parties could be stressful to your dachshund especially when Christmas crackers, party poppers, and firecrackers are involved. Your uncle Joe may also turn the music too loud that your doxie gets nervous. If this happens, be sure to put your dog in the garden or into another room to keep him calm.
IVDD Survivor Story – Hannah & Louis
If you haven't done so already, having a dog ramp for your doxie is a very good idea. Instead of jumping on and off couches to greet people, your doxie can use the ramp. Dachshunds have elongated spines that are prone to back issues such as IVDD. This is a serious health issue that is very painful and debilitating for Doxies.
The Wrong Type of Christmas Tree
Christmas trees are common decorations during the holidays and they could be a source of trouble for your pet.
Consider using an artificial Christmas tree instead of those natural ones. Real Christmas trees come with natural pine needles that can easily puncture your pooch's skin. Not to mention that they are mildly toxic to dogs.
Buy a Christmas tree below five feet. A tall Christmas tree comes with a greater chance that it will be knocked off by your doxie.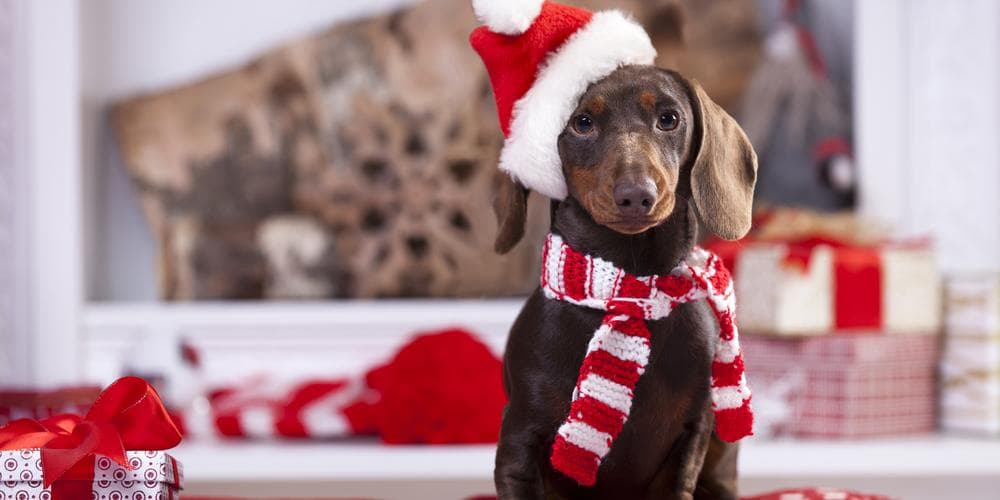 The Wrong Type of Christmas Decors
Generally speaking, it would be a good idea to keep your Christmas decors simple. Sparkly ones that dangle could easily get your doxie's attention and might play with them. Refrain from using fragile and breakable decors as much as possible.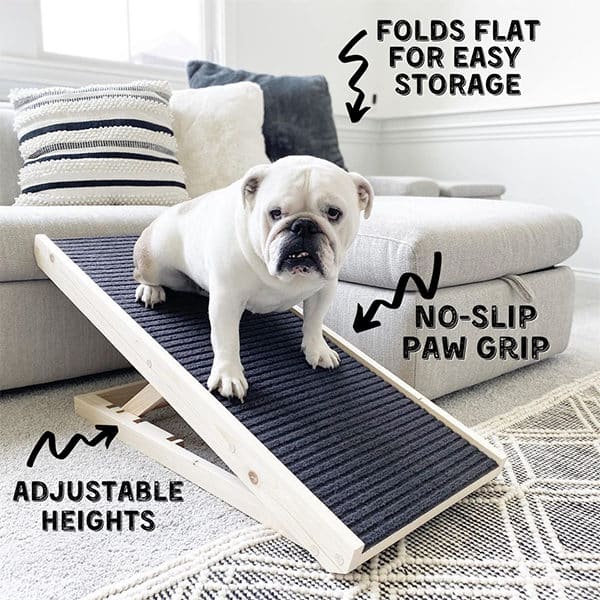 If you want to use candles, opt for flameless ones. Lit candles can easily be swiped by your dog's paw or tail and this may cause a fire.
Avoid using food as well as decorations. If you adorn your tree with candy canes, gumdrops, and popcorn, your doxie could be tempted and munch on them.
Harmful Plants
As part of your Christmas decorations, you might be planning to add natural plants. Please note that there are plants that are naturally toxic to your pooch. These include mistletoe, poinsettia, lilies, daffodils, holly berries, and ivy. If you want to add fresh and natural plants, you may choose red roses, Christmas cacti, and white orchids instead.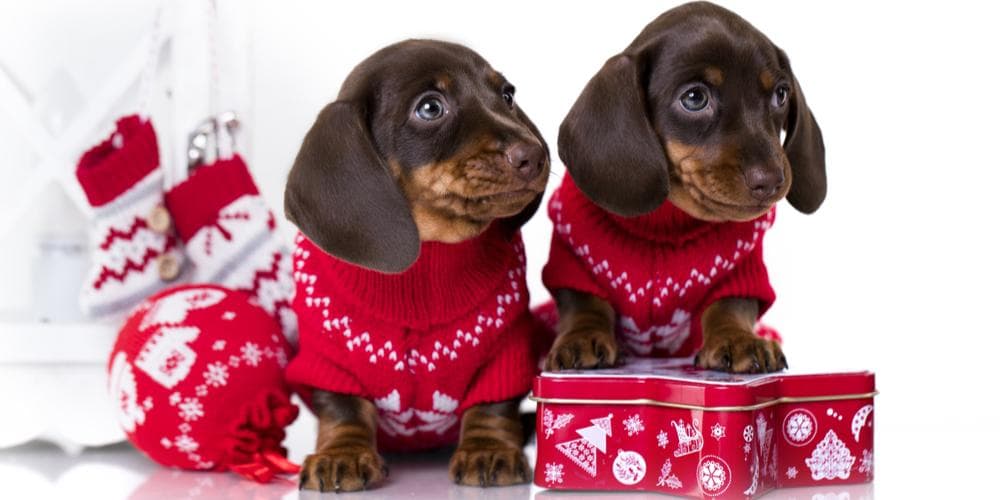 Electrical Wiring
Regularly check your Christmas lights. If possible, use a short extension cord. Tape wires against the wall or down the floor to prevent your playful pooch from biting on them. If you can hide all cords and sockets, then that would be better.
Don't miss the sale happening NOW for Alpha Paw's #1 Vet-Recommended, patented dog ramp – CLICK HERE!
Have a Jolly Christmas Time!
These are just some of the things you should keep away from your dachshund. It is always better to err on the side of caution. If you feel there are things that could potentially go wrong for your adorable pet, it is better to assume that it will happen and do what you must to avoid them. By doing so, you, your family, and doxie will surely have a great and wonderful time!