March 30, 2020
Adoption
SHELVES ARE EMPTY…AND SO ARE ANIMAL SHELTERS!
SHELVES ARE EMPTY…AND SO ARE ANIMAL SHELTERS!

Tips for new Dog & Cat Owners
Americans have been clearing out the shelves in stores of resources amidst this COVID-19 pandemic. Videos have surfaced on the internet capturing people piling into stores the second upon opening and aiming to hoard their "essential resources" while quarantining declarations start to add a new aura of panic to the nation. 
On top of toilet paper, hand sanitizers, and water bottles, you can now add: dogs and cats to that list. Shelters across the country are reporting that they are running out of animals to foster and put up for adoption, especially in New York, one of the most affected areas during this whole global panic. Among all of the anxiety, we finally have something good coming out of this. This is obviously the best kind of problem that a shelter can run into, but with the amount of dogs and cats that are being adopted and fostered, it is safe to infer that there are a lot of new pet owners.
The idea of having a pet with you to help you get through this stressful time can be beneficial to you and is a win-win situation. You save the life of an animal, and this animal becomes a part of your life to show you unconditional love and companionship. When adding a new furry family member to your home, especially during this worldwide pandemic, there are proper steps to prepare.
JUST LIKE TOILET PAPER AND HAND SANITIZER, STOCK UP ON PET PRODUCTS FOR YOUR NEW FUR BABY
To be an ideal pet owner, it's in your best interest to cater to your pet's needs so they can transition easier into your home. You have to consider:
What type of diet you want your pet to follow

The size of pet you are going to adopt

Understanding the potential underlying baggage
Food for your pet is obviously essential. When coming to food you want to observe:
Size

Weight

Allergies

Reaction to different types of meals
You want to make sure that you are giving them the proper amount of portions of food and not fall into a common habit of overfeeding your pet. This can seem like a difficult task to handle, but fortunately, this can easily be dissected and handled by starting a relationship with a veterinarian.
By talking to a professional, all of your questions and concerns about your pet will be answered. Luckily for you, there is a plentiful amount of credible resources on the internet available regarding dietary information about dogs and cats. So if you catch yourself in a situation where you are unable to leave the house, the resources available to you online to learn how to keep your pet healthy will always be there.
As a pet owner, having a communicative relationship with your veterinarian is important. Asking questions will always ensure that you are making the right initiative in taking care of your pet. Staying informed and strapping yourself with knowledge will always end up being beneficial. What you don't want is to see your veterinarian for unfortunate situations and scenarios. You want to do everything in your power to make sure that your pet stays healthy during this time where you need them most. Simple actions like jumping on and off of a couch or bed can be more dangerous than you think. One of the most common injuries veterinarians find in pets is caused by jumping off of elevated surfaces and landing awkwardly. These potential injuries can be:
Muscle Strain

Muscle Sprains

Muscle Tear

Dental Injury

Bone Dislocation

Bone Fracture/Break
As the nation seems to be caving into mandatory quarantining, you and your pet are going to be spending a lot of time inside together. Whether it is watching TV on the couch or staying in bed all day, it is your duty to provide an environment that is easily accessible for your pet that won't set them up for injury. Companies like AlphaPaw provide veterinarian-approved ramps that have adjustable heights for beds couches to prevent the habit of jumping on and off of those elevated surfaces. All pets of any size are susceptible to jumping injuries, so it is in your best interest to invest in a ramp to avoid a larger financial blow and to avoid a physical and emotional hardship for your pet.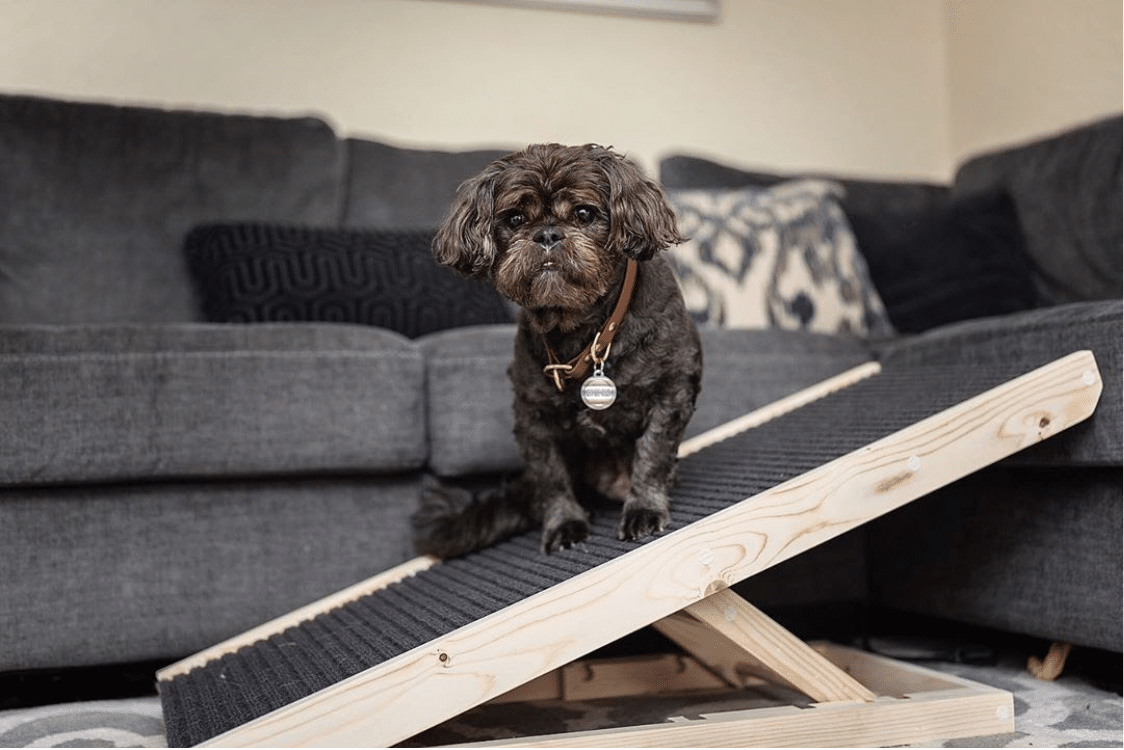 IMAGE: The PawRamp Dog Ramp
WHEN GOING OUTSIDE FOR BATHROOM BREAKS JUST WON'T WORK
With the thought of being cooped up inside, and depending on your current living situation, taking your dog outside to use the bathroom can either be worrisome, dangerous, inconvenient or just too much of a hassle. 
This can go for people with disabilities, living in an elevated building, living in a busy city area, or being forced to stay inside by law. This pandemic is always throwing curveballs and is clearly changing social norms, and as a pet owner, it is essential you do your part. The easy solution is to purchase  pee pads to allow your dog to relieve themself no matter what the situation.
With the trend of buying pets from shelters, one thing that is important to understand is the potential baggage that these animals have. You are rescuing a form of life and bringing them into a space where they can start over. It won't take long for them to get acquired to their space, but it is important to understand that all they want is to be treated with love, and they want to give back to you as much as they can. Pets can suffer from numerous types of mental disorders, such as:
Social Anxiety

Noise Anxiety

OCD

Depression

PTSD
Just like humans, some days are better than others. It is important to be emotionally available for your pet. Fortunately, there are natural and safe veterinarian-approved supplements out in the market purchasable online that can help relieve these uncomfortable conditions. These can be used to help ease your pet into your home and understand that the area that they are in is not dangerous.  
MENTAL STIMULATION IS THE KEY TO SUCCESS 
It is safe to say that when spending the vast majority of your time inside, you are going to have a lot of quality time to spend with your pet. Pets need to be entertained and need to exercise. A great way to keep playtime fresh and fun is to buy different types of toys that both of you can play with together, and toys that your pet can use on their own.
The internet has a plethora of pet toys you can choose from and purchase. Being quarantined can be fun with your pet, especially when you find that you are bored sitting around all day. Dedicate your attention and love constantly to help build your relationship with them. Don't be afraid to get creative and find different ways to have fun with your pet. The idea of having a pet is to be best friends with them. Play a harmless prank on them, like doing the "What the Fluff Challenge" or documenting your time being trapped at home with your dog. Play them sounds of animals they have never heard before and see how they react.
Use this time as a new pet owner to teach them obedience commands and tricks. When the world opens up again, you want to show them off to everyone. It is important to develop healthy behaviors and also prepare your pet with party tricks so they can lighten up everyone's world. By keeping your dog stimulated, you are: 
Keeping yourself busy

Showing love and affection towards your pet

Building a stronger relationship with them

Developing more trust
Take advantage of the situation to really invest your heart into your best friend. You want to get a full understanding of who they are and what makes them unique. The more you put in, the more you are going to get out of this situation. Let this time of struggle and stress blossom into an opportunity to change your life for the better.
HOW PETS HELP WITH MENTAL HEALTH
Getting a pet now means you are ready to take on an extra family member in your life. The best part about having a pet is how they tend to your own needs. According to the Anxiety and Depression Association of America, 74% of pet owners say that having a pet added to their life has significantly improved their mental health. The ADAA also stated that pets significantly help their owners who suffer from anxiety, depression, and social isolation. This is because pets help activate a chemical in your brain called oxytocin, also known as the "cuddle" or "love" hormone. In a time where being alone and taken away from the outside world can be a haunting feeling, your pet can alleviate you from those negative thoughts by simply being themselves.  Bringing a pet into your home means:
You have mental and emotional support

A healthy distraction from the outside world

Reciprocation of attention and love

Gaining a new family member
Mental health is definitely nothing to be taken lightly. These statistics are recorded without the consideration of the quarantine that is happening across the world. With people being heavily encouraged to stay inside and socially distancing, people with mental disorders are having a difficult time adjusting to this.
A lot of people rely on physical interaction and conversation instead of having to do it through a computer or phone. The presence of a friend or family member right in front of them helps relieve anxieties and stress. Unfortunately, it is safe to infer that this pandemic is impacting their lives in a very negative way. The beauty of having a cat or a dog is that they are unable to contract this virus, so there is no need to worry. Bringing in a pet can only be of service to not only these people with mental disorders but for anyone else who is affected by this virus.
Long story short, if you're thinking of a way to bring unconditional love into your life, especially during these uncertain times, consider adopting a dog or cat. However, remember to be prepared as possible by stocking up on supplies to give them the best possible life they deserve.