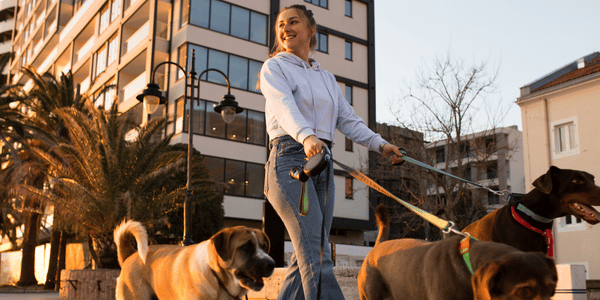 Did you know that September 8th is National Dog walker Appreciation Day? For the one who doesn't know it, "National Dog Walker Appreciation Day" is an officially recognized observation founded by Wag! for the men and women who walk millions of miles each day, exercising and entertaining mankind's furry, four-legged friends.
As you may know, walking your dog is not easy stuff, even if it feels like it is. Yes, it's a fun moment for you and your pup, but sometimes we, as a pet owner, do not have enough time or just can't walk our furry friend, so we usually use the service of a dog walker.
Most dogs need to be walked at least once a day to relieve themselves, get fresh air, and exercise, although very active dogs may require more frequent walks. The length and frequency of walks depend on a dog's breed, age, fitness level, health, and temperament. If you use the services of a professional dog walker regularly or occasionally, don't forget to congratulate them on their appreciation day!
"Picking up poop is just one part of a dog walker's job — and it's the easiest part of this business," said Jason Meltzer, co-founder, and chief dog officer at Wag! "But everyone has a special story about the dog walker who rushed across town to let the dog out when its owner got stuck at work, or who watered the plants, fed the fish, and watched the house while the family was away on vacation. That's why the pet lovers at wag understand that we should thank these brave men and women who always ensure that our four-legged friends always have a good time while walking them.
About Wag!
Founded in January 2015, Wag! is an on-demand app-based mobile service that allows dog owners to hire rigorously vetted and background-checked dog walkers for 30- and 60-minute walks.
They also offer other services like
Drop in a 20-minute home visit for pets who don't need a walk but love having friends over.
Sitting; whether it's just for the weekend or a few weeks, select your days, and you will find a pet lover for your furry buddy who will fit your schedule. You will receive pictures, and videos of your pet enjoying playtime, meals, and snuggles if requested.
They also offer boarding and training services.
Ways to Celebrate The National Dog Walker Appreciation Day?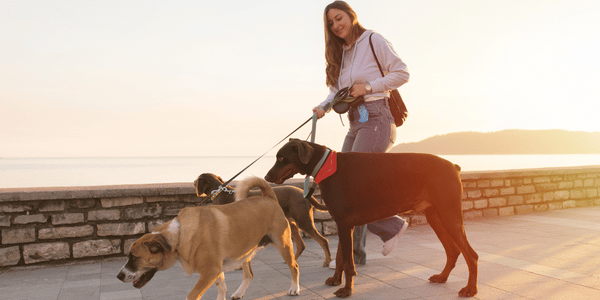 Regardless of the day or weather, they are always there to let our pups out and make our lives easier. The dog walkers work hard to ensure our pets are kept safe, clean, and happy. So why not take a day to appreciate their dedication and kindness to our furry friends?
Like all other professions, dog walkers need to feel appreciated and recognized for their support and help. There are many ways we can celebrate that special day.
1- We can start with a small gift for your dog walker; your small gift can be a gift card, a snack, an organizer, etc…
2- Maybe you can give them a card with a nice quote or thank you note with a beautiful design.
3- Tip your dog walker
4- If you use an application or platform to find your dog walkers, leave them a nice review.
5- Post something about them on your social media account to show them how grateful you are for them, and use the hashtags #happydogwalkerday or #Nationaldogwalkerday
6- If you're a dog walker, give your colleagues a shout-out on social media and raise awareness of the holiday with the hashtags #NationalDogWalkerAppreciationDay and #DogWalkerAppreciationDay.
So, let's show them some love; whether walking with Wag!, another business, a friend, or a colleague, dog walkers everywhere deserve a little extra gratitude today.
Remember to tag us on your social media post 🙂 We will be happy to feature you on one of our posts.
P.S: National Dog Walker Appreciation Day should not be confused with National Walk the Dog Day. The latter was observed on February 22 and was created to encourage dog owners to take their pets on long walks for exercise and bonding.