A Dachshund With Cow Spots
Moo the Dachshund may only be less than a year old, but he is already causing quite the stir on social media, having already amassed an incredible 60K followers on his Instagram. Moo lives in Miami, Florida with his owner, Victoria Hoffman.
Hoffman frequently posts pictures of the pup, and after looking at his pictures, it's easy to see why he's captured the hearts and attention of so many people.
View this post on Instagram
His coat is a very interesting speckled pattern that makes the pint-sized pooch look like a Dalmatian. Moo has what's called piebald fur, an occurrence caused by unpigmented white patches that are speckled throughout a darker, pigmented background.
Don't miss the sale happening NOW for  Alpha Paw's #1 Vet-Recommended, patented dog ramp – CLICK HERE!
His owner has mentioned how people regularly mistake Moo for wearing a sweater at first until they get a better look at him. While it's unusual, it's definitely real.
While other Dachshunds may not have the unique fur that Moo does, they, like Moo, have an elongated spine that all Dachshunds are born with. Because of that, weiner dogs are at high risk for a certain disease. IVDD affects more than 24% of doxies and it can be a debilitating condition.
IVDD Survivor Story – Hannah & Louis
Fortunately, Moo does not have IVDD. However, he does have a lot of charm and always attracts a crowd wherever he goes. Hoffman has mentioned that they're often stopped by people asking to take a picture with the unique little pooch.

View this post on Instagram
The proud owner has stated that it isn't just his fur that makes him one-in-a-million, but it's also his personality that sets him apart.

Watch Dr. Ross's Review on Dog Ramps
Moo has various endearing quirks such as hoarding toys in the same exact spot, snacking on almonds or watermelon, and napping beneath the bed while on his back.
Don't miss the sale happening NOW for  Alpha Paw's #1 Vet-Recommended, patented dog ramp – CLICK HERE!

View this post on Instagram
Victoria has never had a dull moment since getting Moo, especially since she got him while the whole world was in the middle of the COVID-19 pandemic. She and her boyfriend took the plunge and welcomed Moo into their family.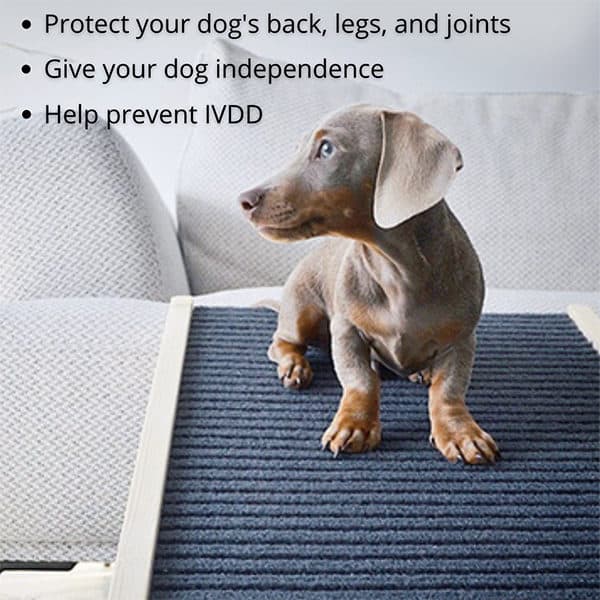 It was a decision that was the best thing ever. The little pup has managed to keep them smiling despite the lockdown. And that is precisely why dogs are such great companions – especially in a crisis.