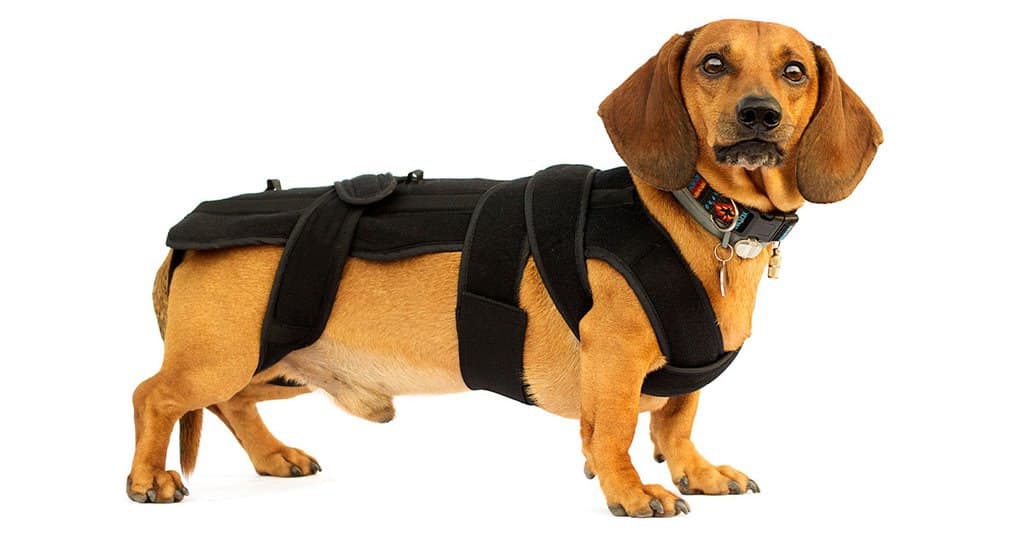 Being Aware of IVDD Could Save Your Dog's Life
IVDD awareness can save your dog's life as well and your bank account. Intervertebral Disc Disease (IVDD) can affects dogs of all breeds, and most of the time, dog parents aren't even aware of this disease until AFTER their fur baby is diagnosed.
Understanding the warning signs and treating IVDD early can prevent the disease from worsening, potentially leading to paralysis or worse.
Watch Dr. Ross's Review on Dog Ramps

What is IVDD?
According to the American Kennel Club Canine Health Foundation:
"Intervertebral disk disease is degeneration and protrusion of the intervertebral disk that results in compression of the spinal cord, spinal nerve, and/or nerve root. It is a common cause of spinal cord disease in dogs.
Don't miss the sale happening NOW for Alpha Paw's #1 Vet-Recommended, patented dog ramp – CLICK HERE!
The intervertebral discs (the cushion that resides in the space between adjacent spinal vertebrae) are subject to a number of degenerative conditions and forces that predispose them to bulge or rupture over time. This rupture leads to two types of damage to the spinal cord, compression and concussion." However, there is another condition that resembles IVDD but is not, Degenerative Myelopathy (DM) also affects the spine.
Watch An IVDD Survivor Story
Breeds That are Predisposed to IVDD
Dachshunds have the highest rate of IVDD. The devastating condition affects approximately one in four Dachshunds. Other breeds that are predisposed are listed below. Obese dogs of predisposed breeds have a higher risk for IVDD.
Identify Warning Signs to Prevent IVDD from Worsening
The warning signs are listed below. If you notice any of these signs, contact your vet as soon as possible.
Neck and/or back pain and stiffness (reluctance to move the neck and head)
Lowered head stance
Abdominal tenderness or tenseness
Arched back (hunched posture, called "thoracolumbar kyphosis")
Sensitivity to touch (possible aggression)
Weakness, stiffness, and/or sensitivity to movement (yelping unexpectedly)
Impaired, incomplete or inappropriate urination
Lameness and/or paralysis in one or more limbs
Dragging one or more legs when walking
"Toeing over" or "knuckling over" when walking or standing
Stilted gait; tentative gait
Reluctance to rise and/or collapse
Tremors, trembling, shaking
Lack of coordination ("ataxia")
Abnormal reflexes
Real Stories from Real Dog Parents
Below are stories from pet parents with dogs who suffered from IVDD. Their stories highlight the importance of taking preventative steps now.
Don't miss the sale happening NOW for Alpha Paw's #1 Vet-Recommended, patented dog ramp – CLICK HERE!
The Story of Lola
IVDD Testimonial submitted by: @lola_doxie  on Instagram
"Lola is currently recovering from IVDD. She suffered from paralysis for 2 months.
She was dependent on me for the simple things as standing up to use the restroom or even sitting up to eat. It was very sad to see her this way day after day.
About a month into being paralyzed she slowly started getting feeling in her paws then she would would be able to sit up for a few seconds if I put her in position.
Miraculously day by day she would gain a little mobility back. She is now able to walk on her own, still struggles to run, but is getting better at it every day. We don't know exactly what caused IVDD but I am taking all precautions and changing simple things in her day to day life, starting with investing in a ramp."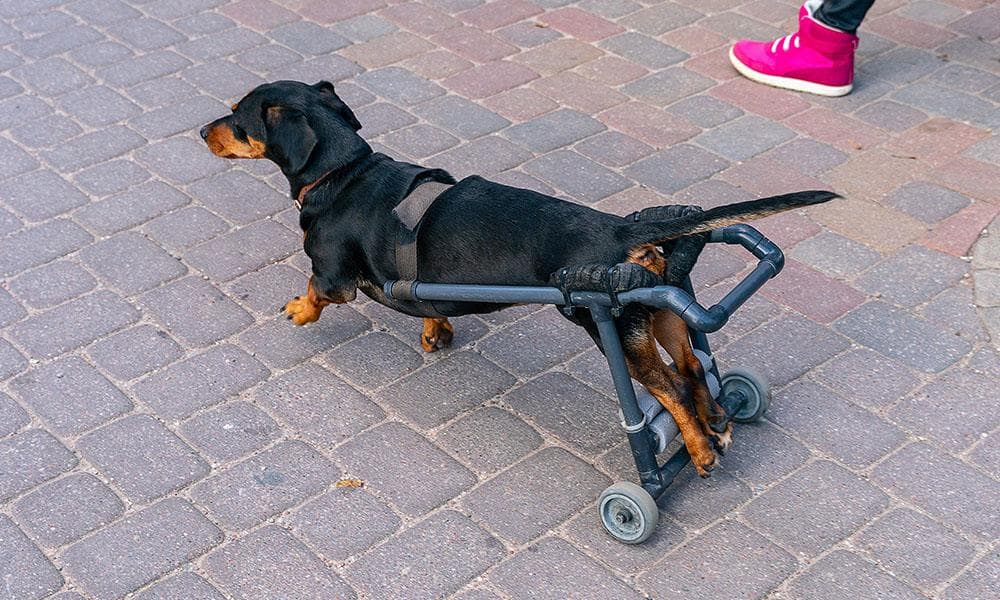 The Story of Phoebe
IVDD Testimonial submitted by: @samjanower on Instagram
"Phoebe was 5 when she developed IVDD.
It came on quickly, she likely hurt herself when no one was home. Her condition quickly deteriorated even under rest, so my parents and I drove her 8 hours to have the surgery.
By that point she had lost all motor control in her back legs. I used most of the money I earned that summer as a uni student to cover a portion of the surgery. The staff at the university of Saskatchewan were great through the stressful time. She was kennel bound for 4 months. It was terrible. She was scared. I was scared. My parents were scared.
Her motor function improved slowly over time. Learning to walk again was the biggest hurdle. She eventually made a full recovery. She will be 9 years old in April."
The Story of Romeo
IVDD Testimonial submitted by: @tiff_coop on Instagram
"My dog Romeo who is around 6 years in November had two Surgeries one week apart.
A slipped disc originally in his back, then happened again the following Monday, and the disc slipped in the exact same spot the second time.
Two emergencies surgeries back to back.
He was in so much pain. He's starting to walk better in his back legs. He's not completely paralyzed and had control over his bladder. Definitely a long road to recovery. So hard when you feel so helpless."
The Story of Two Doxies
IVDD Testimonial submitted by: @cora_jokr on Instagram
"We have 2 mini dachshunds.
Our older one had the surgery at age 5. Just 2 months ago our second girl had also hurt her back at the same age of 5! Lucky for us (and her), we could treat with medication and rest, and so far she has responded well."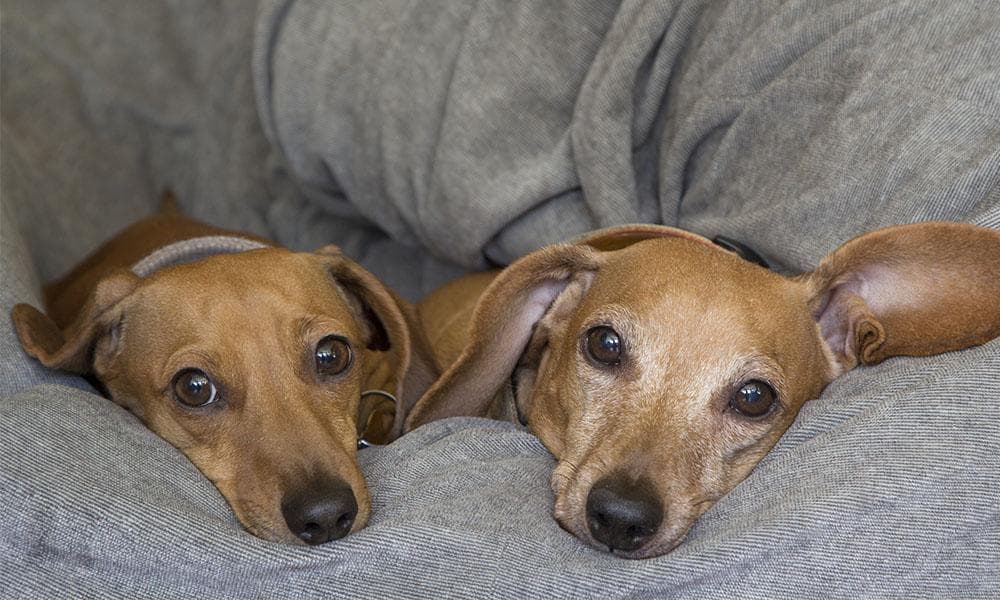 A Message for Pet Parents
IVDD Testimonial submitted by: @atothelynnie on Instagram
"We've been through it all. Crate rest, finding the right pain killers, what happens when you don't, changing lifestyles, puppy-proofing the house, developing crazy upper body strength, surgery, insurance, and complete desperation and overwhelming sadness.
No pet parent should have to go through this alone, and no pet parent should discover IVDD in a google search when they're trying to figure out what's wrong with their fur baby. Thank you for all that you do to make sure that doesn't happen, I'm so happy we found you guys."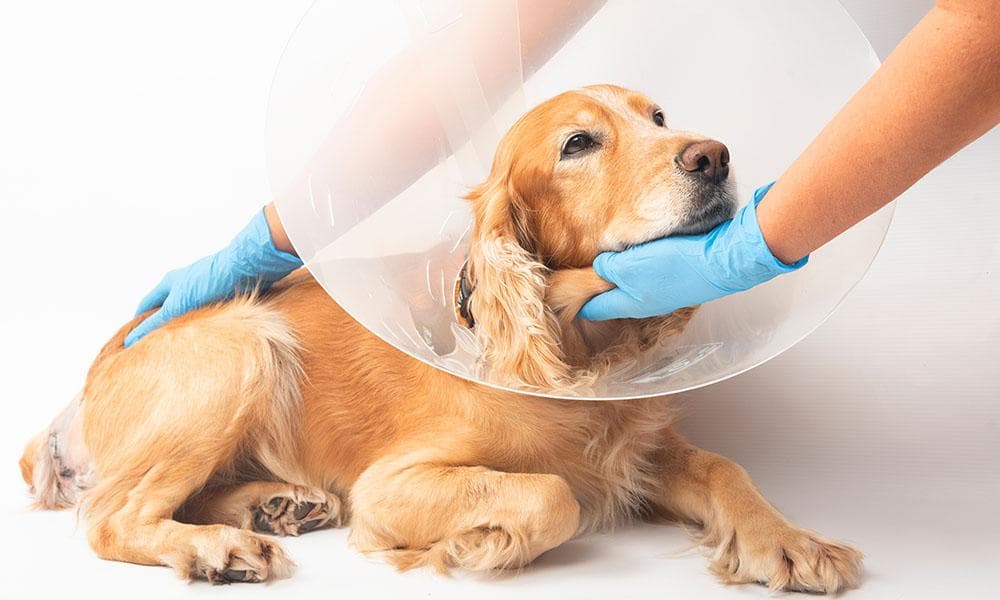 A Proven Way To Prevent Spinal Injury
In addition to looking out for warning signs, taking action to prevent any sudden trauma to your dog's back or joints is very important.
Don't miss the sale happening NOW for Alpha Paw's #1 Vet-Recommended, patented dog ramp – CLICK HERE!
"While IVDD involves a degenerative process and does not result merely from sudden trauma, sudden trauma can cause rupture or herniation of an intervertebral disk in a dog whose disks already are weakened by IVDD."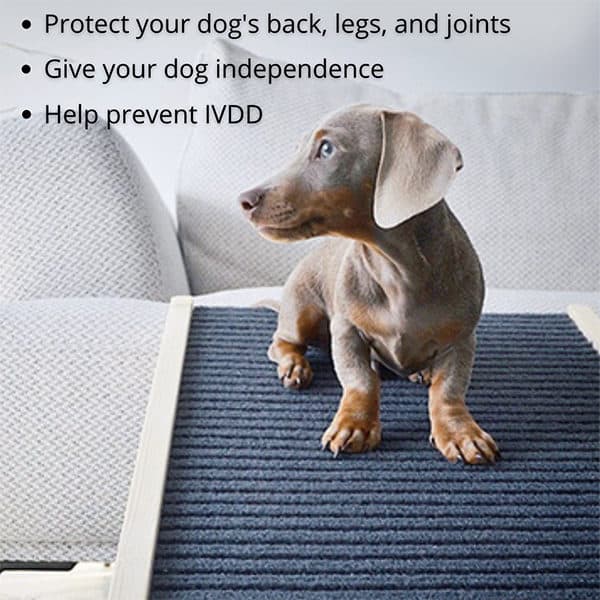 One way sudden trauma can occur is by allowing your dog to jump on and off furniture. Whether it be from a bad jump or fall, or the impact from jumping over a long period of time, preventing this everyday action can be a simple and effective way to prevent a sudden rupture.

Use A Dog Ramp
We recommend using a ramp to solve this issue. We asked Dr. Ross Bernstein, DVM (@vet_rozay) about the use of ramps, and he answered "having ramps around your home can help prevent serious injury."