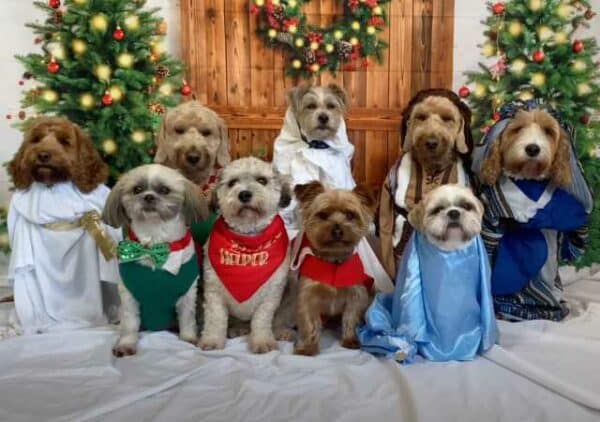 A doggone Nativity scene stealer
This Christmas, the team at Happy Hounds Coventry in the U.K, a dog daycare, decided to go the extra paw in celebrating this holiday season.
Led by Emma Green, the daycare gave us a unique gift: A dog-led recreation of Jesus' birth aka the Nativity Scene! Using TikTok to share their performance with delighted viewers around world, they included an array of cuddly canines dressed as all your favorite characters from the Nativity scene.
The Nativity Scene
The Nativity scene is an iconic image found around the world during the holiday season. It is a representation of the birth of Jesus Christ and is often depicted with Mary, Joseph, and Jesus in a manger surrounded by animals. In addition to those figures, angels, shepherds, and wise men are often represented in the scene.
In many parts of the world, there is a tradition of nativity scenes called "living nativities" where people act out scenes from the Biblical narrative in human form. These scenes often feature live music such as choirs singing Christmas carols or bands playing traditional hymns associated with Advent or Christmas celebrations.
Back at Happy Hounds Coventry dog daycare, that's exactly what happened. According to Green – who is renowned for her pampering pet programs, including adventure weekends and beach getaways – "the doggy actors in this Nativity scene were a mix of Doodles, Spaniels and even Terriers playing baby Jesus."
Final Thoughts
What a beautiful scene to recreate, and all the pooches appear to enjoy themselves for the festivities. Without a doubt, we're sure they were all rewarded for their hard work! What did you do with your dog during the holidays? Share your thoughts in the comments! Click on THIS LINK to watch the video! Photo credit: Happy Hounds Coventry in the U.K