Worst Dog Food Brands You Need to Avoid
Don't wait until you see the signs of malnutrition on your dog, prevent it. Many dog food brands use harmful additives and chemicals in their formulas, which you don't want in your pup's bowl. Inclusion of unhealthy food ingredients can lead to health issues, the most common of which are:
Tummy ache
Allergy
Obesity
Cancer
Lots of dog owners try out different dog food products on their pooch to see which one will sit. But we have a different method. Our team is here to give you information on which dog food brands you need to steer clear from before they do any harm to your companion.
We are not affiliated with dog food companies, and we don't receive sponsorship to badmouth dog food brands. Our team is here to present you with verified information on which brands you need to avoid.
How We Evaluated the Worst Dog Food Brands
You know what they say—happy pup, happy life. As the proud members of the dog lovers community, we go to great lengths to find the best solution for you and your pooch. We gathered a team of people in the field and asked them what we should look out for when buying a dog food product. We consulted:
Vets
Pet store owners
Dog parents
We went to three vet clinics to find expert nutritionists on dog food. Our team of veterinarians told us all about unhealthy ingredients in dog food formulas. We asked them about the nutritional needs of our hairy companions and the ingredients we need to steer clear from in their diet.
We also visited a few local pet stores where we talked to shop owners. Years of experience with dog food brands and their customers resulted in a vast knowledge of the worst products on the market. Our team wanted to know which products they would never recommend giving to our pups.
Our third stop were canine mums and dads, who wished to help not only their pets but the dogs of our loyal readers too! Together, we compiled a list of the worst dog food brands that shouldn't be part of your pup's nutrition.
How We Chose Our Top Picks
We don't leave anything to chance. Our team, with the help of experts, established a set of criteria that we consider are essential when choosing a dog food. These criteria include:
Specified meat sources on the top of the ingredient list
Limited to no meat or vegetable by-products
Limited to whole grains only
Marked as "complete and balanced" by The Association of American Feed Control Officials (AAFCO)
Our Evaluation
We factored in the nutritional value of the ingredient list, went over the guaranteed analysis, read online reviews, and examined the transparency of food manufacturers. Here, we present to you the worst dog food brands on the market.
Top 4 Worst Dog Food Brands to Feed Your Dog
Worst overall: Dog Chow Complete Adult with Real Chicken Dog Food

Image source: purina
We rated Purina as the worst dog food brands on the market today for many reasons.
Their primary sources of protein are grains, and they are listed as the first ingredient. Dog formulas that contain too much grain are not easy for pups to digest. If canines eat them for a long time, they'll be prone to allergies and food sensitivities.
Meat sources are not named, which is extremely dangerous for furballs who are allergic to some meat.
Brands that use unnamed meat sources and grains as their main protein source should not be considered in your pooch's nutrition. If the meat source is unnamed, you can never know what's inside and whether it is really meat.
Low-quality meat meals can be made up of euthanized animals that you don't want in your pooch's bowl. These meals contain pentobarbital, which is an anesthetic used to put animals down.
Due to all these features, we find them the worst of the worst dog food brands.
Guaranteed Analysis
Crude Protein
21.0% min
Crude Fat
10.0 % min
Crude Fiber
4.5 % max
Moisture
12.0% max
Linoleic Acid
1.5% min
Calcium
1.0% min
Phosphorus
0.8% min
Vitamin A
10,000 IU/kg min
Vitamin E
100 IU/kg min
Ingredients: Whole grain corn, meat and bone meal, corn gluten meal, beef fat naturally preserved with mixed-tocopherols, soybean meal, poultry by-product meal, chicken, egg and chicken flavor, whole grain wheat, animal digest, salt, calcium carbonate, potassium chloride, mono and dicalcium phosphate, Vitamin A supplement, L-Lysine monohydrochloride, choline chloride, MINERALS [zinc sulfate, ferrous sulfate, manganese sulfate, copper sulfate, calcium iodate, sodium selenite], VITAMINS [Vitamin E supplement, niacin (Vitamin B-3), Vitamin D-3 supplement, riboflavin supplement (Vitamin B-2), menadione sodium bisulfite complex (Vitamin K), folic acid (Vitamin B-9), biotin (Vitamin B-7)], Yellow 6, Yellow 5, Red 40, Blue 2, garlic oil, calcium pantothenate (Vitamin B-5), pyridoxine hydrochloride (Vitamin B-6), Vitamin B-12 supplement, thiamine mononitrate (Vitamin B-1).
Runner-up: Cesar Filets Delight Porterhouse Steak Flavor with Peas and Carrots Dog Food Tray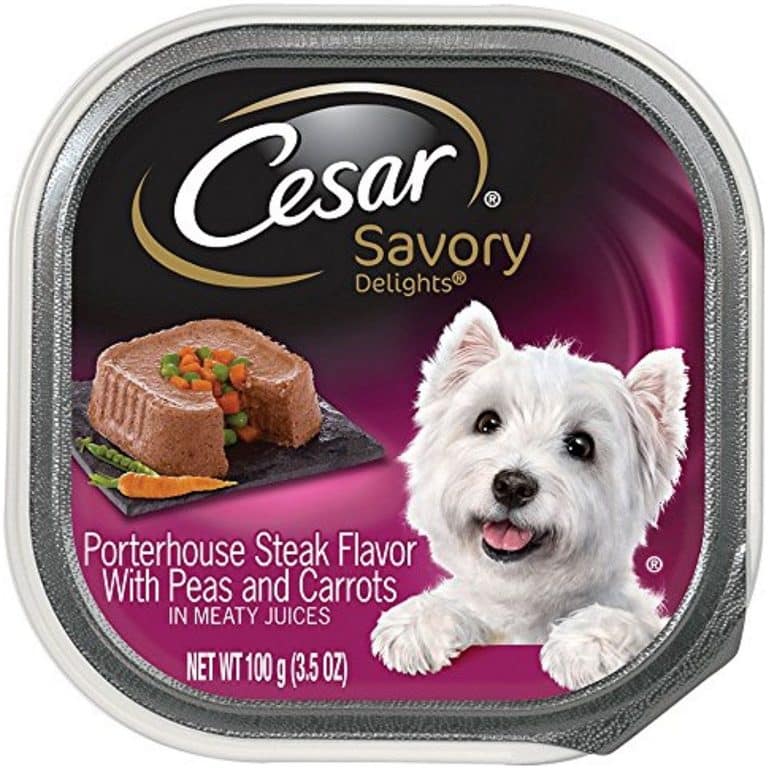 Image source: cesar
Cesar dog food brand also uses many controversial ingredients in their formulas. They don't list all the meat sources and use too much meat by-products. These meat by-products can consist of many slaughtered animals leftovers, such as:
Beaks
Hooves
Hair
Feathers
Claws
Horns
We assume that you wouldn't want your pooch to eat any of these ingredients since they provide low nutritional value.
If your furry friend suffers from allergies or skin problems, we wouldn't suggest buying this product. If you purchase some formulas from this brand, we also don't advise you to use them for too long!
Guaranteed Analysis
Crude Protein
8.0% min
Crude Fat
3.5 % min
Crude Fiber
1.0 % max
Moisture
83.0% max
Ingredients: Sufficient Water For Processing, Beef By-Products, Animal Liver, Meat By-Products, Beef, Peas, Carrots, Chicken, Chicken By-Products, Calcium Carbonate, Added Color, Sodium Tripolyphosphate, Carrageenan, Potassium Chloride, Magnesium Proteinate, Natural Flavor, Xanthan Gum, Dried Yam, Salt, Guar Gum, Erythorbic Acid, Cassia Gum, Porterhouse Steak Flavor, Zinc Sulfate, Vitamin E Supplement, Monocalcium Phosphate, Sodium Nitrite (For Color Retention), Copper Sulfate, D-Calcium Pantothenate, Thiamine Mononitrate (Vitamin B1), Vitamin A Supplement, Vitamin D3 Supplement.
Worst Wet Food Brand: Pedigree Wet Dog Food Chopped Ground Dinner With Chicken
Image source: Pedigree
Mixing dry and wet food for your pooch is a great idea, as wet food provides better taste, and it's softer than kibble. But even canned dog food can contain harmful compounds. Pedigree uses too many unhealthy and unnatural ingredients, so they ended up on our list of the worst dog food brands. The first ingredient in Pedigree Chopped Ground Dinner is a chicken by-product. This means that you could be feeding your dog with beaks and hooves mixed with brewers rice. This rice is used in cheap, low-quality dog food products.
The formula doesn't provide your pooch with a lot of protein.
Guaranteed Analysis
Crude Protein
8.0% min
Crude Fat
6.0% min
Crude Fiber
1.0% max
Moisture
78.0% max
Ingredients:
Chicken By-Products, Sufficient Water For Processing, Chicken, Meat By-Products, Animal Liver, Brewers Rice, Minerals (Potassium Chloride, Magnesium Proteinate, Zinc Sulfate, Copper Proteinate, Manganese Sulfate, Copper Sulfate, Potassium Iodide), Sodium Tripolyphosphate, Vitamin A Supplement, Carrageenan, Dried Yam, Xanthan Gum, Natural Flavor, Guar Gum, Vitamins (Choline Chloride, Vitamin E Supplement, D-Calcium Pantothenate, Biotin, Thiamine Mononitrate [Vitamin B1], Vitamin D3 Supplement).
Worst Dry Food Brand: Iams ProActive Health Adult MiniChunks Dry Dog Food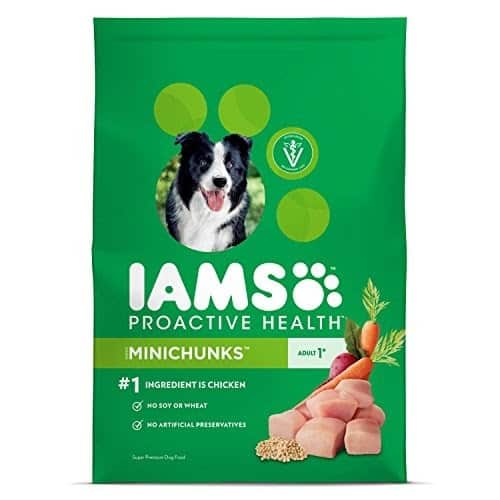 Image source: iams dog food
Iams dog food formulas also contain too many by-products. These products aren't costly, but we recommend investing a few extra dollars on healthier food rather than spending your money later on medicines. Iams ProActive Health Adult MiniChunks Dry Dog Food formula consists of unnamed meat sources and too many grains. Grains often cause tummy aches.
Corn and beat pup provide only modest nutritional value to your doggo.
Guaranteed Analysis
Crude Protein
25.0% min
Crude Fat
14.0 % min
Crude Fiber
4.0 % max
Moisture
10.0% max
Calcium
1.05% min
Selenium
0.35 mg/kg min
Vitamin E
60 IU/kg min
L-Carnitine
30 mg/kg* min
Omega-6 Fatty Acids
2.05%* min
Ingredients: Chicken, Ground Whole Grain Corn, Ground Whole Grain Sorghum, Chicken By-Product Meal, Dried Beet Pulp, Natural Flavor, Dried Egg Product, Flaxseed, Caramel Color, Potassium Chloride, Carrots, Choline Chloride, Chicken Fat (preserved with mixed Tocopherols), Fructooligosaccharides, Calcium Carbonate, Brewers Dried Yeast, Vitamin E Supplement, Ferrous Sulfate, Zinc Oxide, Rosemary Extract, Potassium Iodide, Folic Acid L-Carnitine, Sodium Selenite, Mixed Tocopherols (a preservative), Ascorbic Acid, Vitamin B-12 Supplement, Niacin Supplement, Manganese Sulfate, Copper Sulfate, Vitamin A Acetate, Calcium Pantothenate, Biotin, Thiamine Mononitrate (source of vitamin B1), Riboflavin Supplement (source of vitamin B2), Inositol, Pyridoxine Hydrochloride (source of vitamin B6), Vitamin D3 Supplement, Manganous Oxide.
What Characterizes Low-Quality Food Brands?
Our babies will devour anything they find in their way. Your task as a responsible dog owner is to keep their paws and muzzle away from anything that could hurt them.
Dog food manufacturers sometimes claim to use the best nutrients in their low-quality formulas, hoping that you wouldn't turn the product over and read the ingredient list. And even if you do, you don't always know which ingredients are dangerous for your beloved one. You can be left with more questions than answers.
So how can you tell me the difference between good and bad dog food brands?
You should know that the ingredients that weigh the most are written on the top of the list. Here's what you need to pay attention to when opting for a dog food brand:
Avoid buying formulas that contain harmful ingredients. Butylated hydroxyanisole (BHA) is used as a preservative in dog foods. It's often the primary culprit behind kidney damage, and your pooch should not eat it in large quantities. Butylated hydroxytoluene (BHT) keeps oils and fats from spoiling, but it damages your canine's liver.
Check out the ingredient list to establish its nutritional value. It's essential you look out for high-quality ingredients, such as:

Meat
Vegetables
Whole grains

Don't give your gorgeous companion products that contain too much grain. Dogs' digestive systems can't process these formulas. At times, they can induce vomiting or diarrhea. These products contain ingredients that can lead to dog allergies, such as:
Avoid dog food brands that add fillers to their formulas. Dog food companies use fillers to increase the bulk of a product without providing your little friend with useful nutrients. They are usually added in low-quality diets and include hulls, corn bran, and rice bran.
Find the ideal macros for your pooch. Apart from the quality, you need to be careful with the quantity of each nutrient. Too much of anything can be dangerous for your pup's organs, while the lack of ingredients can lead to malnutrition.
What Are the Ideal Macros for My Dog?
Macronutrients—carbs, protein, fat, minerals, and vitamins—are ingredients that every dog needs in a specific ratio.
Here's what an average adult dog's diet should contain:
Nutrient
Percentage in complete dog diet
Carbohydrates
35–70%
Protein
15–25%
Fat
10–18%
Vitamins
Vitamin A

Vitamin E

Vitamin K

Vitamin C

Minerals
Calcium

Phosphorus

Copper

Magnesium

Sulfur

Chloride
Carbohydrates
Carbs are not harmful to your pets. They provide them with the energy they require for daily activities. There are three kinds of carbs—starch, sugar, and fiber. Fiber helps dogs with digestion and can come from many healthy sources, such as apples. Starches and sugar boost their energy. Carbs are macros that keep the motor running.
Protein Source
The primary source of protein should be natural and healthy ingredients, such as beef, fish, eggs, or chicken. Low-quality sources of protein are grains and by-products.
If you come across meat meals in the ingredient list, remember that they can be healthy and provide your pooch with the high-quality protein they require. If the meal names its meat source, such as lamb-meal or chicken-meal, you'll provide your canine with healthy protein. Meals that contain meat by-products are not safe for your furry companion.
Fat
Fats are necessary macros for your pooch's complete and balanced diet. The problem emerges when the dog starts eating too much fat without exercising enough to balance it. As a result, they will become more susceptible to obesity.
Fats consist of fatty acids, divided into two groups—Omega 3 and Omega 6 fatty acids. They are crucial for your dog's healthy coat and skin. These acids also boost their immune system, protect them from illnesses and infections, and promote the healthy development of your canine's brain cells.
Vitamins
Vitamins come from healthy ingredients, and your dog's body needs them to function optimally. Be careful not to provide your canine with too many of them. It could severely damage their organs, who can't process a great intake of vitamins.
Here's you will find all the vitamin sources they need:
Vitamin A: eggs, sweet potatoes, fish, carrots, kale
Vitamin C: zucchini, green beans, fruits, vegetables
Vitamin E: chia seeds, kale
Vitamin K: fish, cabbage, leafy green vegetables
Minerals
Our pups need minerals for the proper muscle function and every cellular process. You can find their sources in animal and plant ingredients. They are useful but only if used in moderation. Mineral deficiency can lead to severe health issues. For instance, the lack of copper causes joint disease, while calcium deficiency leads to muscle twitching and osteoporosis. Pups who suffer from kidney issues should reduce dietary phosphorus. Here's where you'll find useful minerals:
Magnesium: whole grains, nuts
Calcium and phosphorus: eggs, fish, broccoli, tofu
Chloride: fruits, vegetables
Sulfur: eggs, fish
Copper: whole grains, fish
Choose the Dog Food Brand Wisely
It's not easy to find high-quality, commercially prepared dog food. You need to be on the alert and look for brands that use healthy ingredients in their formulas, as you've seen in this article.
We hope that we made it a little clearer what you should be looking out for. Use our suggestions as your guidelines, and you will have nothing to worry about.
If you want to find out more about good dog food brands, take a look at our list of the best dry dog food for small dogs or best large breed dry dog food, perhaps you will find something useful in there. In case you're searching for wet dog food, we suggest you take a look at the best canned dog food.
References
Dael, Peter Van. "Trace Element Speciation in Food: A Tool to Assure Food Safety and Nutritional Quality." Trace Element Speciation for Environment, Food and Health, pp. 232–240., doi:10.1039/9781847552204-00232.
Morgan, Judy, and Hue Grant. Yin & Yang Nutrition for Dogs: Maximizing Health with Whole Foods, Not Drugs. Thirty Six Paws Press, 2017.