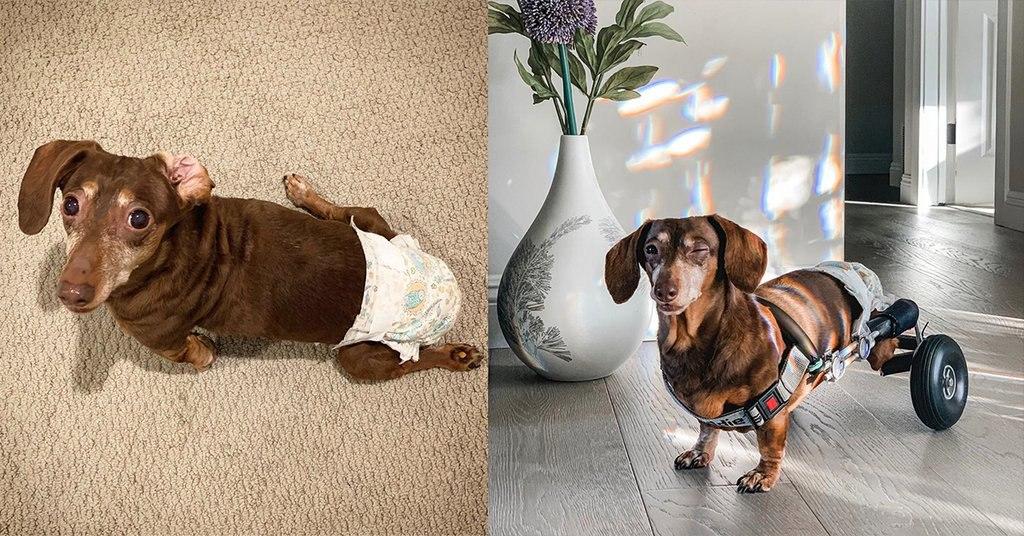 This Dachshund Was Paralyzed by IVDD, But She Didn't Let it Stop Her
It truly is an inspirational story of an IVDD survivor. Did you know, approximately 1 in every 4 Dachshunds will suffer from a spinal cord disease called IVDD in their lifetime? Unfortunately, a lot of Dachshund owners aren't even aware of this disease until after their dog has been diagnosed.
In some cases, IVDD can lead to paralysis, and in this case, that's exactly what happened. Luckily, this inspirational Dachshund and her parents didn't let the disability stop them from moving forward and making the best of the situation.
Meet Lilo
Lilo, a.k.a Princess Lilo, is a 12-year-old Dachshund living in SoCal! She enjoys swimming, dressing up in adorable costumes to make people smile, and showing love to her pawrents.
The Story of Lilo on Wheels
In 2012, Princess Lilo was diagnosed with IVDD. Here is her story, as told by her mom via their Instagram:
Don't miss the sale happening NOW for Alpha Paw's #1 Vet-Recommended, patented dog ramp – CLICK HERE!
"On November 28, 2012, she refused to go up the stairs after her routine morning walk. Thinking she was just acting dramatic, I picked her up & instantly she yelped in extreme pain. I put her back down & saw that her hind legs were completely limp and her spine was suddenly hunched. The look of fear, pain, and panic set in for both of us. Her body went into shock, and it looked as though she was convulsing.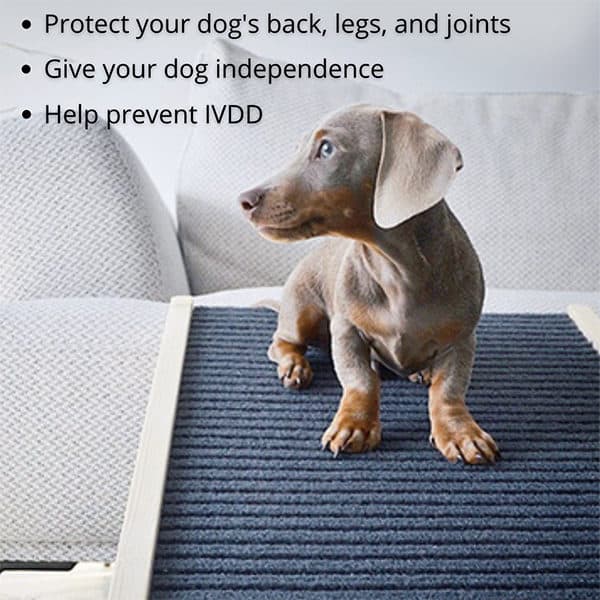 She was shaking the entire ride to the emergency Vet, 25 minutes away. Here, I learned something brand new: "Intervertebral Disk Disease" (IVDD) – herniation or ruptured spinal disk due to trauma, or a condition built up over time, causing inflammation around the disk(s) and eventually affecting the spinal nerves. This was seen immediately on X-Ray, and the Vet suggested I go straight to the Speciality Vet Clinic, 15 minutes away. Within 2 hours, she was in surgery. Never thought twice about it…"
Their Story Did Not Stop After Surgery…
Lilo's mom continued…
"Those minutes felt like hours, and hours felt like days. We were told her spine was in terrible condition in more than one area and the inflammation was beyond severe. The Neurologist cleaned up as much as possible, but her prognosis was 50% & paralysis might be permanent. We brought her home 2 days later hoping for the best, and feared for the worst.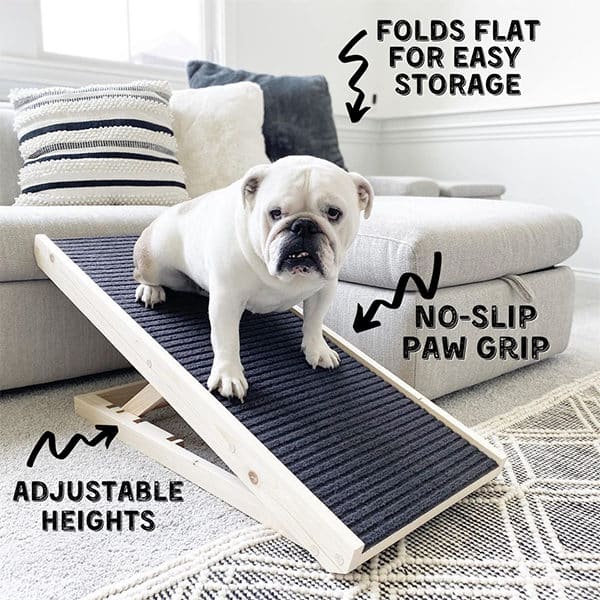 Lilo would never walk on 4 legs ever again…despite the surgery, and nearly 8 months of intensive rehabilitation & physical therapy.
Watch Dr. Ross's Review on Dog Ramps
The first 6 months were the hardest – learning how to express her bladder, managing UTI's, dog-proofing the house, finding the right diapers, medication management, the list goes on… But the one thing that kept us going, was seeing the sweet 5-year-old pup, happily wheeling around in her brand new cart.
Don't miss the sale happening NOW for Alpha Paw's #1 Vet-Recommended, patented dog ramp – CLICK HERE!
Her quality of life was all that mattered. We dealt with hundreds of dirty diapers (now thousands over 6 years), had many sleepless nights with anxiety, depression, and fear. At the end of the day, she was all that mattered. She was the same little baby that I held in my arms when she was 2 months old. Her disability didn't slow her down, and her motivation brought light back to our lives ❤"
Small Dog, BIG Inspiration
Even though Lilo is a small dog, she has been a big inspiration to so many others that are going through the same thing. She is able to hang with her fur friends on the beach, and she even made it on the news! She is a star!

Thank you Lilo and family for sharing your story and raising awareness for IVDD. Do you have a story about IVDD you want to share, or a message you want to leave for Princess Lilo? Let us know in the comments below!
Photos and quotes courtesy of Lilo's Instagram: @prinss_lilo_weenie