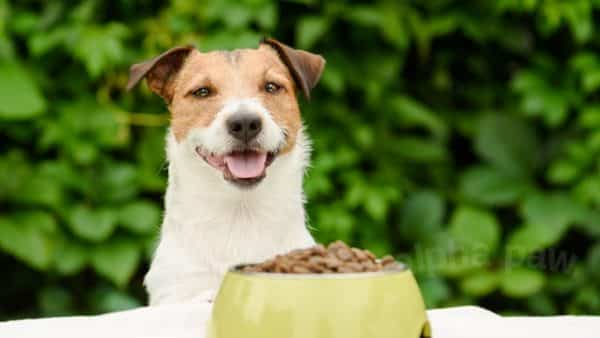 The ABC of Best Canadian Dog Food
Many people think dog food is just either dry or wet chow made for canines, and that any brand can offer our pooches the nutrition they need. In reality, dog food is a much more complex issue.
Being a responsible dog owner means taking care of your pooch's nutritional needs. Choosing the food that will meet those needs can sometimes make you go berserk with producers claiming one thing on their colorful labels and offering an entirely different thing inside the bag or the can.
Luckily, Alpha Paw is here to make things clearer and guide you through the process until you find that perfect nosh for your furry friend.
When it comes to the quality of dog food, Canada means business. With so many producers dedicated to offering premium quality ingredients packed in easily digestible kibble, the Canadian dog food market is sure to satisfy even the pickiest among us and our furballs.
That is why we decided to embark on a journey to find the very best of what Canada has to offer to dogs. It's worth noting that, on this quest, we didn't choose to partner up with any producer or distributor with the aim of profiting from affiliate links. Instead, we reviewed these brands with our readers and their canine friends in mind.
How We Evaluated the Best Canadian Dog Food
While looking for the food that best meets the nutritional needs of dogs, we followed the standard Alpha Paw procedure.
First, we talked to vets to determine the right amount of macro-and micronutrients dog food should contain to allow a dog to grow and maintain its health for as long as possible.
The market research came next, so we asked several pet shop workers to tell us what are the most popular brands and what kibbles they usually recommend to their customers.
We ended up with a list of 53 most sought-after dog food brands that claim they have what it takes to be named the makers of the finest chow in Canada.
As you may guess, not all of them passed the initial test. Some claimed they offered a healthy diet, while indeed all they had were beautifully designed packaging, while others tried to hide some of the nastiest ingredients that should by no means be found in a quality chow.
Best Canadian Dog Food Selection Criteria
We thought that the most convenient way to single out the best dog food is to set a few ground rules and stick to them throughout the process of selection.
To do this, we compiled a blacklist of ingredients that should under no circumstances find their way to your furry pal's bowl and tummy:
Meat and bone meal

Animal fat

Corn

Soybean meal

Wheat mill run

BHA preservative
Meat and Bone Meal
Meat and bone meal refers to the ingredient that serves as the main protein source, rendered from mammal tissues and bones. This ingredient is made without added blood, hair, and hoof contents, although these may occur in meat and bone meal as part of good processing practices. Although widely associated with beef, "meals" can be derived from mammals, fish, or poultry, and may contain parts of or wholly rejected for human consumption, including the so-called '4D' animals: dead, dying, diseased, or disabled. Pus, cancerous tissue, and spoiled meat may also find their way to meat and bone meals.
Animal Fat
Animal fat is another vague term that is used to refer to fat obtained from mammals and poultry through the commercial extracting process. If you thought that a meat meal is disgusting, think again—animal fat is basically a meat meal by-product. The origin of animals used in the process is never indicated. The final product is the oil that has a rather low content of linoleic acid—a fatty acid that plays a crucial role in maintaining the health of skin and coat.
Corn
Corn, in any of the available forms (whole-grain corn, cornmeal, corn germ meal), is indeed just a protein filler. A few of the essential amino acids, such as methionine, taurine, and arginine, are not found in corn, which means that there are more nutritious sources of quality protein.
The digestibility of corn is also commonly praised by producers, but the truth is dogs have trouble breaking down corn, especially the whole-grain kind. The more corn is processed, the more digestible it becomes, but processing, in turn, increases corn's glycemic index, and dogs have no need for metabolizing more sugar.
Soybean Meal
Soybean meal is another cheap, low-quality protein filler. It is obtained by grinding soy flakes after most of the oil is extracted from them, usually by processing soy for human consumption. Although it increases the final amount of protein in the food, it does almost nothing to boost the quality of this macronutrient.
Wheat Mill Run
Wheat mill run, also known as wheat middlings, refers to any product obtained through the wheat milling process that is not flour. In the canine food industry, they are considered a cheap way to increase the amount of kibble, adding nothing to the nutritional value.
BHA and BHT
BHA (butylated hydroxyanisole) and BHT (butylated hydroxytoluene) preservatives are used to prevent the oxidation process in oils and fats. In other words, they ensure the food doesn't go bad. Although their use is not prohibited in Canada, the country's Ministry of Health has dubbed BHA as a "high human health priority" in terms of carcinogenicity, while BHT is categorized as a "moderate human health priority." Both are placed on the list for future assessment within the Chemicals Management Plan. In other places, like the European Union, their use is already explicitly prohibited.
Once we got rid of all protein fillers and flour residues, we were finally ready to test the kibbles or, more precisely, to have our dogs test them on our behalf.
It took us three months to conduct this in-depth research and to assess not only the quality of kibble but also its positive impact on the health of our test subjects.
What Are the Best Dog Food Brands Made in Canada?
The ratio between the nutritional needs of dogs and the nutritional value of the food they eat was the main parameter during the investigation. On top of that, we considered the price of food and producers' concern for the sustainability of essential resources.
Canada passed all three of these parameters with flying colors, but some of the brands simply outperformed the others.
While we're here, we'd like to tell you that, while assessing the food market in Canada, our work was not driven by either partnerships or sponsorships, and that we are not profiting from affiliate links in any shape or form. This is an honest review done first and foremost for the benefit of our readers.
Our Top Pick for the Best Dog Food from Canada: Wholesome Blend Naturally Fresh Pork & Beef Red Meat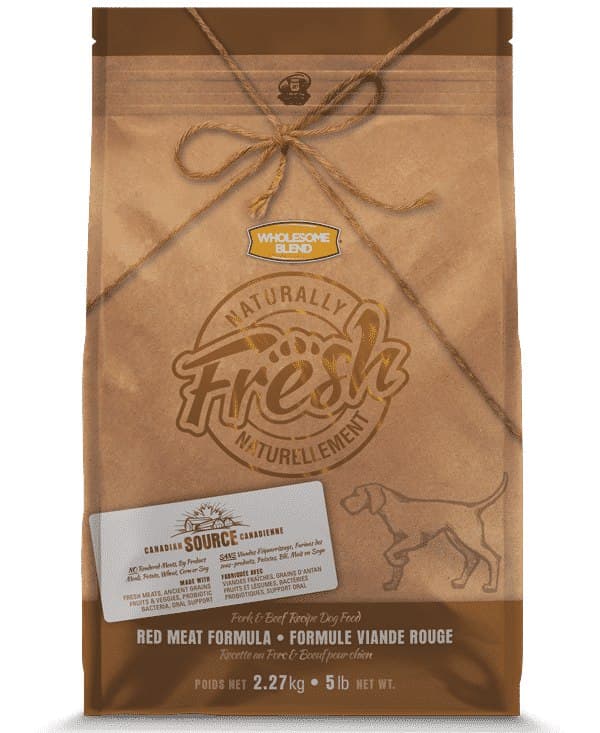 Image source: Lifetime Pet Food
Wholesome Blend Naturally Fresh Pork & Beef Red Meat is the proud winner of the Alpha Paw's research into the best Canadian dog food!
This recipe—which made the dogs that tested it lick their bowls clean!—is formulated to meet the nutritional requirements of adult dogs, using only the best, premium-quality, locally-sourced ingredients.
This chow is made from 100% fresh, non-rendered pork and beef, combined with carefully selected grains with low glycemic indexes, such as pearled millet, quinoa, and pearled barley.
Other ingredients include fresh fruits and vegetables like apples, cranberries, carrots, and spinach as the source of vitamins, minerals, and antioxidants.
Key features:
100% fresh, non-rendered meat

Locally sourced ingredients

Rich in micronutrients
Guaranteed Analysis
Protein

24% min

Fat

15% min

Fiber

3% max

Calcium

0.9% min

Phosphorus

0.7% min

Total Microorganisms

150M IU/kg min
Ingredients
Deboned pork, navy beans, whole dried eggs, peas, pearled barley, canola oil (preserved with mixed tocopherols), flaxseed, deboned Angus beef, pearled millet, dicalcium phosphate, natural flavors, calcium carbonate, quinoa, salt, dried chicory root, yeast extract, sodium tripolyphosphate, apples, carrots, cranberries, spinach, sweet potatoes, barley grass, tomatoes, probiotics (Bacillus subtilis, Bacillus licheniformis, Lactobacillus acidophilus, Lactobacillus casei, Bifidobacterium bifidum , Enterococcus faecium, Aspergillus oryzae), vitamins and chelated minerals.
Our Second Choice Among Top Canadian Dog Food Brands: Orijen Original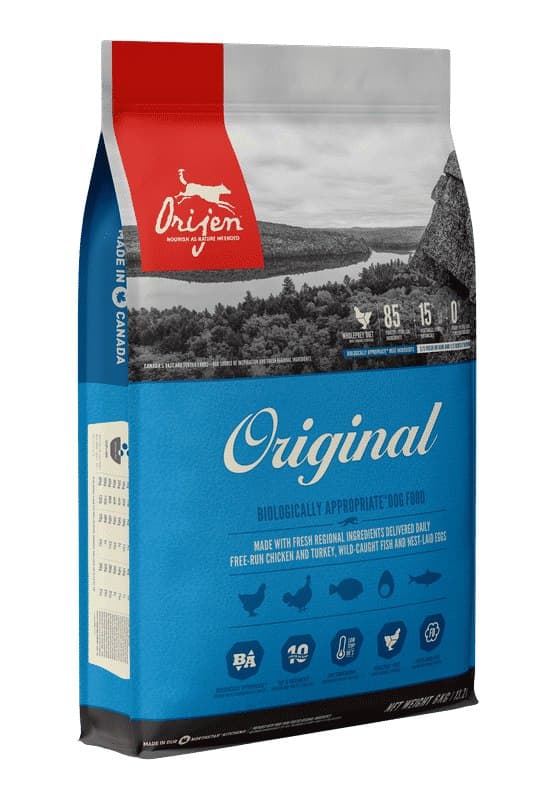 Image source: Orijen
Orijen Original is a blend of fresh, regionally-sourced free-run chicken and turkey, and wild-caught fish. The result? Premium-quality kibble that resembles the dogs' ancestral diet.
The flavor, freshness, and nutritional value of ingredients in this biologically appropriate formula is preserved by cooking at low temperatures.
This food is the right choice for dog owners who want to keep carbs in their furry friend's diet at a minimum, while providing them with antioxidants and micronutrients from nutrient-rich foods, such as blueberries and carrots, that promote the health of eyes and skin. At the same time, high contents of fat will make sure your pooch has a silky and shiny coat.
Key features:
Variety of protein sources

Low in carbs

Antibiotic-, and hormone-free
Guaranteed Analysis
Crude protein

38% min

Fat content

18% max

Crude ash

9%

Crude fiber

5% max

Moisture

12% max

Calcium

1.4% min

Phosphorus

1.1% min

Omega-3 fatty acids

1.0% min

Omega-6 fatty acids

3.0%

DHA (docosahexaenoic acid)

0.3% min

EPA (eicosapentaenoic acid) 

0.2% min

Glucosamine

1400mg/kg min

Chondroitin sulfate

1200mg/kg
Ingredients
Fresh chicken meat (13%), fresh turkey meat (7%), fresh cage-free eggs (7%), fresh chicken liver (6%), fresh whole herring (6%), fresh whole flounder (5%), fresh turkey liver (5%), fresh chicken necks (4%), fresh chicken heart (4%), fresh turkey heart (4%), chicken (dehydrated, 4%), turkey (dehydrated, 4%), whole mackerel (dehydrated, 4%), whole sardine (dehydrated, 4%), whole herring (dehydrated, 4%), whole red lentils, whole green lentils, whole green peas, lentil fibre, whole chickpeas, whole yellow peas, whole pinto beans, whole navy beans, herring oil (1%), chicken fat (1%), chicken cartilage (1%), chicken liver (freeze-dried), turkey liver (freeze-dried), fresh whole pumpkin, fresh whole butternut squash, fresh whole zucchini, fresh whole parsnips, fresh carrots, fresh whole Red Delicious apples, fresh whole Bartlett pears, fresh kale, fresh spinach, fresh beet greens, fresh turnip greens, brown kelp, whole cranberries, whole blueberries, whole Saskatoon berries, chicory root, turmeric root, milk thistle, burdock root, lavender, marshmallow root, rosehips. ADDITIVES (per kg): Nutritional additives: Zinc chelate: 100 mg. Enterococcus faecium.
Best Canada Dog Food on a Budget: Taiga Pork Grain-Free Dog Food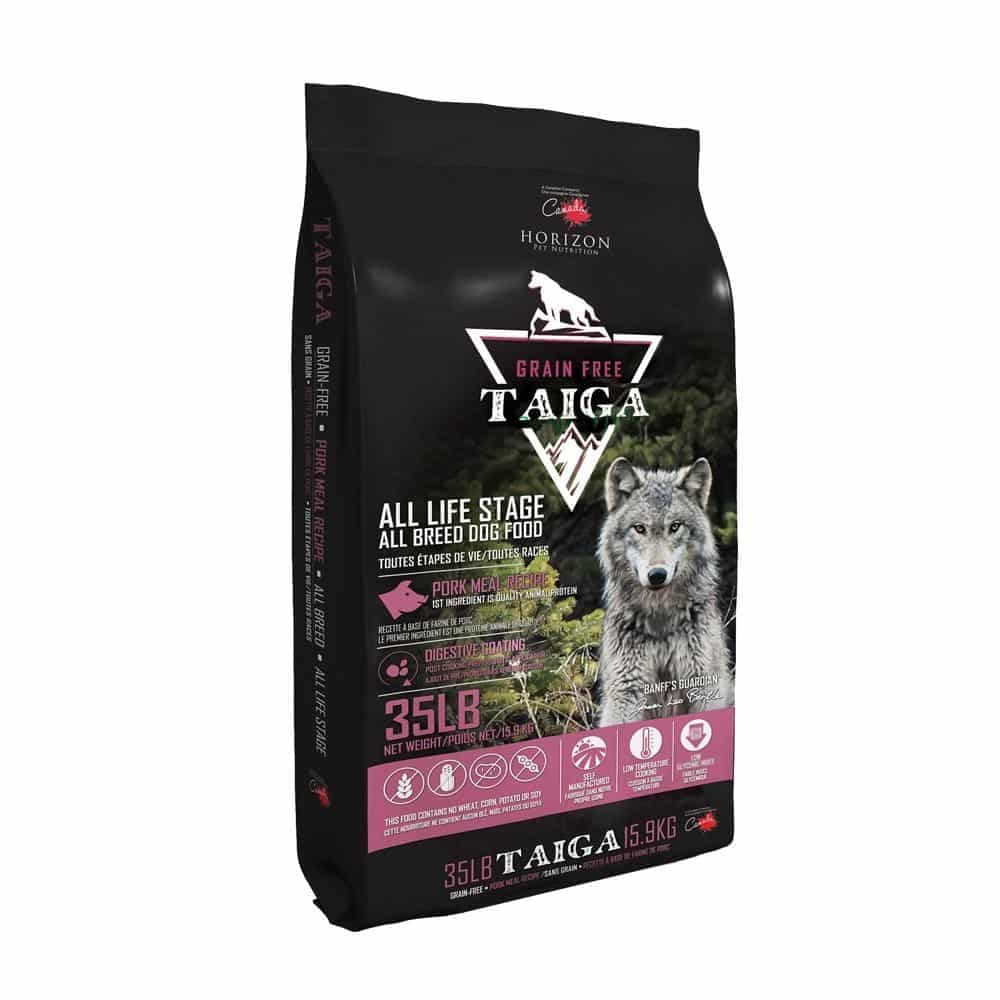 Image source: Horizon pet food
Taiga Pork Grain-Free Dog Food is the top-quality kibble for people who don't want to spend a fortune but still want to provide their pooch with all the nutrients they need.
This carefully blended formula, based on pork as a single protein source, is boosted with antioxidants from fresh fruits and vegetables, that maintain the health of vital organs, skin, and coat.
Low glycemic ingredients, such as red lentils and garbanzo beans, protect the pooch from having high-blood sugar, while added taurine promotes the health of the heart.
Among many health-beneficial ingredients, this kibble also contains supplements that promote the health of joints and reduce the risk of joint inflammation.
Key features:
GMO- and gluten-free

Probiotics added after cooking

Economy priced
Guaranteed Analysis
Crude protein

26.0% min

Crude fat

13.0% min

Crude fiber

5.0% max

Moisture

10.0% max

Ash

6.8% max

Calcium

1.30% min

Phosphorus

1.05% min

Potassium

0.84%

Sodium

0.19%

Taurine

0.20% min

Zinc

279 mg/kg

Microorganisms

600 million cfu/lb
Ingredients
Pork meal, red lentils, peas, garbanzo beans, pea starch, pork, alfalfa meal, canola oil, carrots, apples, broccoli, bok choy, cabbage, blueberries, calcium carbonate, salt, dicalcium phosphate, fructooligosaccharides, yucca schidigera extract, taurine, dried aspergillus niger fermentation extract, pineapple, dried trichoderma longibrachiatum  fermentation extract, dried enterococcus faecium fermentation product, dried lactobacillus casei fermentation product, dried lactobacillus acidophilus fermentation product, dried bifidobacterium bifidum fermentation product, dried lactobacillus plantarum fermentation product, vitamin a acetate, vitamin d3 supplement, vitamin e supplement, vitamin b12 supplement, riboflavin, niacin, folic acid, pyridoxine hydrochloride, thiamine mononitrate, d-calcium pantothenate, biotin, l-ascorbyl-2-polyphosphate (source of vitamin c), ferrous sulphate, iron proteinate, zinc sulphate, zinc proteinate, manganous oxide, manganese proteinate, copper sulphate, copper proteinate, calcium iodate, selenium yeast, magnesium oxide
Top Rated Canadian Dog Food Brands for Puppies: LIFETIME Puppy/Performance All Life Stages
Image source: Lifetime pet food
LIFETIME Puppy/Performance All Life Stages is a puppy chow made from locally sourced ingredients, packed in a super delicious kibble that meets the nutritional requirements of growing dogs.
Single source protein ensures that the food is easily digestible, which is of crucial importance for pups as their gastrointestinal tracts are not yet fully developed. Oatmeal and whole brown rice serve as the source of low glycemic index carbs that don't mess with the pooch's digestion.
To top things off, this chow contains flaxseed and herring oil as the source of antioxidants and Omega fatty acids, with chelated minerals that promote the health of bones and joints and allow for their proper formation.
While you're at it, make sure to check out our in-depth review of the best puppy food brands and learn more about the specific dietary requirements of puppers.
Key features:
Highly digestible

Added joint supplements

Rich in Omega fatty acids
Guaranteed Analysis
Crude protein

28.0% min

Crude fat

20.0% min

Crude fiber

3.5% max

Moisture

10.0% max

Zinc

175 mg/kg min

Glucosamine hydrochloride

375 mg/kg min

Chondroitin sulphide

35 mg/kg min

Omega 6 Fatty Acid

4.00% min

Omega 3 Fatty Acid

0.40% min
Ingredients
Chicken meal, oatmeal, whole barley, chicken and turkey fat (preserved with mixed tocopherols), whole barley, canola meal, whole brown rice, flaxseed, dried plain beet pulp, natural flavors, herring oil (DHA), salt, potassium chloride, choline chloride, kelp meal, dried chicory root, yeast extract, glucosamine hydrochloride, yucca schidigera, chondroitin sulphate, vitamins and chelated minerals
Best Chow for Seniors: Canadian Naturals Senior Turkey & Salmon Dog Food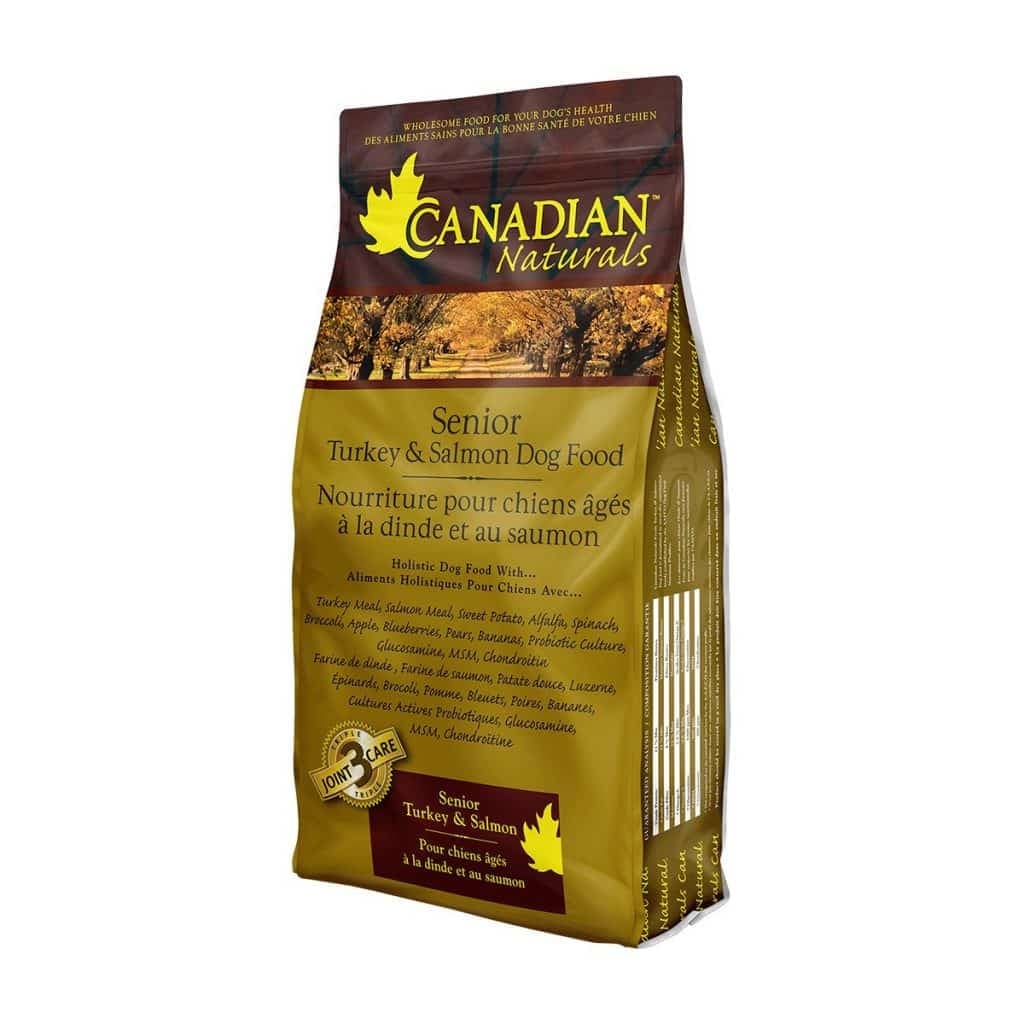 Image source: Champlain pets
Canadian Naturals Senior Turkey & Salmon Dog Food is a specially formulated food for dogs over six years of age.
The kibble features a blend of turkey and salmon, both sources of lean protein that help to keep your furry friend's muscles strong and flexible. Fresh fruits and vegetables, such as banana blueberries, and spinach, ensure that the pooch gets all the nutrients required in its golden years. Joint supplements are added to help prevent hip and joint disease and reduce inflammation and pain caused by existing conditions.
Made with senior dogs' needs in mind, the kibble pieces are shaped like "O," which makes them gentler on the dog's teeth and enhances their role as tartar and plaque removers.
In case you missed it, we found plenty of top-notch dog food in our best senior dry dog food review and coupled it with an overview of the most important components of formulas for seniors.
Key features:
Lean protein source

Triple joint care formula

Wholesome fruits and vegetables
Guaranteed Analysis
Crude protein

22% min

Crude fat

11 % min

Crude fiber

4% max

Omega-6

1.2 %

Omega-3

0.6 %
Ingredients
Fresh turkey, turkey meal, brown rice, dehulled barley, oatmeal, potato, salmon meal, chicken fat(stabilized with mixed tocopherols, a natural source of vitamin E), flaxseed, tomato fibre, natural flavour, whole dried egg, salmon oil, rice bran, alfalfa, sweet potato, spinach, broccoli, apple, blueberries, pears, bananas, lecithin, chicory root extract, sodium tripolyphosphate, potassium chloride, salt, glucosamine hydrochloride, choline chloride, calcium carbonate, vitamins (vitamin A, vitamin D3, vitamin E, niacin, vitamin C, inositol, d-calcium pantothenate, thiamine mononitrate, riboflavin, beta carotene, pyridoxine hydrochloride, folic acid, vitamin K, biotin, vitamin B12 supplement), minerals (zinc proteinate, ferrous sulfate, iron proteinate, zinc oxide, copper proteinate, copper sulfate,manganese proteinate, manganous oxide, calcium iodate, sodium selenite), methylsulfonylmethane (MSM), probiotics (lactobacillus acidophilus, lactobacillus casei, enterococcus faecium, bifidobacterium thermophilum), chondroitin sulfate, taurine, DL-methionine, L-carnitine, yucca schidigera extract, rosemary, garlic, cinnamon, paprika, capsicum, chamomile, turmeric, dandelion
The Ratio of Nutrients in Grain-Free Dog Food Made in Canada
The nutritional needs of canines depend on their size, development stage, and activity levels; one pooch can't make the most of both dry dog food for small dogs and the best large breed dry dog food.
Macronutrients (protein, lipids, carbs) intake must match the dog's needs at a particular point in life. For instance, puppies need more fat than adult doggos, while seniors need more protein than their younger cousins.
Here's a handy overview of some of the essential nutrients dog food should contain to provide complete and balanced nutrition in different stages in life:
| | | |
| --- | --- | --- |
| Nutrient | Puppy | Adult |
| Crude Protein | 22.5% min | 18.0% |
| Crude Fat | 8.5% | 5.5% |
| Calcium | 1.2% | 0.5% |
| Phosphorus | 1.0% | 0.4% |
| Ca:P ratio | 1:1 | 1:1 |
| Vitamin A | 5000 IU/kg | 5000 IU/kg |
| Vitamin D | 500 IU/kg | 500 IU/kg |
| Vitamin E | 50 IU/kg | 50 IU/kg |
Canadian Dog Food Recap
With dozens of premium-quality brands in the Canadian market, choosing the right food for your little furry pal is not a difficult task. Even if you're an experienced owner, following a few simple rules can lead you to the perfect meal for your dog hassle-free.
Looking for wholesome ingredients is the best way to provide the dog with complete and balanced nutrition. Avoid these worst dry dog food brands because they usually feature shady ingredients on their labels.
Try finding producers who source their ingredients locally or regionally. Apart from being environmentally-friendly, this approach lets you pick the very best of ingredients available.
References:
"Estimated Metabolizable Energy Requirements of Adult Dogs."

Canine and Feline Nutrition

, 2011, pp. 521–521., doi:10.1016/b978-0-323-06619-8.10043-x.